BRUNO WEEKENDER BAG
BRUNO WEEKENDER BAG
Our large essential weekender with pannier connection
The Bruno is the perfect waterproof waxed canvas and leather weekender, with removable laptop sleeve (15") and 7 interior accessory pockets. Designed for the overachiever who needs the extra space and pockets for their many tasks in the day ahead or the overnight journey. When riding, attach the bag in pannier mode (motorcycle/bicycle) and when you dismount, slip it over your shoulder.
For more information and attachment instructions view The Malle Manual.
£

399.00
Only 1 left in stock
The eight interior pockets are designed specifically for digital tools: Up to a 15″ laptop, hard disks, tablets as well as other essentials; pencils, glasses, notebooks and papers. For those of use that choose not to take a laptop on weekend adventures, the digital laptop pocket is removable. There are two exterior slip pockets and the leather umbrella straps are designed to either hold an umbrella, jacket, blanket or the rolled up MALLE tote.
MALLE tool bags are built to last. Our durable fabrics and bridle leather will age well and bare the wear and tear of the years of working hard and playing harder. To help you keep your tool bag in perfect condition please use MALLE wax, to maintain 100% waterproofing.
Additional Information
| | |
| --- | --- |
| Size (Inches) | 18″ / 13″ / 8″ |
| Size (cm) | 45cm / 33cm / 20cm |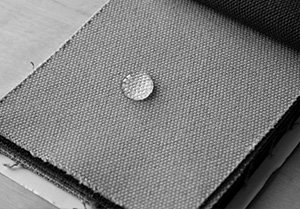 Fabrics
This tool bag is handmade in the MALLE workshop with 14.7oz waxed canvas from our mill, our non-residue canvas has been specially developed to not rub off on clothes, devices or skin. The interior is upholstered with an organic cotton twill.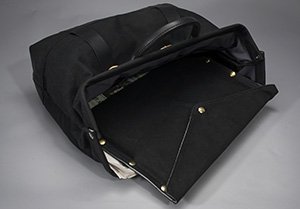 Removable Design
The Interior laptop pocket is removable with 4 brass poppers.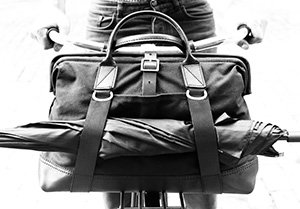 Flexible Design
The large shoulder bag is designed to be transported either on the body or as a pannier on the side of a motorcycle/bicycle.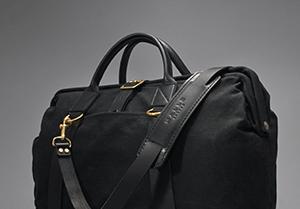 Frame
With a nod to the design of the classic British Doctors bags of the 1950's and the U.S mason bags of the same era, the aluminium framed mechanism stays open when you want it to, allowing for easy access of tools whether sitting next to your bike or your desk.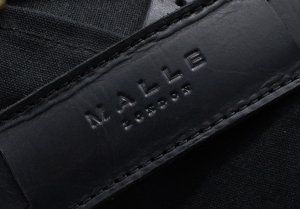 Leather
We use premium bridle leather, not only is it extremely strong, but it's "by-product leather' which means – no animals are used primarily for their leather, it comes from animals that are used primarily as a food source.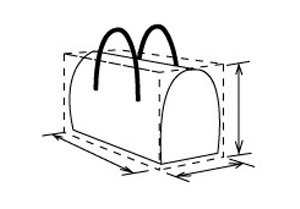 Flying
We designed this tool bag with travel and flying in mind, not only does it have extra space, but it will fit the overhead size restrictions enforced by most airlines.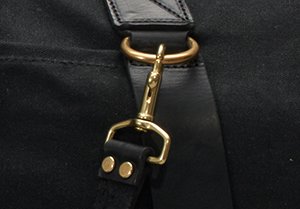 Hardware
We use 100% British welded brass hardware. Our robust, solid hardware will not only last, but age well – starting out with a bright gold glow, which will gradually turn to a dark rich brass colour the more it's used.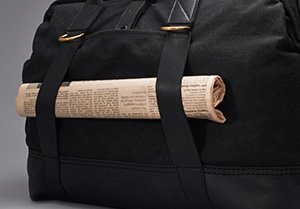 Pockets
Two exterior slip pockets and eight interior pockets, each designed specifically for tool storage, protection and easy access.