MALLE MADE

Malle London X Stay Outside
Artist Collaboration

THIS YEAR WE HAD THE ABSOLUTE PLEASURE OF COLLABORATING WITH THE TALENTED TORIA JAYMES OF 'STAY OUTSIDE' STUDIO. AFTER MANY YEARS OF ADMIRING HER UNIQUE ARTWORK AND ILLUSTRATION STYLE , THE OPPORTUNITY AROSE, THE STARS ALIGNED AND WE CONVINCED HER TO COLLABORATE WITH THE MALLE TEAM ON A SUMMER DESIGN ADVENTURE.
THE BRIEF WAS TO CREATE FOUR UNIQUE ARTWORKS, THAT CREATED AN ALMOST SEAMLESS PANORAMIC LANDSCAPE TOGETHER, WHICH WOULD BECOME THE CONNECTING THREAD THROUGH FOUR MALLE EXPERIENCES. CELEBRATING; MALLE LONDON, THE GREAT MALLE RALLY, THE MALLE MILE FESTIVAL AND THE MALLE MILE BEACH RACE. NEEDLESS TO SAY WE WERE THRILLED WITH THE RESULT!
ALL ARTWORKS WERE HAND SCREEN PRINTED IN THE MALLE STUDIO, AS A LIMITED EDITION OF 100 OF EACH, PRINTED ON A THICK TEXTURED CARD, SIGNED AND NUMBERED BY MALLE.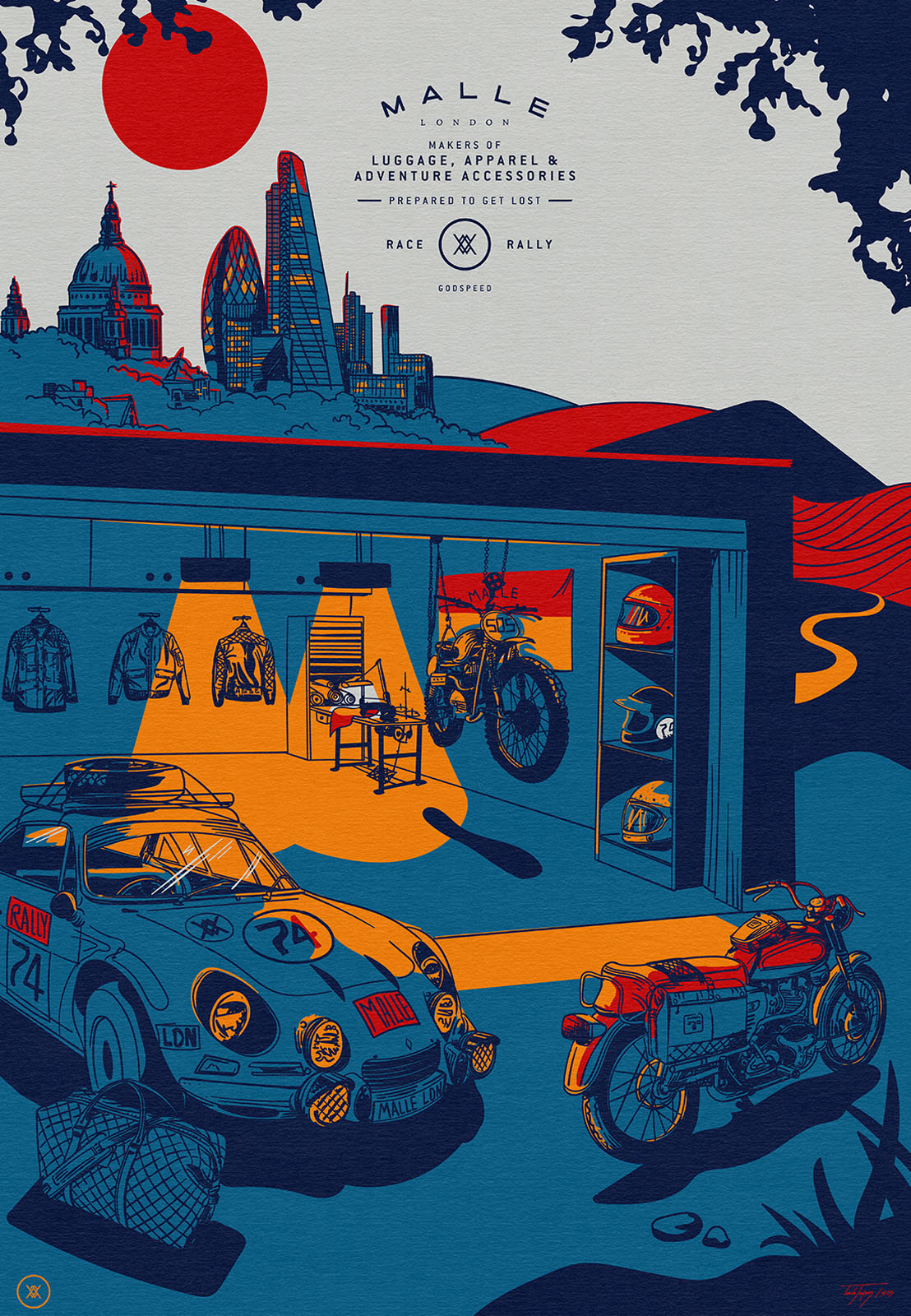 [
ARTWORK #4
]
'MALLE LONDON HQ'

A tribute to Malle and the city of London, where it all started
[
ARTWORK #3
]
'THE MILE BEACH RACE 2021'

CLASSIC & CUSTOM MOTORCYCLES RACE HEAD TO HEAD IN A
UNIQUE BEACH RACE ON THE BEAUTIFUL MARGATE SANDS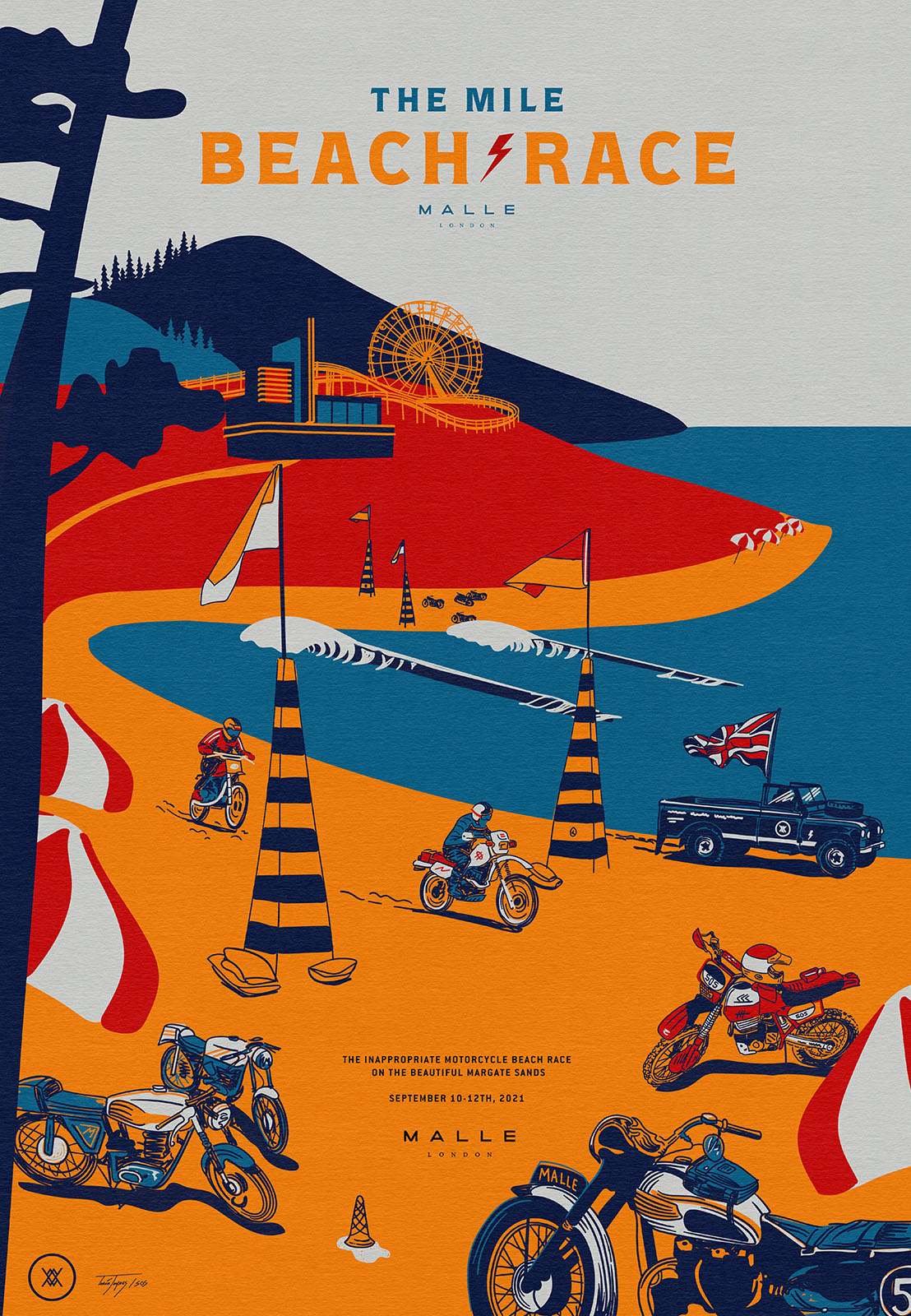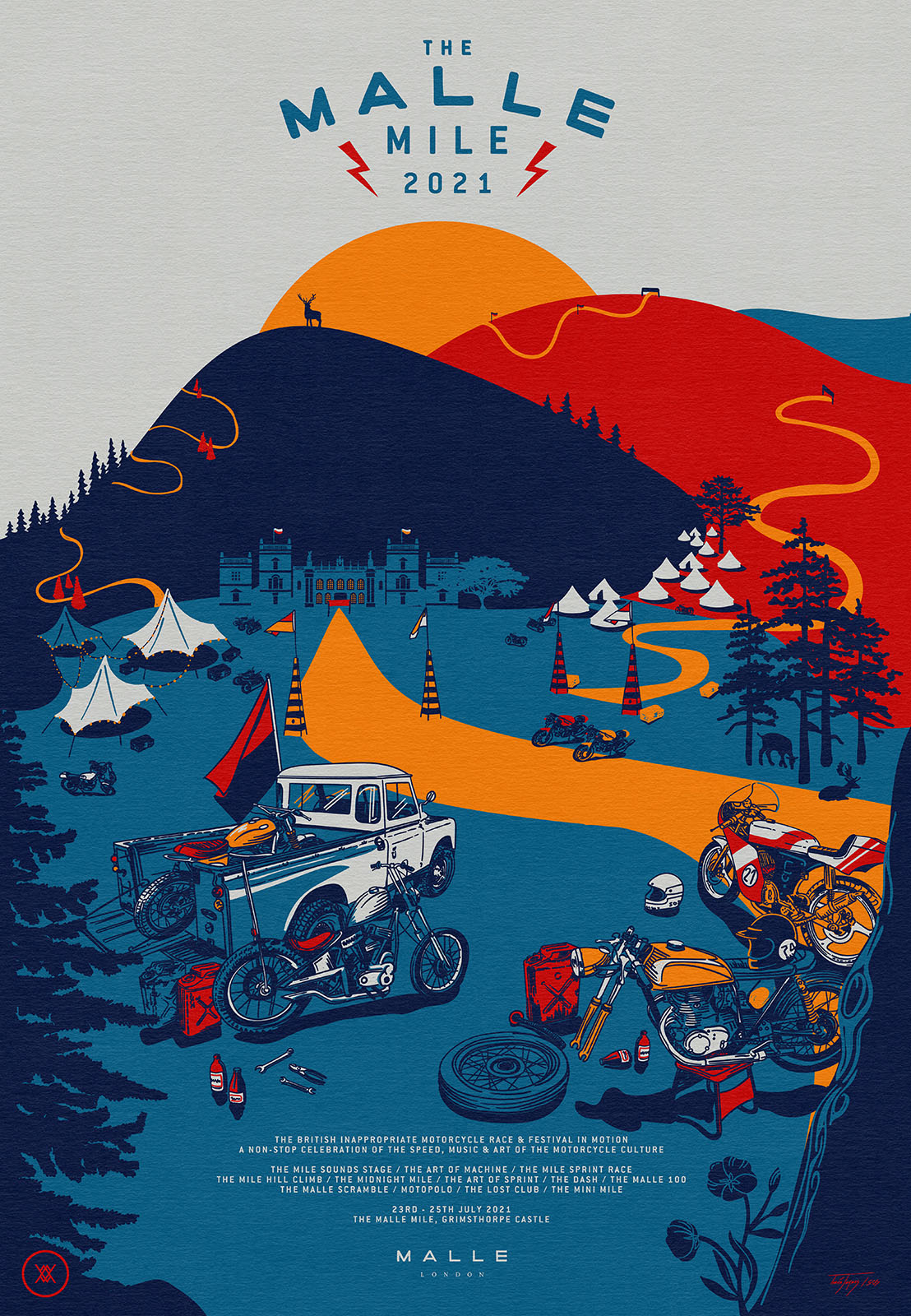 [
ARTWORK #2
]
'THE MALLE MILE 2021'

THE BRITISH INAPPROPRIATE MOTORCYCLE RACE & FESTIVAL IN MOTION
A NON-STOP CELEBRATION OF THE SPEED, MUSIC & ART OF THE MOTORCYCLE CULTURE
[
ARTWORK #1
]
'THE GREAT MALLE RALLY 2021'

THE GREATEST MOTORCYCLE RALLY THROUGH THE WILDEST
AND GREATEST LANDSCAPES IN GREAT BRITAIN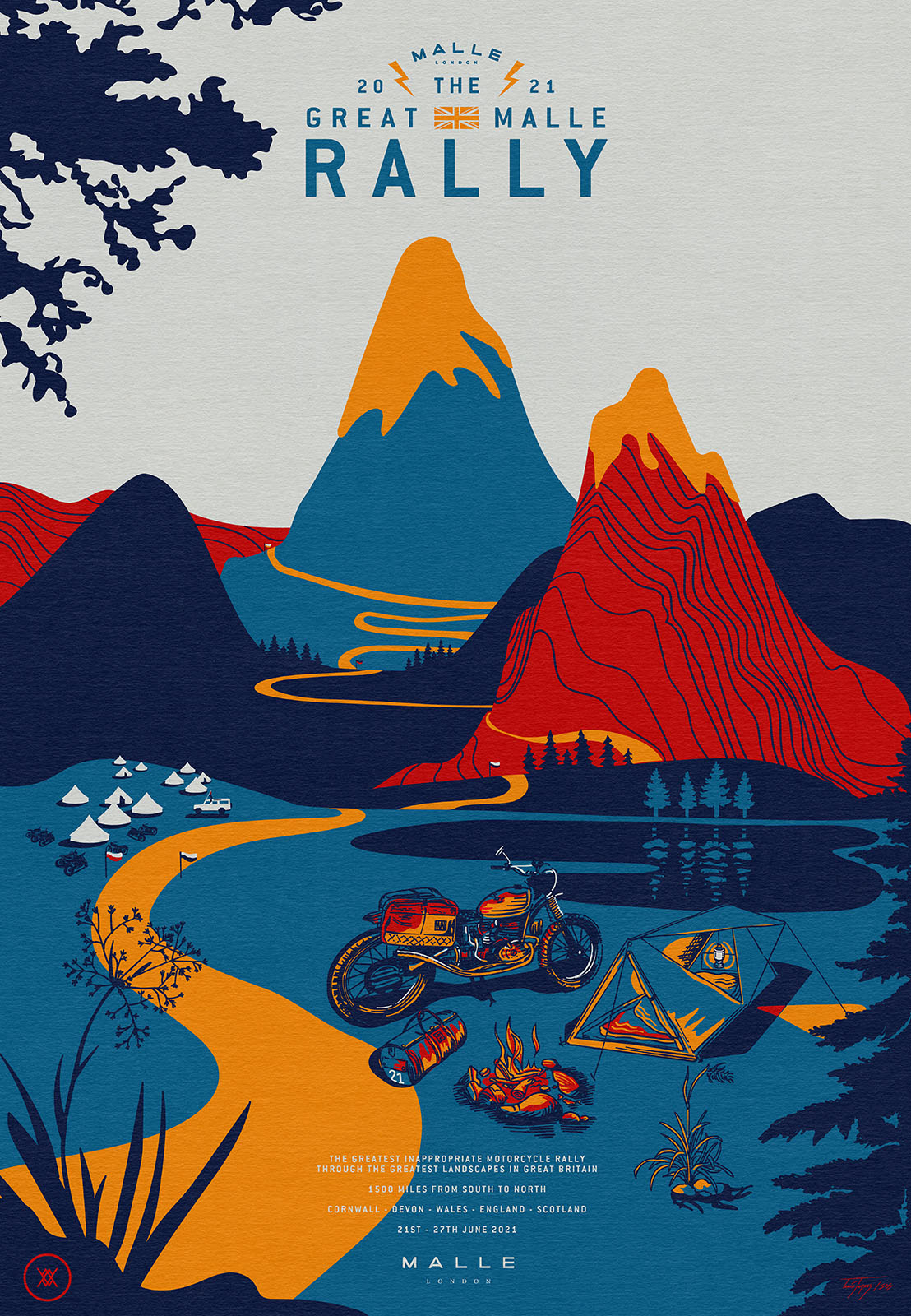 SHOP LIMITED EDITION PRINTS
Accessories, All, Gifts, home, logbook, Malle Moto, Motorcycle, Motorcycle Accessories, New, Posters & Books, Rally, Womens

£

19.00 –

£

55.00

Accessories, All, Gifts, home, logbook, Malle Moto, Motorcycle, Motorcycle Accessories, New, Posters & Books, Rally, Womens

£

19.00 –

£

55.00

Accessories, All, Gifts, home, logbook, Malle Moto, Motorcycle, Motorcycle Accessories, New, Posters & Books, Rally, Womens

£

19.00 –

£

55.00

Accessories, All, Gifts, home, logbook, Malle Moto, Motorcycle, Motorcycle Accessories, New, Posters & Books, Rally, Womens

£

19.00 –

£

55.00

£

39.00

£

39.00

Out of Stock

£

179.00

Out of Stock

£

49.00