Bonnie Backpack – Leather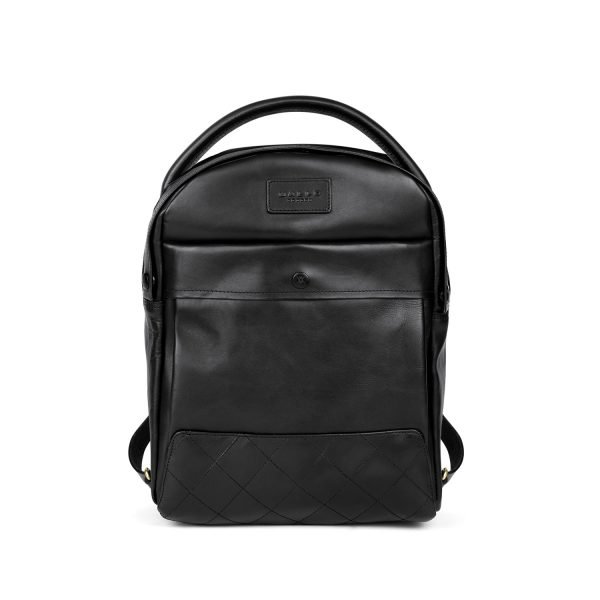 BONNIE BACKPACK - LEATHER
Designed especially for the female rider/adventurer, this ergonomically designed backpack is also available in an exclusive matt-black leather edition. Slightly smaller in scale than it's larger unisex counterpart (the Edward Backpack), with extra pockets on the interior/front, larger padded shoulder straps, meaning more can be comfortably transported and the shoulder straps are also closer together for more comfort when walking/riding.
The top leather carry handle enables the bag to be carried by the side, with a back slot so the shoulder straps can be neatly stored. The 180 degree quilting, creates padding from front to back - with Knox shock absorbent armour in the base - to protect your laptop/camera/kit from impact if dropped.
Hand crafted in the Malle workshop with our full grain bridle leather (which is extremely water resistant and robust), with a waterproof membrane, making the bag fully waterproof. An organic red cotton interior and solid welded brass hardware - creates a unique and contemporary piece of luggage that will only improve with age.
Canvas Bonnie available in BLACK / NAVY BLUE / RED / DESERT SAND
£359.00
Only 2 left in stock
Malle luggage, bags and accessories are built to last. Our durable fabrics, heavy duty stitching, waterproof membranes, impact protection, solid welded- brass hardware and bridle leather will age extremely well and bare the wear and tear of an adventurous life.
Darker colour waxed cotton fabrics can fade if left in direct sun light for very long periods of time, this is a part of the ageing process. The wax in the cotton canvas protects the fabrics from dirt, water and sun, so please make sure your Malle is kept in good condition, for a longer and happier life.
To help you keep your bag in perfect condition – please use the correct Malle wax to maintain waterproofing and leather conditioner on the leather.
Additional information
| | |
| --- | --- |
| Size (cm) | 35cm / 26cm / 13cm |
| Size (Inches) | 14" / 10" / 5.1" |
| Volume | 12 Litres |