Bruno Weekender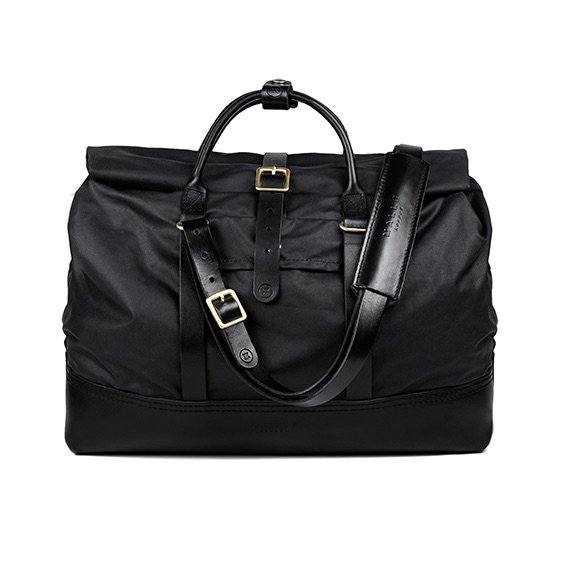 BRUNO WEEKENDER
Waxed Canvas Weekender Bag
The perfect 'Get Away Bag' our matt-black Bruno Weekender features a waterproof roll top opening - that enables it to expand and contract in size to carry all of your travel essentials - and maintain absolute protection from the elements. Perfect for the weekend escape!
Our lightweight shoulder bags are designed to carry daily/travel essentials in the 5 interior pockets, with interior padding on both sides and a padded laptop pocket. Made from our 10oz black oiled canvas, bridle leather, solid brass hardware and lined with our signature red organic cotton. It's designed to fit within all overhead travel restrictions on planes.
The Bruno Weekender is also the first hybrid pannier/weekender bag. Designed to be your sole weekend bag that conveniently mounts to your Motorcycle as a single pannier or double pannier set. The pannier can be easily removed from the motorcycle when you arrive by simply undoing the belt buckles converting back to a shoulder strap, more convenient and versatile than a permanent pannier. More details on the 'Description' below and download the 'Malle Manual' below for the full installation guide.
For more installation information, download the Malle Manual here.
£399.00 – £699.00
The 5 interior pockets are designed specifically for digital tools: Up to a 15″ laptop, hard disks, tablets as well as other essentials; pencils, glasses, notebooks and papers. There are two exterior slip pockets and carefully positioned leather straps, designed to hold your extra items when in transit.
Pannier option includes:
1 x Large Weekender Bag/Pannier for Motorcycle
1 x Shoulder Strap – Converting to Pannier Mounting Straps
2 x Industrial Velcro Anchor Straps (for installation on motorcycle)
Each Shoulder Strap – divides into a pair of thick bridle leather belts to loop through the brass Rings on the bag and then wrap around the pannier rail and/or subframe – or if you're using 2 panniers, just loop together and place them on top of the seat. The straps are 40" in length and tighten to fit your motorcycle and keep the bags high enough on the bike (and away from exhaust pipes). The 'Malle Anchor Straps' – are made from industrial velcro and loop through the side leather straps on the Malle Bruno Pannier to any frame/fixing point on the motorcycle, preventing sideways movement when cornering or riding over rougher terrain.
Malle tool bags are built to last, with heavy-duty stitching throughout. Our durable fabrics, forged brass and bridle leather will age extremely well and bare the wear and tear of a nomadic life. To help you keep your bag in perfect condition – please use the correct Malle wax to maintain 100% waterproofing and leather conditioner. Darker colour waxed cotton fabrics can fade if left in direct sun light for very long periods of time, this is a part of the aging process. The wax in the cotton canvas protects the fabrics from dirt, water and sun, so please make sure your Malle is kept in good condition, for a longer happier life.
Additional information
| | |
| --- | --- |
| Size (cm) | 45cm / 33cm / 20cm |
| Size (Inches) | 18″ / 13″ / 8″ |
| Volume | 30 Litres |