The Malle 'Expedition Jacket' is the perfected motorcycle expedition jacket. It's the culmination of over 2 years of blood, sweat and tears – with a 10,000 mile (37 day) test expedition incorporated into the design process. We collaborated with a designer for the U.S Navy Seals jackets to create the most durable and innovative garment, that will only get better with age.
Each Expedition Jacket is made in a workshop in London that's been producing the finest expedition-wear since 1920. The quality, innovation, craftsmanship and build can't get any higher.
To make an Expedition Jacket of this quality, that protects the rider is not easy by any means and it's certainly not inexpensive. Which is why we need your help, to help kickstart production of The Expedition Jacket in 6 weeks time.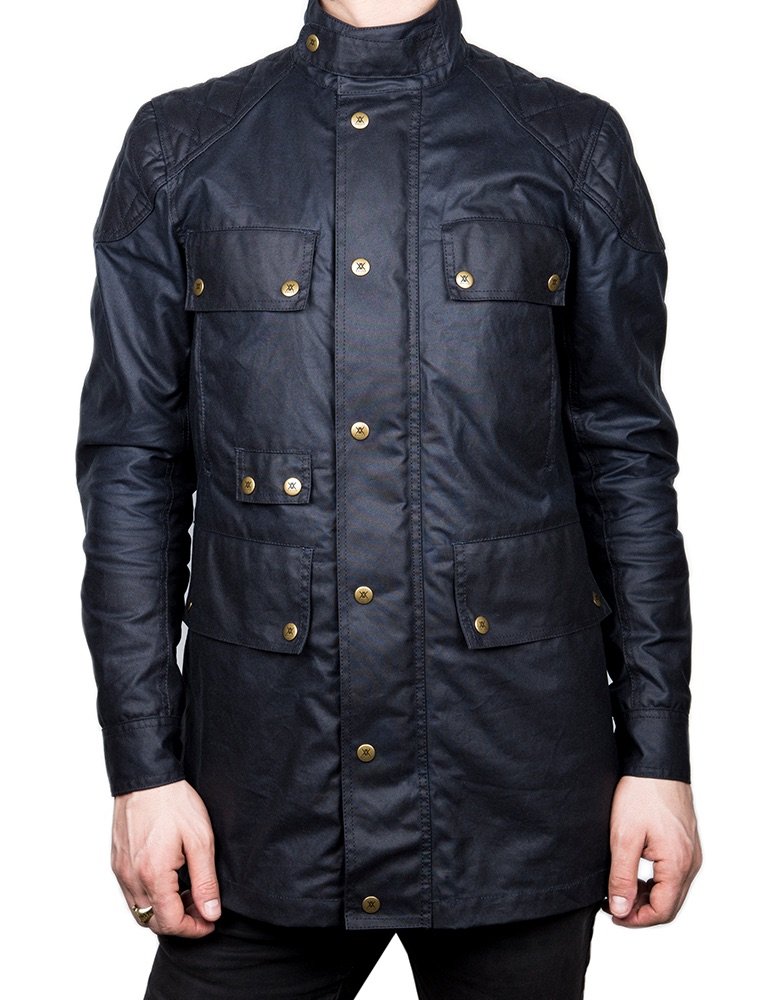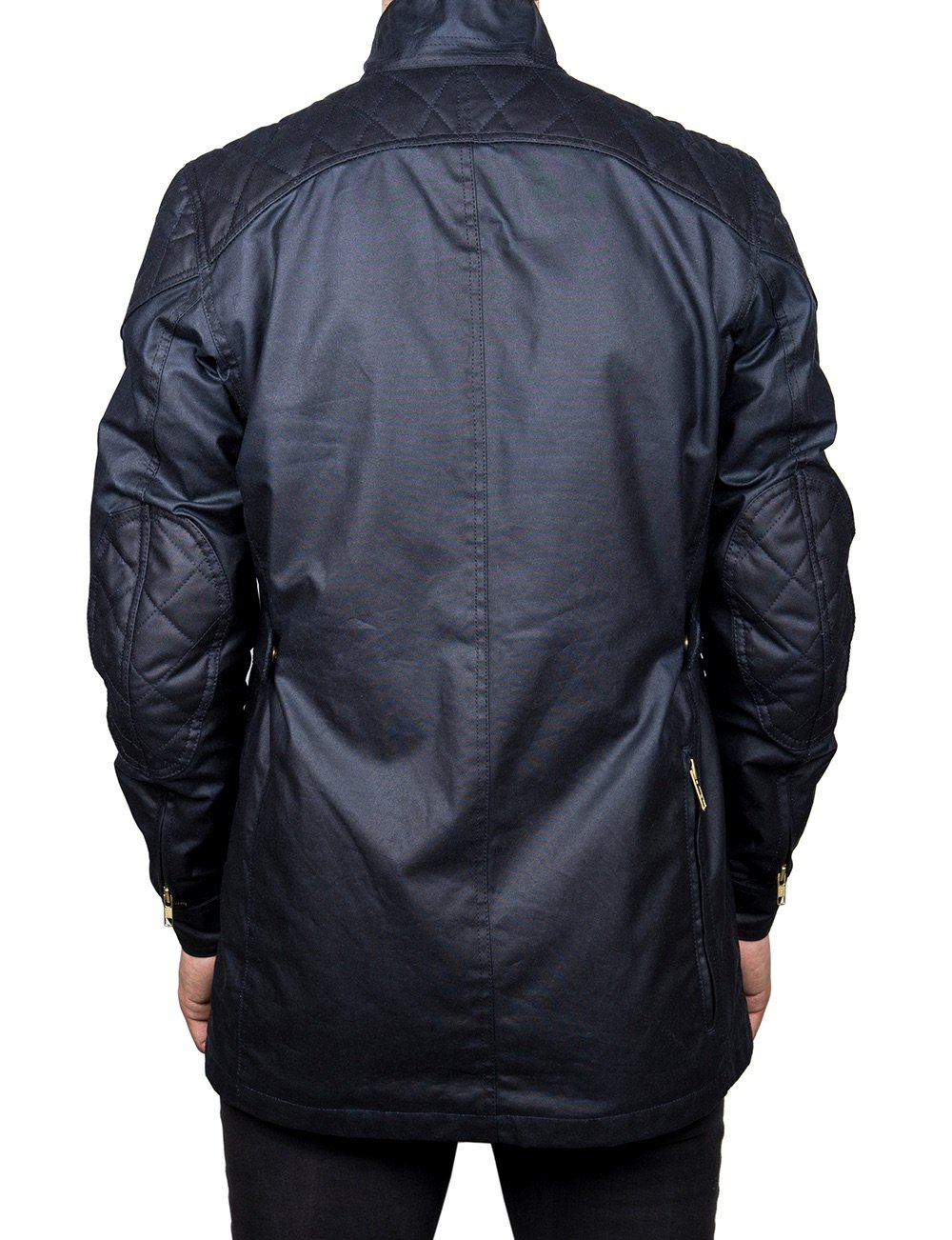 A Unique and Innovative Expedition Jacket
The Expedition Jacket encapsulates the concept of 'inspired heritage' using tried and tested materials that have been used on motorcycle expeditions for over a century, yet we've redesigned this with many modern elements and innovative design features for riders of today.
An exceptionally robust and innovative design; 100% waterproof, integrated abrasion resistant kevlar lining, removable CE approved armoured plates, GPS integrated, storm flaps, soft interior organic cottons, smart air venting, triple stitched seams, performance suede trim, intuitive storage (10 pockets) and all utilising extra strong British oiled cotton from the oldest waxed cotton mill in Scotland (Estd. 1887).
To make an Expedition Jacket of this quality is not easy by any means and it's certainly not inexpensive. We're a very small company – together with your help and support we can produce the first Expedition Jackets, delivering globally in 10 weeks time, just in time for summer riding adventures.

Testing the Expedition Jacket
After we'd made many prototypes in our London workshop and with the help of an American designer in New York who designs the jackets for the Navy Seals we needed to test the jacket, but we didn't just want to test it – we wanted to try and DESTROY it!
We set off from New York in July 2015 and set a route that took us 10,000 miles across North America on two Triumph Bonneville's, from city to desert to mountain tops and beyond. For 37 days we rode, slept, camped and worked in our Expedition Jackets, we wanted to know what happens in 42 degrees centigrade in the desert, what about riding through tropical rainstorms, -10 degrees in the mountains, how will the jacket perform after days and days of continuous riding through all weather conditions?
After 10,000 miles we knew…the good, the bad and everything in between!
So we got back to London and set about perfecting any features we weren't 100% happy with and found the most perfect production partner to make them here in London. 2 years later the jacket is finally ready and we couldn't be prouder.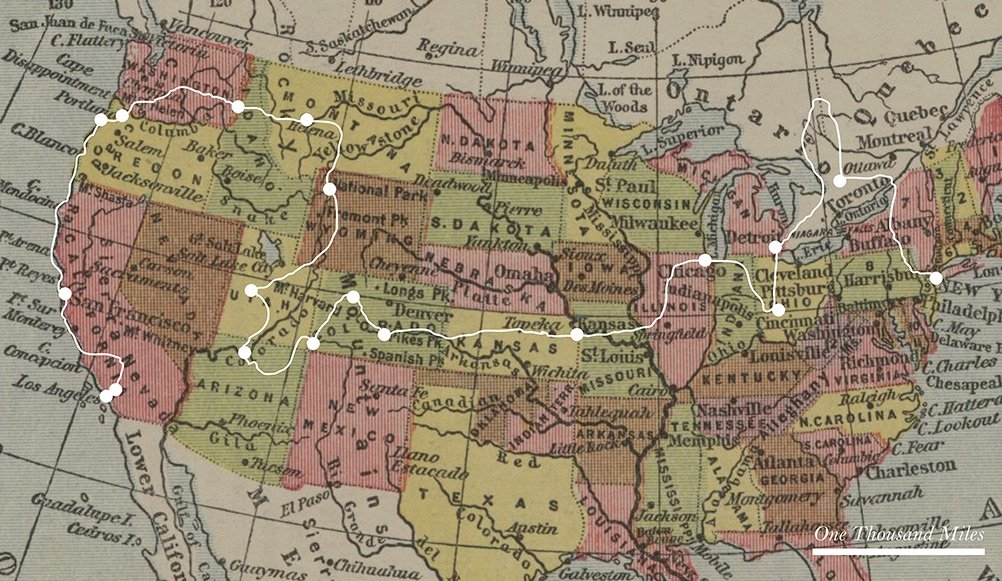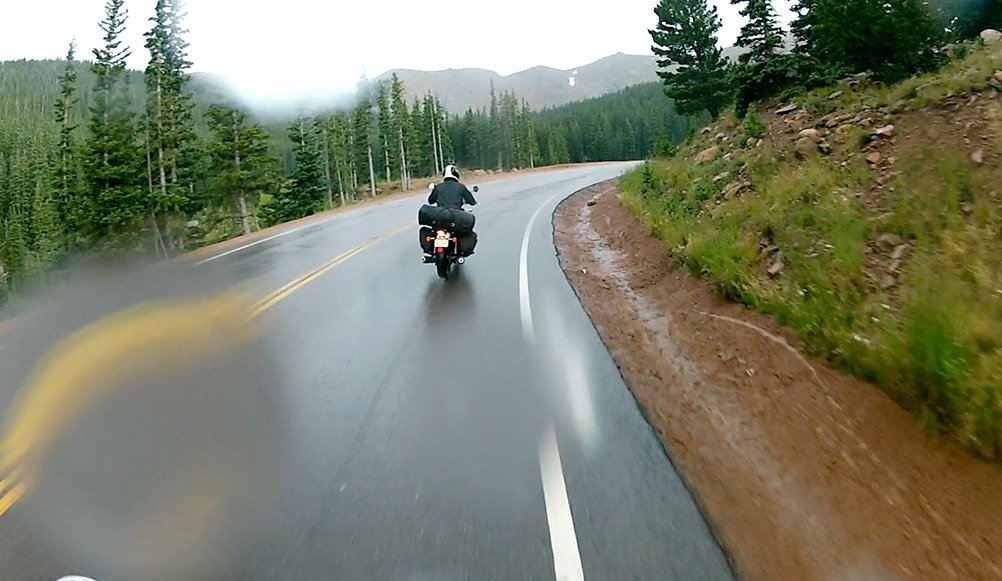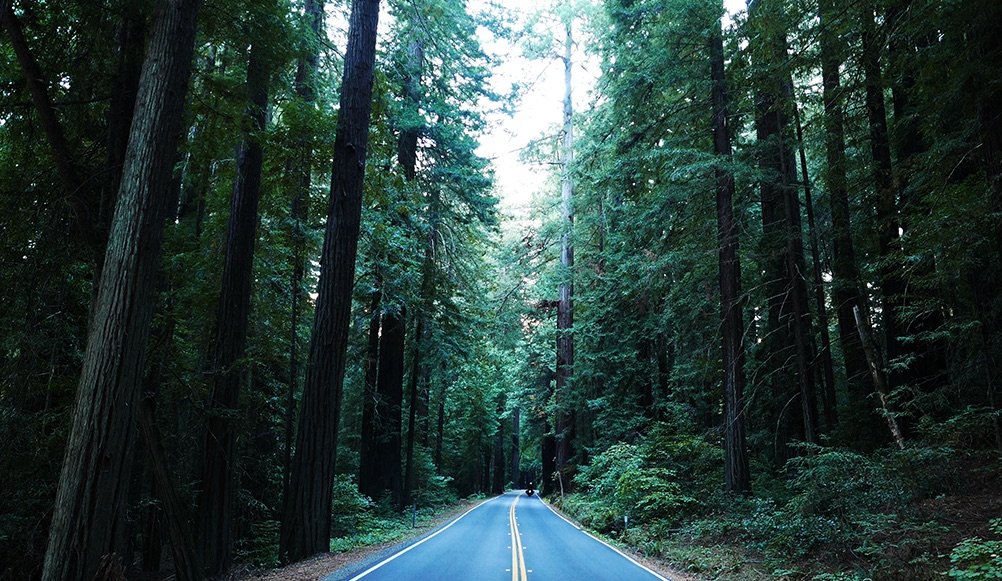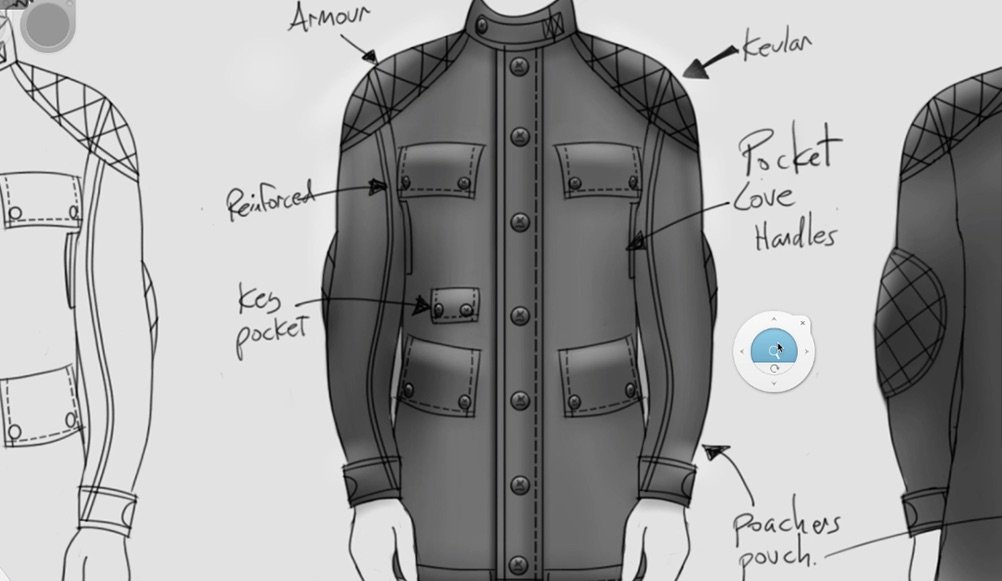 Safety and Protection
The Expedition Jacket protects the rider in 4 key ways:

Fully Waterproof
The Expedition Jacket is fully waterproof with triple layered seams throughout. We've ridden for weeks through torrential rain in the jacket and while the rest of our bodies may have been soaking wet, the parts of our body under the jacket were bone-dry. People ask if we'll need to re-wax the jacket to keep it water-proof? The answer is 'eventually' – maybe in 5 years, maybe in 10 years, depending on use. We sell Malle Wax which you can use, or we can do the re-waxing for you in 10 years time.

Impact Resistance (CE Approved) Armour Plating
We know where to focus our creative energy and instead of trying to reinvent the wheel and create our own armour we simply partnered with the best: Knox. Knox are the industry leader in motorcycle safety armour, not only are they the best, but their head office is just across the road from us in London – an obvious partnership. The CE approved micro lock armour is the perfect balance of performance, comfort and safety – we wouldn't use anything else in our jackets – giving the rider the highest level of safety, technology and peace of mind. Each jacket some with a removable back protector, two shoulder pads and two elbow pads. These can be easily removed when you're not riding.

Completely Windproof and Vented
We used a really tight weave oiled cotton, that is a fully windproof barrier to prevent heat loss by wind exposure. We then focused on the opposite problem, over heating. We've created 2 simple and smart ways of bringing more air into the jacket: the triple layered storm flap front opening can be buttoned up with the zip fully open to keep the jacket closed but enabling air to flow through. The extra long zips on the underarms can also be undone fully to allow more air to flow into the jacket when riding in higher temperatures.

Abrasion Resistance Kevlar
In our own personal experiences on Expedition, most knocks, falls and scrapes occurred at low speeds, where the jacket needed to be the barrier between ground and skin. Our heavier weight 10oz oiled cotton is certainly stronger than a tough pair of jeans, but the kevlar layer means that if the outer fabric layer is compromised by a rough/long skid, the kevlar will prevent skin on ground contact. The kevlar layer is used in the elbows and shoulders, which are the key abrasion points. We've made it obvious where the kevlar sections are in the jacket, by quilting the outer sections too, for even more padding.

Robust Materials
Our 10oz oiled cotton is the highest quality in the industry, the tight weave makes it fully waterproof and extra strong, with the oil protecting it from UV and dirt. The performance suede that we've used on the inside of the collars and cuffs will outlast any competing corduroy by a factor of 10. Our interior lining is made with an organic cotton twill, which is not only strong, but lightweight and breathable.

Fit/Adjustment
The Expedition Jacket is available in all sizes from 'Small to Extra Large' but we've also added 3 key adjustment points for comfort and extra heat retention. There are 2 cinch flaps on the waist to give a tighter fit and an adjustable storm flap around the neck/collar. The cuffs have dual poppers for a regular and close fit too.

Comfort
The interior of the jacket has been designed with comfort in mind, the light weight breathable organic cotton interior is soft on the skin and easily washable. The performance-suede on the cuffs and collar (the main skin contact/movement points) is velvety soft, yet extremely durable. The armour plating is flexible when riding (hardens on impact) and easily removable if you're using the jacket in situations when armour is not required (hiking, driving etc.).

The Love Handles
One of our favourite features on the Expedition Jacket are the 'Love Handles' – we should probably have a smarter name for this feature, but it was the note written on the first design sketch and it stuck! – two discreet handles engineered into the side chest pockets of the jacket, which are triple stitched to the structural interior seams of the garment, enabling the motorcycle passenger to hold onto something firmly (in a natural position) and protect their hands from the wind and the rain. Smart, safe and considered.

The Poachers Pouch
There's never enough storage on a motorcycle, so the jacket needed to solve this too. A large zippered pocket is engineered into the back of the jacket, to hold larger items like maps, papers, a loaf of bread or whatever you might need to quickly stash away behind you.

Storage
There's something quite satisfying about everything having it's own neatly organised place. On any long trip (or short for that matter) you will need some tools or accessories: maps, phones, glasses, knife, water, currency, passport, newspaper, food…The Expedition Jacket has 9 large pockets to keep all of this stored, protected and organised. Each of the outer pockets are built into the main body of the jacket, making it more waterproof and streamlined.

You can pre-order the jacket now and to thank our community for helping us launch this design and believing in many of our projects to date, the first jackets will be available for pre-sale at a special price.
Back the project now and we'll send you the jacket in just 10 weeks time, hand made in London just for you. There are many other ways to get involved in the project, maybe you want a special custom Malle Expedition Jacket, we have a few Limited Edition custom jackets too!

Our Expedition Jackets are made in North London, we ship the Waxed cotton down from Scotland, the red organic cotton lining is from a mill in the Midlands and the zips are all extra large YKK solid brass zips. It takes our team of craftsmen 8 hours to make each jacket – globally perfected, but locally made.
Sustainability
We use all natural fabrics in the Expedition Jacket and organic cotton, all are locally sourced from around the UK and the garment is manufactured locally in London, reducing the jackets carbon footprint. All of the hardware is solid brass which is infinitely recyclable and the removable armour plating and kevlar layers are reusable and recyclable.
One of the best ways of ensuring sustainable design/user practices, is ensuring that the product will last and be used for a lifetime (replacing multiple jackets) and can be maintained easily. We supply a 6×6" piece of the waxed cotton fabric, in case of any necessary repairs over the years and a tin of Malle wax, to maintain maximum waterproofing in this decade and the next.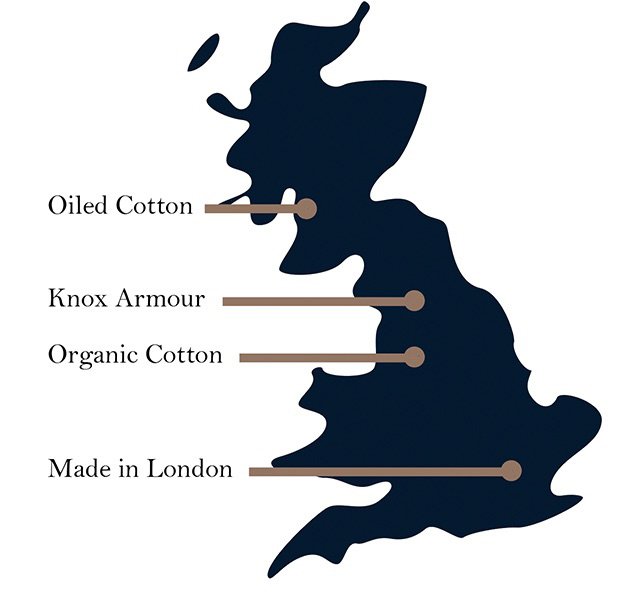 o
There are many ways to get involved in the project.
1. Expedition Tee Shirt
If you love the project and want to get involved in a small way, we'll make you a Malle Moto Expedition Tee Shirt, screen printed and hand made by us in London.
2. Malle Navigator
Apart from the Expedition Jacket itself, one of the most useful pieces of kit on our 10,000 mile test expedition was The Malle Navigator, you can put your GPS, iPhone or map directions on your handlebar and it will always keep you on track.
3. Ltd Edition Malle Tool Roll
On the 10,000 mile test Expedition we had no support teams or trucks carrying our kit, so basic tools were essential. Keep your tools close and safe with our Limited Edition tool roll which we've made specially for this Kickstarter project.
4. The Expedition Jacket – Midnight Blue
'Navy Blue, the thinking mans black' – Back the project and you'll receive the first Malle Expedition Jacket. Available in all sizes. The exterior is a very dark Navy Blue oiled cotton, with a red organic cotton interior – contemporary and classic at the same time.
5. The Matt Black Expedition Jacket
It doesn't get better than Black! Back the project and you'll receive the first Malle Expedition Jacket in Matt Black. Available in all sizes. The exterior is a Matt Black oiled cotton, with a red organic cotton interior.
The Custom Expedition Jackets
6. Custom Jacket (Yellow, Red, Black, Blue) + Embroidery
If you're looking for something that is much more special and custom – we're producing a Limited Edition of 10 Expedition Jackets in your choice of Yellow, Red, Black or Blue, with the custom 'Malle London' embroidery on the back, side and front, with the option of your initials being monogrammed onto the cuffs – very subtle and very personal. You can select the colour and any size and we'll make it specially for you.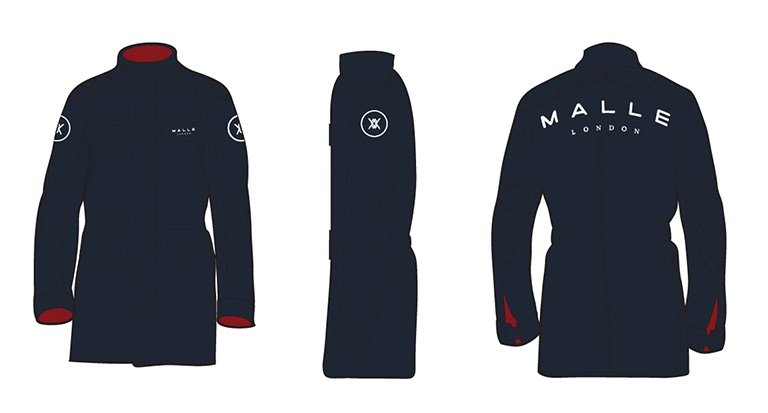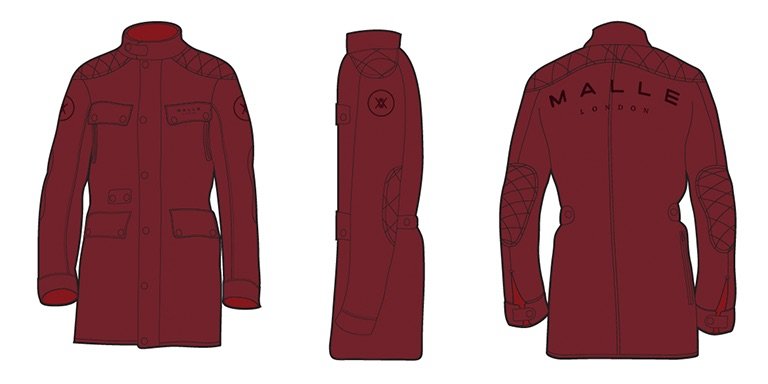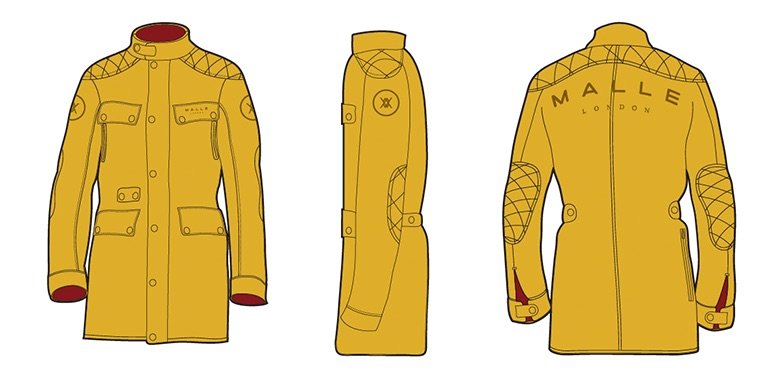 With all of our products they're designed for an active life and we guarantee every Expedition Jacket against material or manufacturing defect for 5 years. We want this jacket to last you your entire riding life and when you finally hang up your helmet we want this jacket to be proudly passed on to your first born child.
Accidents and rips can happen (usually down the pub), we've got plenty of waxed cotton in our workshop, so should you rip something by accident (accidents happen), we'll help you fix it.
Either we'll send you the fabric to patch it up or return it to us and we'll happily patch it up for you. Like on any battered vintage motorcycle jacket – everyone digs the battle scars!
And if you find the jacket is too small or large when it arrives, we'll simply send you a replacement of the next size up or down, at no extra charge.

This is our first Kickstarter project, but we've been producing products for some of the most best shops in the world for the last 5 years, we've had many very happy customers and always make sure we deliver. We don't want to toot our own horn too vigorously (nobody likes an overly vigorous tooter) but we've got some great experience under our belts on how to manufacture the highest quality goods and fulfil orders and deliver on time.
In short, we know what we're doing and you should be very confident that we will deliver what we say we will, when we say we will. Should unforeseen issues come up, we will handle them with the utmost transparency and care for you, our backers.
Forecasting Risk
If all goes well with our first funding campaign, we'll end up with some great pre-orders for the Expedition Jacket. Of course we're trying our hardest to predict our future demand and plan accordingly, it's far from an exact science, but it's also not that complicated.
If you pre-order now, we'll make it, we ship it to you, you use it and love it for years and then you'll pass it onto you first born child… who'll probably put it on eBay.