Malle Large Tool Roll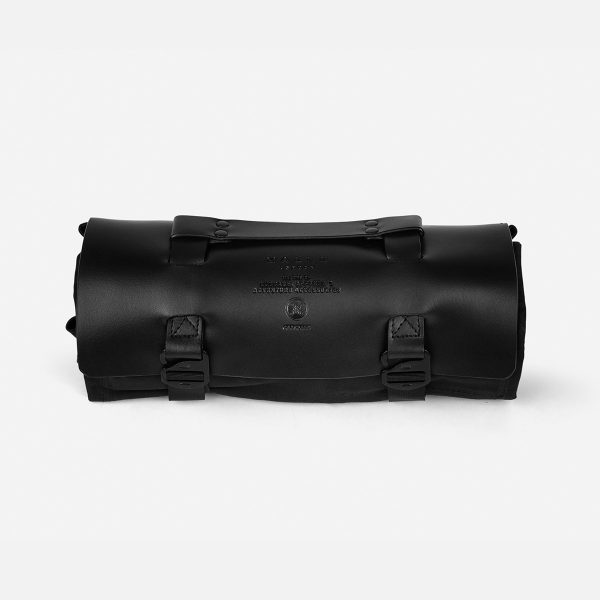 Malle Large Tool Roll
We all need to be prepared and whether you're traveling by foot, 4x4, boat or motorcycle, a few good tools will always get you (or others you meet on the way) out of trouble.
Our larger oiled canvas tool roll features 22 tool pockets and 2 large slip pouches to hold smaller items securely. Perfect for automotive use as well as for motorcycles.
The parallel leathers straps enable attachment in a multitude of positions on your machine. Made from our signature black oiled canvas, bridle leather and our new innovative Malle G-Hooks and Nato Spec. military webbing. This tool roll is built to last. 
King Dick Tool Adventure Tool Set optional (tools listed below). This carefully curated set of tools has been selected to keep you moving on that race, rally or daily adventure.
£159.00 – £489.00
Malle tool rolls are built to last with heavy-duty stitching throughout. Our durable fabrics, G-Hooks and Nato Spec. military webbing and bridle leather will age extremely well and bare the wear and tear of an adventurous life. To help you keep your Malle in perfect condition please use the correct Malle wax to maintain 100% waterproofing and leather conditioner.
Darker colour waxed cotton fabrics can fade if left in direct sun light for long periods of time. The oil in the cotton canvas protects the fabrics from dirt water and sun so please make sure your Malle is kept in good condition for a longer happier life – although personally we love the way oiled canvas ages.
Additional information
| | |
| --- | --- |
| Size (Inches) | Rolled 6.5" / 12", Unrolled: 40" / 24" |
| Size (cm) | Rolled 17cm / 31cm, Unrolled: 100cm / 62cm |
SKU: TR-1-1 - Need Help? Contact Us Leave Feedback
Categories: Accessories, Adventure Rider, All, Auto, Malle Moto, Mens, Motorcycle, New, Roll, The Great Malle Rally, Under £500
Adventure Tool Set Includes:
Optional
1 x Torch (Coast G19) high power pen style
1 x Combination Pliers 165mm (including parallel and radiused jaw faces, and cutting edge)
1 x Long nose pliers, 170mm (parallel and raidused jaw faces, and cutting edge)
Wrenches – 8" Adjustable
6 x combination (ring and open end) spanners
Socketry – all 3/8" square drive
1 x Ratchet
1 x Short extension
6 x Sockets
1 x spark plug socket
1 x slotted screwdriver
1 x crosstip screwdriver (King Dick 146, multi- fit)
1 x circuit test, with earth lead
9 piece hexagon wrench (Allen key) set, long arm, ball end.
1 x Tyre pressure gauge, pencil type
1 x Tyre valve tool
1 x Roll of Insulating tape, small selection of cable ties
Related Products
Out of Stock

Accessories, Adventure Rider, All, Gift Ideas, Leather, Lost Collection, Malle Moto, Mens, Moto Accessories, Motorcycle, The Great Malle Rally, Under £150, Urban Rider, Womens

£

69.00