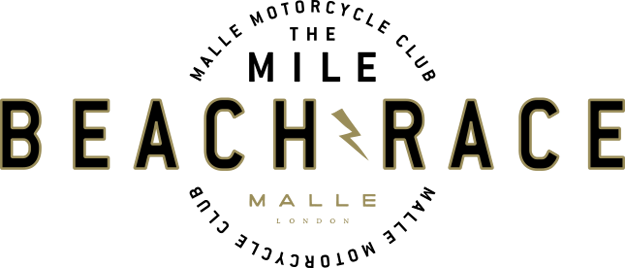 THE MILE BEACH RACE 2020 – A HUGE AND HEARTFELT THANK YOU TO ALL OF OUR RIDERS, GUESTS AND SUPPORTERS OF 'THE MALLE MOTORCYCLE CLUB' THAT BRAVED FORCE 9 WINDS, 10M WAVES AND THE BRITISH 'SUMMERTIME' IN THE BEAUTIFUL TOWN OF MARGATE. TOGETHER WE HOSTED THE FIRST EVER MOTORCYCLE SPRINT RACE ON THE SANDS.. MAKING HISTORY IS NEVER GOING TO BE EASY! WE'RE STILL SHAKING SAND OUT OF EVERYTHING AND EVERYWHERE.. AND WE LOVED EVERY SECOND OF IT!
After high tide slowly ebbed away at 6.30am on Saturday the 27th of September, 250 suitably inappropriate motorcycles and their wild pilots took to the beach, racing head to head in an 1/8th of a Mile Sprint. The waves were crashing 20m over the sea wall, Malle race flags we're bring ripped from the race markers, our trusty Union Jack flag (that has been used at every Malle Race/Rally since 2014) snapped under the gale force conditions.. and still grins from ear to ear were seen on the start line all day!
Congratulations to Guy Horner for wining The Derby and taking home the exquisite Malle Mile Beach Race Trophy, hand made by The Rag & Bone Man.
As ever, we're humbled and grateful to the Malle Marshall team for going above and beyond, volunteering their time to help us host this wild race. We're still unloading Beach Rovers and brushing 2 inches of sand out of Malle HQ, but we'll be sharing more photos very soon and if you'd like to send some of your best photos for us to share and put in the Malle Archive, please do!
Thank you lastly to the beautiful town of Margate and the people of Thanet for being so supportive and helping us bring this dream to reality, by enabling us to host our second socially distanced motorcycle race in 2020 – we'll see you all next year!
As part of our One Bike One Tree campaign, we're planting a tree for every motorcycle that joined us on the beach, as well as at The Mile and The Great Malle Rally.
The Beach Race 2020 – Official Gallery
Thank you to Kevin Bennett for photographing the first Mile Beach Race so beautifully.
Sign up so you're the first to know when new races/rallies are announced!
All, Beach Race, Clothing, home, Jackets & Apparel, Knitwear, Motorcycle, Motorcycle Clothing, New, Race, Racing, T-Shirts, Terrain, The Mile 2020

£

99.00

£

30.00

Out of Stock

All, Auto, Beach Race, Clothing, Jackets & Apparel, Motorcycle, Motorcycle Accessories, Motorcycle Clothing, New, Race, Racing, The Mile 2020

£

125.00

£

35.00

All, Auto, Beach Race, Clothing, Jackets & Apparel, Motorcycle, Motorcycle Accessories, Motorcycle Clothing, New, Race, Racing, The Mile 2020

£

125.00

£

30.00

£

25.00

£

25.00
PROTECTING THE BEACH ENVIRONMENT
Protecting The Beach – Leaving Only Footprints in the Sand
We have been working with Thanet Council over the last year to create an environmental plan that ensures The Mile Beach Race leaves the beach in a better condition than when we arrived and leaves only footprints in the sand. Like The Malle Mile Festival the entire event is plastic free. Before and after the race the entirety of Margate Sands is being combed by our dedicated Marshall team, removing any debris and rubbish from the beach and recycling it safely.
The Malle Environmental Marshals
There will be many electric motorcycles in the beach race and more each year no doubt, but the majority of entries are vintage race bikes powered by engines. We've set up several initiatives to keep the beach environment pristine. We have a pre/post race washing station for all race motorcycles to remove any oil before and any any sand after. Our environmental Malle Marshals will also be on hand to watch out for any drops of oil on the beach and they're equipped to dispose safely of any sand that may be affected throughout the day.
Protecting The Environment – One Bike & One Tree at a time.
For all Malle events in 2020, including The Malle Mile, The Mile Beach Race and The Malle Rallies, we are working with 'The International Tree Foundation' to plant a tree for every rider who enters the race – with an aim to plant a minimum of 1000 trees in 2020 – off setting and locking away carbon and protecting the global environment. Started in 1924 – learn more about their stellar work in the UK and Africa here: www.internationaltreefoundation.org
Charity Benefit Partner – Two Wheels For Life
In 2020 the Malle team are delighted to announce our partnership with 'Two Wheels For Life' & their partner 'Riders For Health'. We are dedicated to raise funds and awareness for this vital charity initiative. For 3 decades the charity has trained local health care professionals to use motorcycles to reach the remotest parts of Africa where other vehicles simply cannot reach, bringing medicine, doctors and the modern digitisation of medical paper based-systems. To date they have reached and supported over 12 million people. We are in awe of their work and the way in which they use the humble motorcycle as a conduit for good and improve health care and life across Africa. Learn more about their amazing work here: www.twowheelsforlife.org