Malle Logbook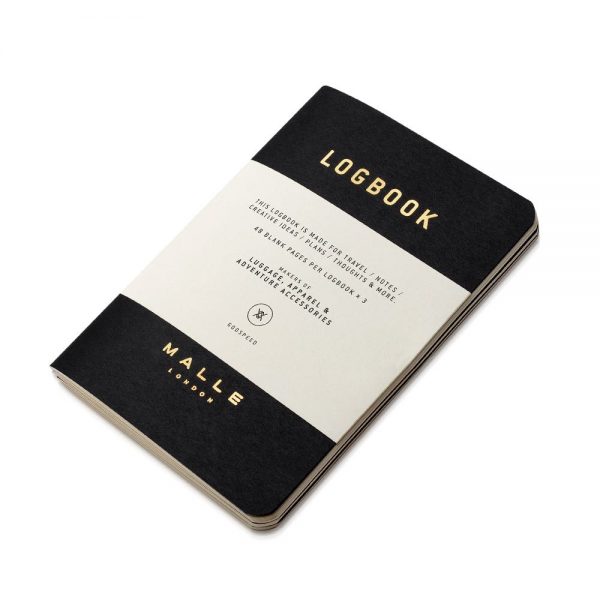 Malle Logbook - Set of Three
This is your lo-fi little black-box recorder, your personal adventurer planner/notebook to document your journeys and to keep notes of creative ideas on the road. It includes a full world map, rulers and survival tips, just in case you really get lost.
Each Malle Logbook is handmade in England, using the finest acid-free 80 gsm ivory paper, with a singer-sewn saddle stitch binding. The full bleed adventure planner/map is printed on the interior cover, with gold foil embossed graphics and adventure tips on the back pages.
Dimensions: A6 - 149 x 106mm.
£19.99
In stock
As the horizons of our adventurers increase, so too do the needs and demands on our designs. Malle products are going further, being pushed harder and need to do more than ever before. No longer will you just see a Malle strapped to a motorcycle on the streets of New York or London. People are taking their Malle kit on full global circumnavigations, across deserts and through Mongolian river crossings. Each piece in the Malle Moto collection is handcrafted from our British Waxed Canvas, Nato Spec. military webbing, with robust and luxurious bridle leather, waterproof membranes, shock absorbent armour, abrasion resistant kevlar and solid-welded brass hardware. Real ingredients for real adventure.
SKU: LOG-BK3-ACC - Need Help? Contact Us Leave Feedback
Categories: Accessories, Adventure Rider, All, home, logbook, Malle Moto, Motorcycle, New, Rally, Under £150, Womens
Related Products
Out of Stock

Accessories, Adventure Rider, All, Backpacks & Rucksacks, Gift Ideas, Lost Collection, Malle Moto, Moto Accessories, Motorcycle, The Great Malle Rally, Urban Rider

£

169.00