Malle Racer Motorcycle Jacket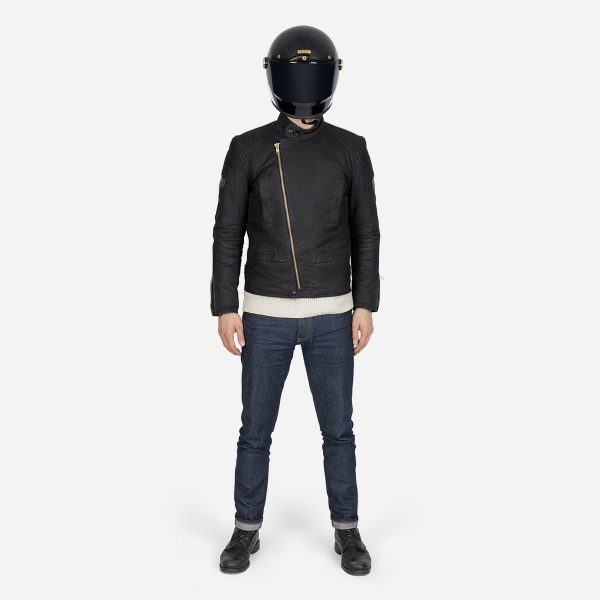 Malle Racer Jacket - Black
The perfected urban motorcycle racer jacket, high waisted, extendable sleeves, air vents, 7 pockets for extra storage with the Malle 'Poachers Pouch' and 2 interior pockets for your phone and a GPS headphone port.
Handcrafted with our beautiful British waxed canvas and waterproof internal membrane as standard. Available in 4 colours.
Each quilted section of the garment features double layers of abrasion resistant kevlar and 5 piece British race armour from our armour partner Knox; in the back, shoulders and elbows (all included). The asymmetrical front zip gives this unique motorcycle jacket a distinctively modern look with a nod to the classic style of the 60's cafe-racer jackets. The high race collar features an adjustable double snap and the jacket has cinch snaps on the waist to increase/reduce the size of the garment for year round riding (with/without layers), like on the original Malle Expedition jacket we've used our soft performance-suede around the cuffs and collars for supreme comfort.
Also available in RED / NAVY BLUE / DESERT SAND
We often have more sizes available in the Malle London studio. If you can't find your size here, please contact us: sales@mallelondon.com
£449.00
As the horizons of our adventurers increase, so too do the needs and demands on our designs. Malle products are going further, being pushed harder and need to do more than ever before. No longer will you just see a Malle strapped to a motorcycle on the streets of New York or London. People are taking their Malle kit on full global circumnavigations, across deserts and through Mongolian river crossings. Each piece in the Malle Moto collection is handcrafted from our British Waxed Canvas, Nato Spec. military webbing, with robust and luxurious bridle leather, waterproof membranes, shock absorbent armour, abrasion resistant kevlar and solid-welded brass hardware. Real ingredients for real adventure.
SKU: N/A - Need Help? Contact Us Leave Feedback
Categories: All, Clothing, home, Jackets, Jackets & Apparel, Malle Moto, Motorcycle, New, Racer Jacket, Racing, Under £500, Urban Rider