---
Appropriately Inappropriate
For those of you that have joined one of the Malle Mile races, you will know that we take the 'inappropriate' prerequisite very seriously and so do our racers! Each year we're taken back by the dedication each rider commits to this very alternative approach to racing. This year was no exception.
While our team are hastily loading the final pieces of kit onto Margate Sands, as the tide finally reveals our Beach Race track, we start to hear that magical sound, the rumble of engines in the distance, as over three hundred two, three and four wheeled machines start to fill up the promenade. A plethora of weird and wonderful humans appear with their even weirder and more wonderful machines, who have all travelled from near and far and worked day and night to prepare in anticipation for this years Malle Mile Beach Race.
One rider stood out, he was no stranger to The Mile races, each year evolving an old or building a new custom motorcycle in an attempt to win the Beach Race title and hopefully go home with the Beach Race Trophy, custom built by local engineer and artist Paul from Rag 'n' Bone man.
But there was a twist.
As the motorcycles ran through each race class, with the top ten winners from each race being awarded a place in 'The Double Derby' Final, a knock out race. An out and back, head to head, knock-out race, until there is one remaining winner. As riders progressed through the race classes, I could sense a different kind of tension in one of the riders, who had worked particularly hard to build an ultimate Beach Race machine. As he progressed through the knock-out rounds, finally after 4 years of trying, a potential win was in sight. Then disaster, as his chain slipped off on the start line, his bike was rolled to one side, with his hands on his head, you could see the desperation in his eyes – out of the crowd someone pushed through and produced the exact size ring spanner he needed for the repair. The chain was back on and he was back in the race and joined the line of the final 10 riders!
This was when I got a tap on my shoulder from this rider, Dan Stone from Stibnite Moto beckoned me in and and whispered, "if I win this, I'm going to propose", at which point I kindly mentioned I wasn't single. But little did we know, Dan had a bigger plan. Armed with a winning machine, a ring in his pocket and a driving force for the win of The Malle Mile Beach Race 2023 and his now fiancee! Spoiler alert – he won the race and on his return to the start line, we thought he was coming in for a photo, when he threw the motorcycle to the ground and walked into the crowd, went down on knee and proposed. And she said yes. Phew!
Below is the Official Malle Mile Beach Race 2023 film, followed by an interview with the Dan Stone, winner of The Malle Mile 2023.
---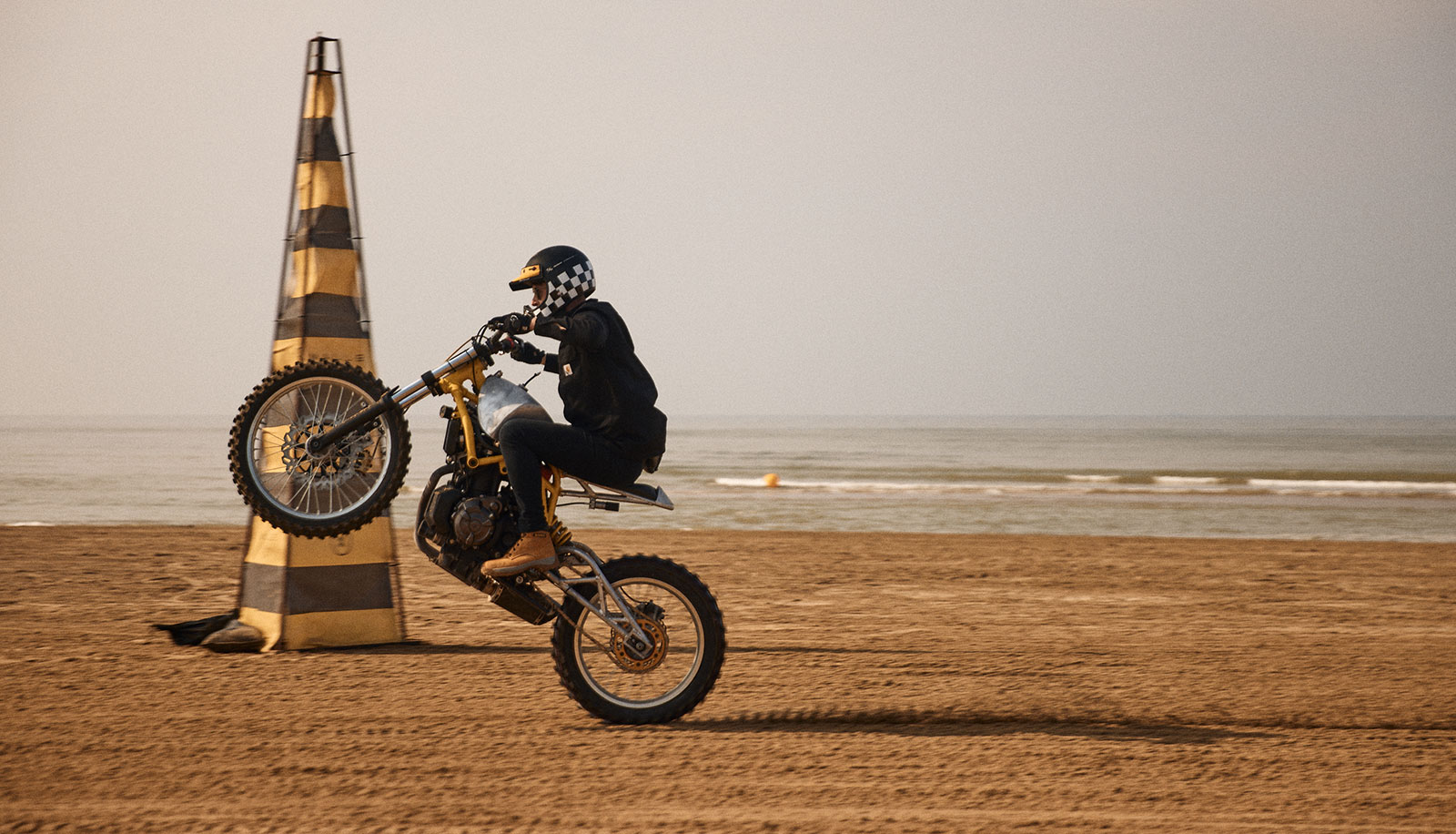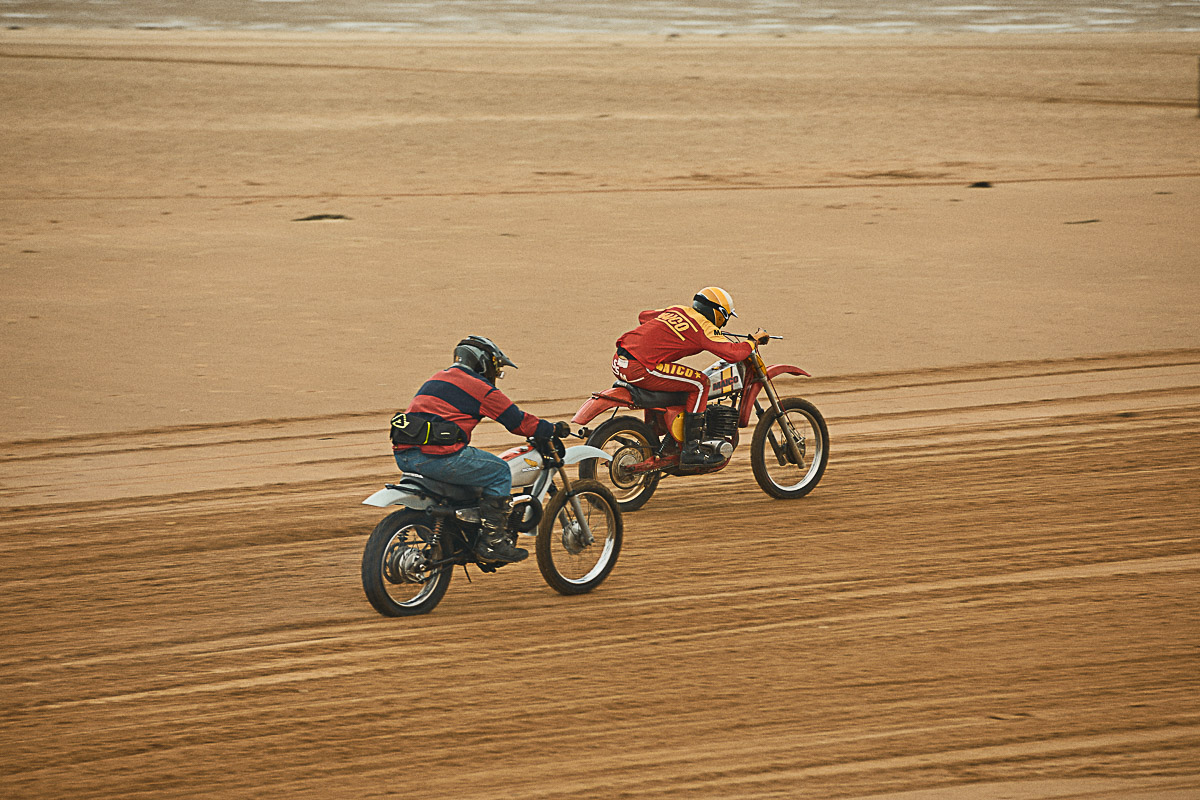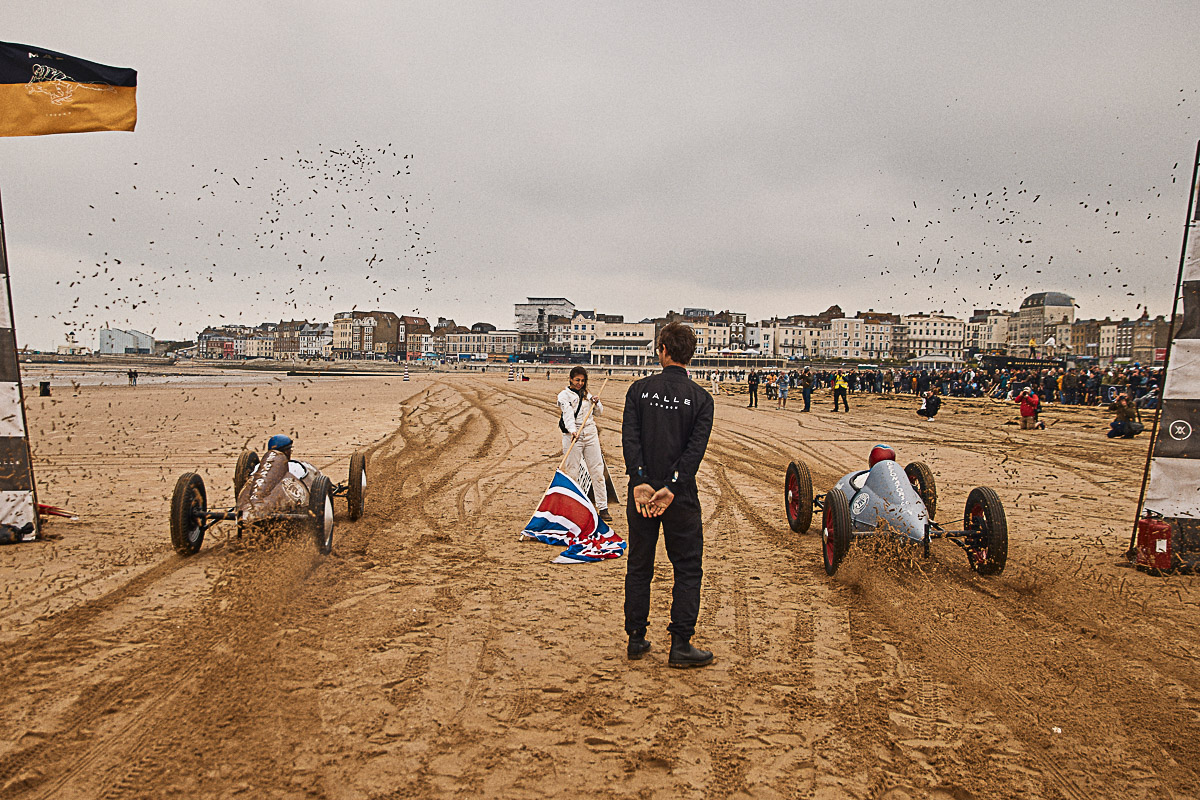 Congratulations on your incredible win in The Malle Mile Beach Race 2023, after four years of determination and effort. How does it feel to finally achieve your goal and take home the Beach Race trophy?
Absolutely amazing, it's been a long time coming.
The Malle Mile Beach Race is known for its unpredictable weather conditions and endurance. What were some of the biggest obstacles you faced during the races over the last 4 years, and how did you overcome them?
Well I think the weather of the first year will always go down in history. I was racing a 73 rd350 that year but it succumbed to the weather along with a lot of bikes and riders. It's a long ol push back to dreamland when you're wet down to your undies. The tide has also been a contributor at beach number two with the sea claiming our race track back before we could finish.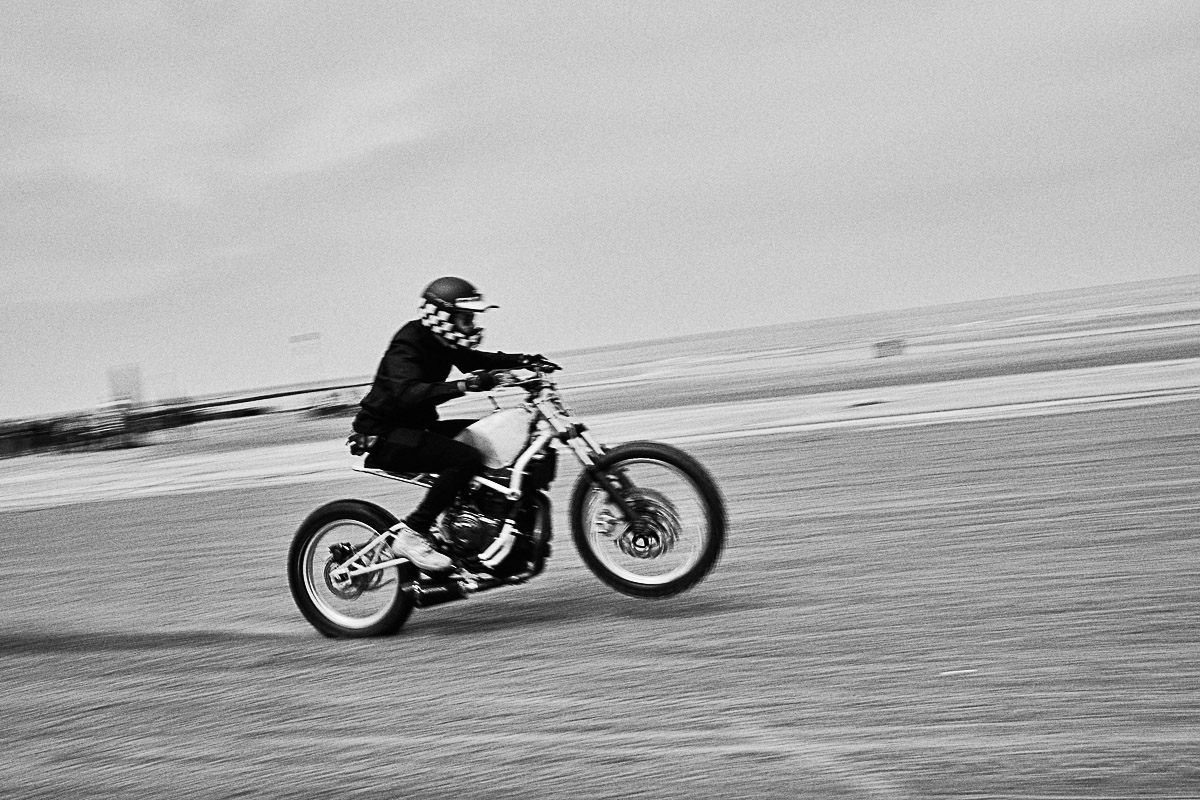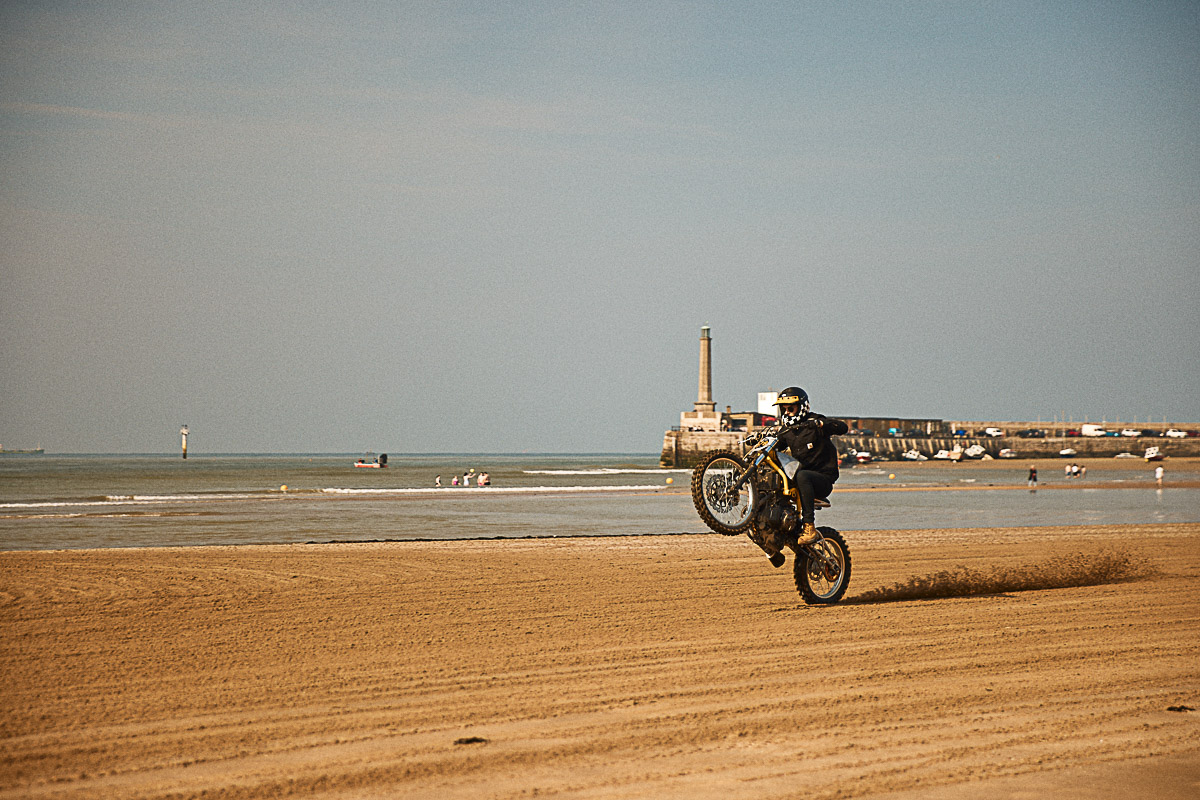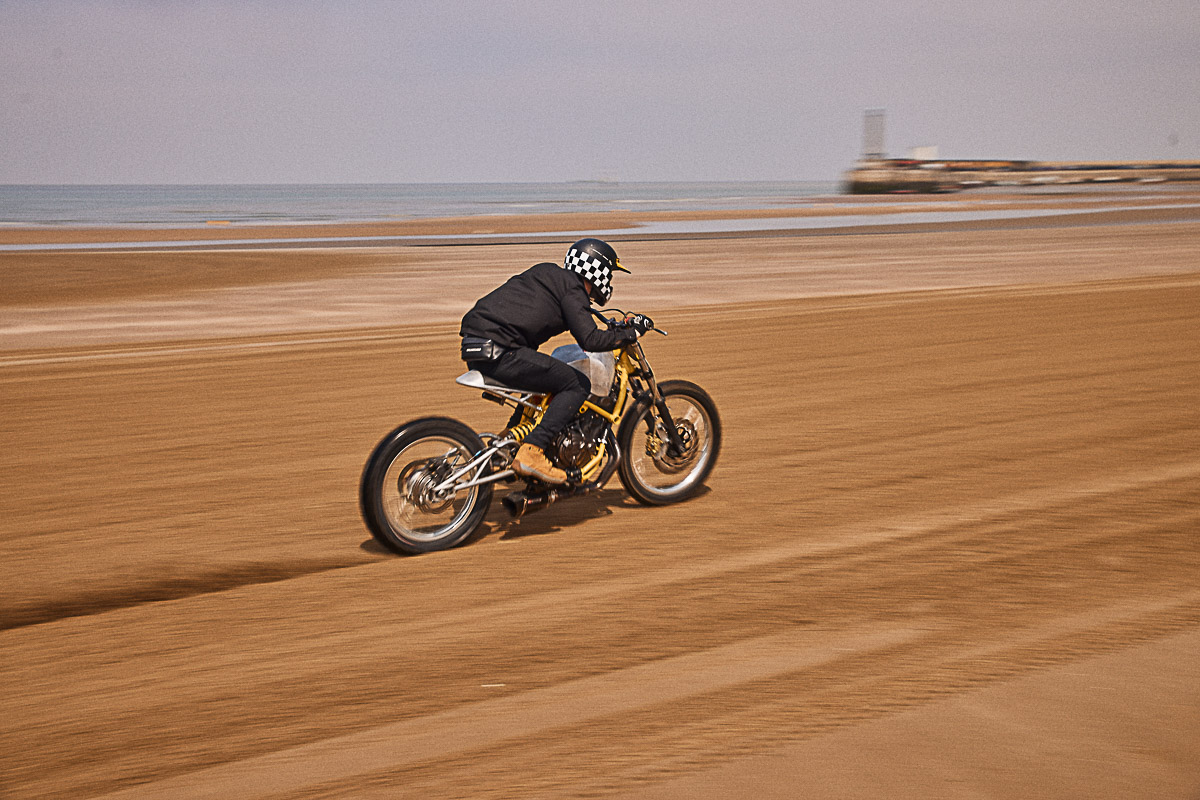 Can you share with us the most memorable moment from The Mile Beach Race this year?
Well I think I should say, that it was riding over to my now fiancé and proposing in front of all of my friends and family. But what I'd like to say is that it was bouncing the bike off the limiter with the back end sliding out, looking over my shoulder at Obed whilst coming out of the last corner of the Darby final towards the finish line. But obviously, the proposal is the most memorable, duh
Throughout the four years of attempting to win the race, what changes or improvements did you make to your motorcycle setup, that contributed to your final success this year?
Well as a bike builder I like to come back with something new every year. They have all plebes primarily cp2 based but all very different. First year was a road bike with a set of motocross wheels, the next year I went a bit lighter but also added a turbo and it was a handful and couldn't really use a lot of the power. This year I lost as much weight on the bike as possible, it's been the most Malle beach race focused bike yet, handmade chassis and bodywork it's a real lean machine. No keys, no clocks no electrics at all it's a get on a go hoon bike.
Beach racing requires a pretty unique set of skills and techniques compared to traditional road and grass track racing. How did you adapt your riding style and approach for this specific race?
I feel really comfortable sliding a bike around and I personally find the sand a lot more forgiving when sliding compared to grass, mud or tarmac! Keep it wide and loose.
How did you stay motivated and focused during the challenging moments, especially during the years when you didn't win?
It's always an amazing weekend at the beach race, it can be a little disheartening when you think a win is in the bag but it's racing, you've not won until you've won right? As soon as we're packed up and on the way home all i can think about is what I'm going to build for next year and how we can do better.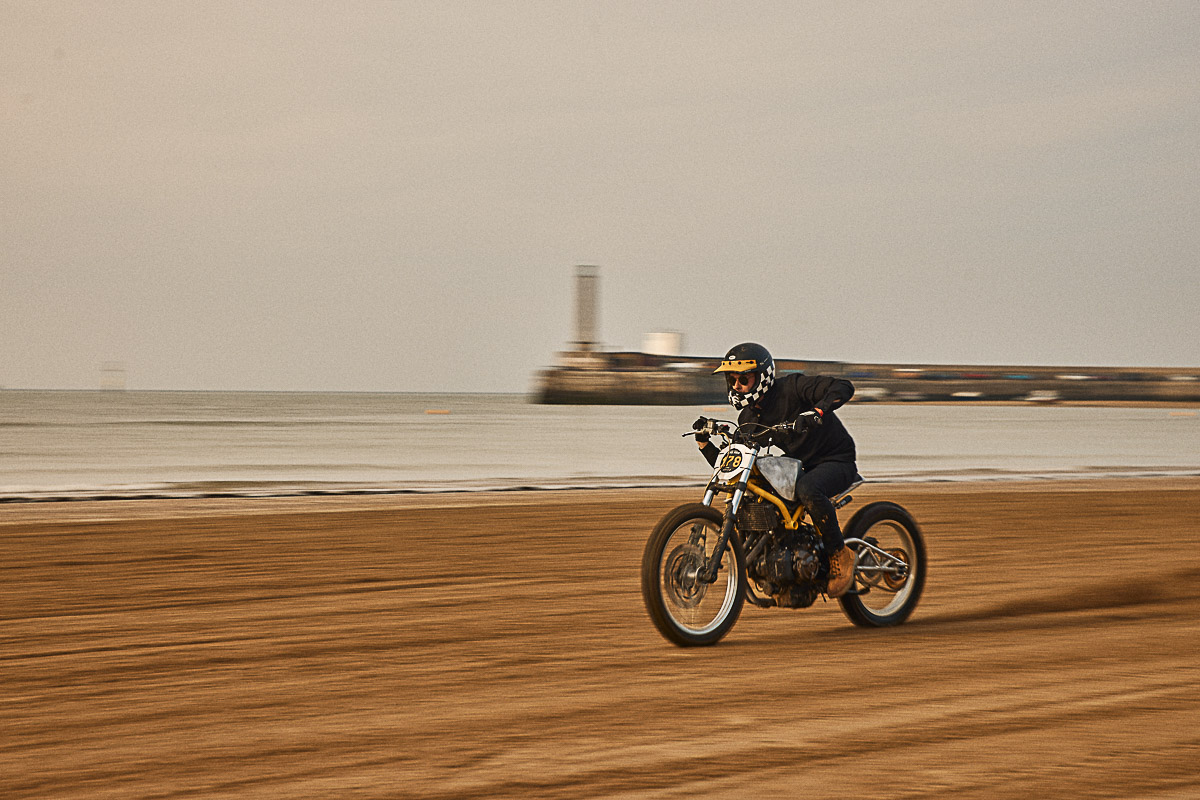 The Beach Race attracts a very wide variety of riders, from around the world and is well known as 'the race that nobody wins', but some riders are highly competitive. Over the last 4 years did you have any specific rivals or competitors that pushed you to perform harder? If so, how did their presence impact your performance and drive?
There's a touch of completion between friends. But whoever takes it that year all the other racers are always super happy for it to be their time. There's always a few obvious favourites at the mile, I've had some great battles with Simon, Mexican, the crazy toys guys, Obed. But who knows, you might be scared of a CBR600 dirt bike with ape hangars when really you end up being knocked out by a girl on a pit bike, or a Frenchman on a DRZ who knows it's The Mile!
What advice would you give to aspiring young motorcycle beach racers who have their sights set to join us on the Beach next year?
Book your ticket, buy a pair of tyres and get down to the beach.
Tell us more about the winning machine, what it is, what have you modified and was it the bike or was it you that won?
It's a 1/1 stibnite custom. I built the frame and bodywork specifically to race at the Malle beach race and runs a Yamaha cp2 engine. It's very a very raw ride with a short wheelbase but it really is a hoot to ride.
Now that you have achieved your long-awaited goal, what's next for you? Do you plan to defend your title in the next Beach Race, or explore new racing challenges?
Well I did say that i think you should only really win once and it would be great to see all of your friends take the rag and bone man trophy home at some point but since saying that I've been thinking the mantle place would look good with another. The pressure is off a bit now anyway so i might relax a bit with some more fun and less focused bike builds to bring to The Mile, maybe.
Each year the winning rider donates a part of their winning machine for the Rag 'n' Bone man to create next years trophy, which part/parts will you donate?
Oh he can take absolutely anything he likes, but I will be donating any part that relates to my chain coming off on the line!
When you're not winning beach races and proposing to beautiful girls on beach race finish lines, what do do and where can people see your work?
That would be Stibnite Moto Co.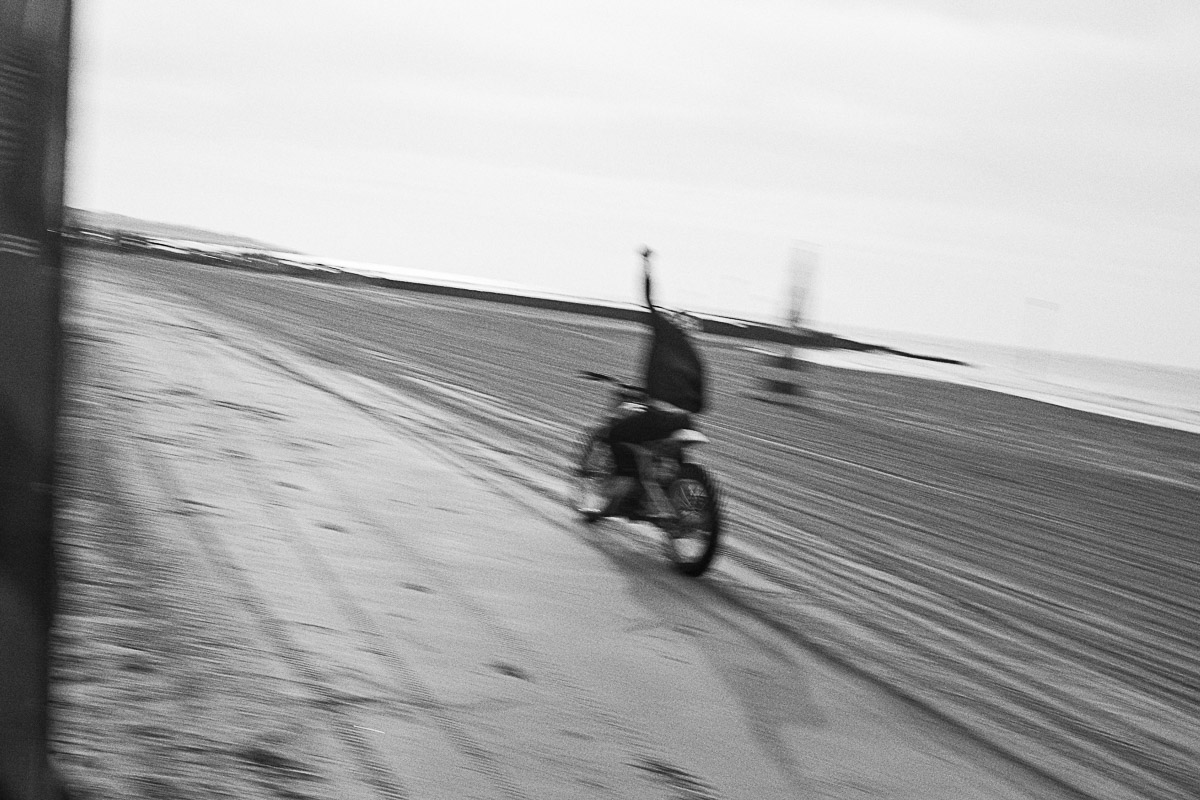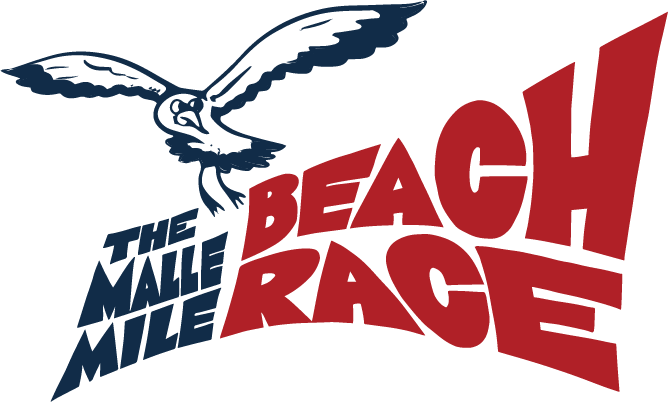 View The Malle Mile Beach Race 2023 Official Gallery HERE >
A big sandy hug and a high five from all of us!
Robert & Jonny – Malle Founders