PREPARED TO GET LOST
Getting Lost in Lisbon
Helen Sproat Interview by Jonny Cazzola
After riding motorcycles for a few years, the fun factor can become more of a function-factor as the machine becomes a commute or project bike. It's easy to lose sight of why we started riding these often expensive and impractical machines in the first place.
I joined Yorkshire born Helen Sproat for a post lockdown ride out and asked her a few questions about how her first motorcycle fits into her new life, new country and new career.
She reminded me of that energy you get when you've just started riding and the reasons why many of us decide to get our first set of two wheels – fun, independence, adventure and for many a form of therapy.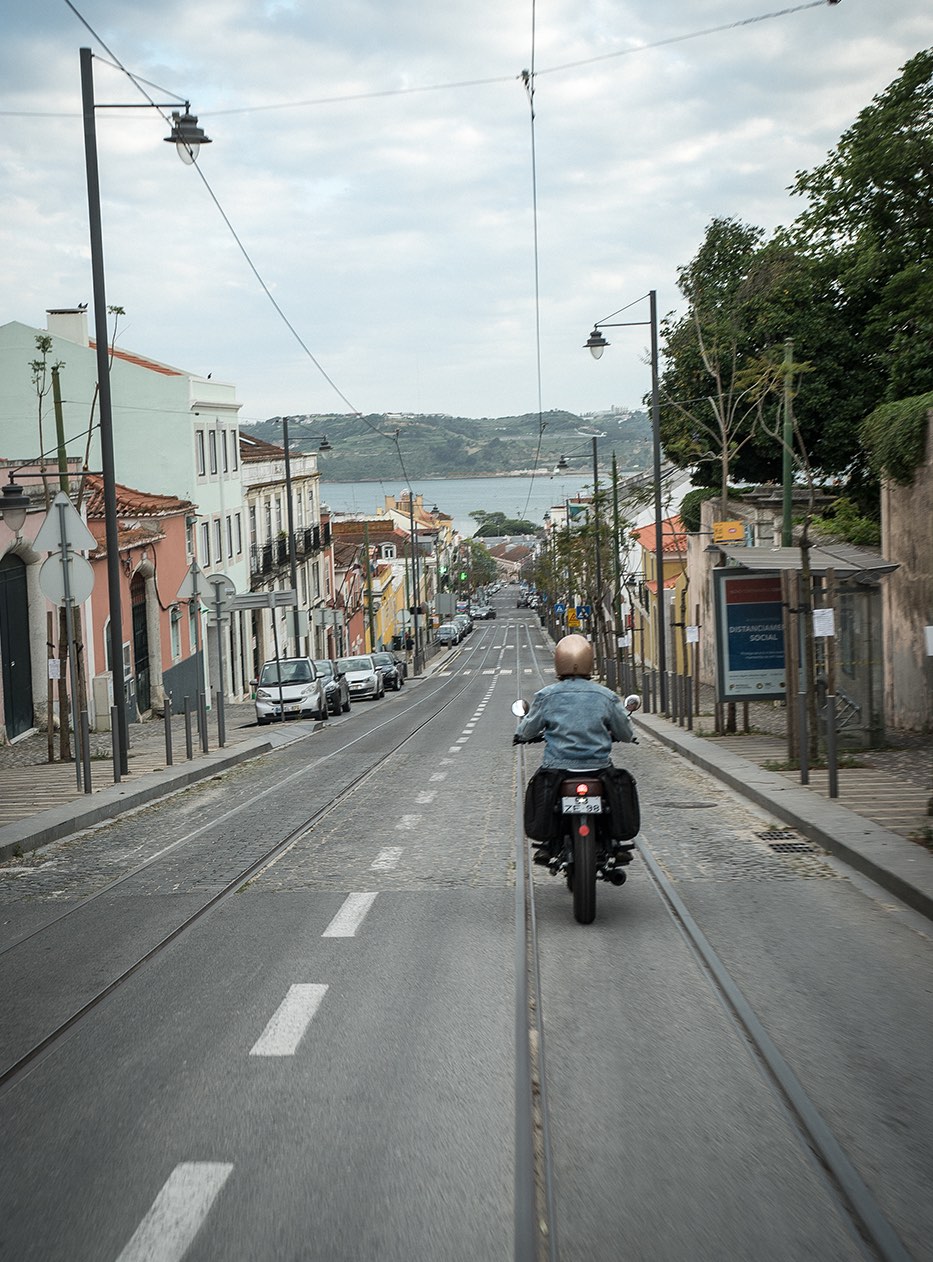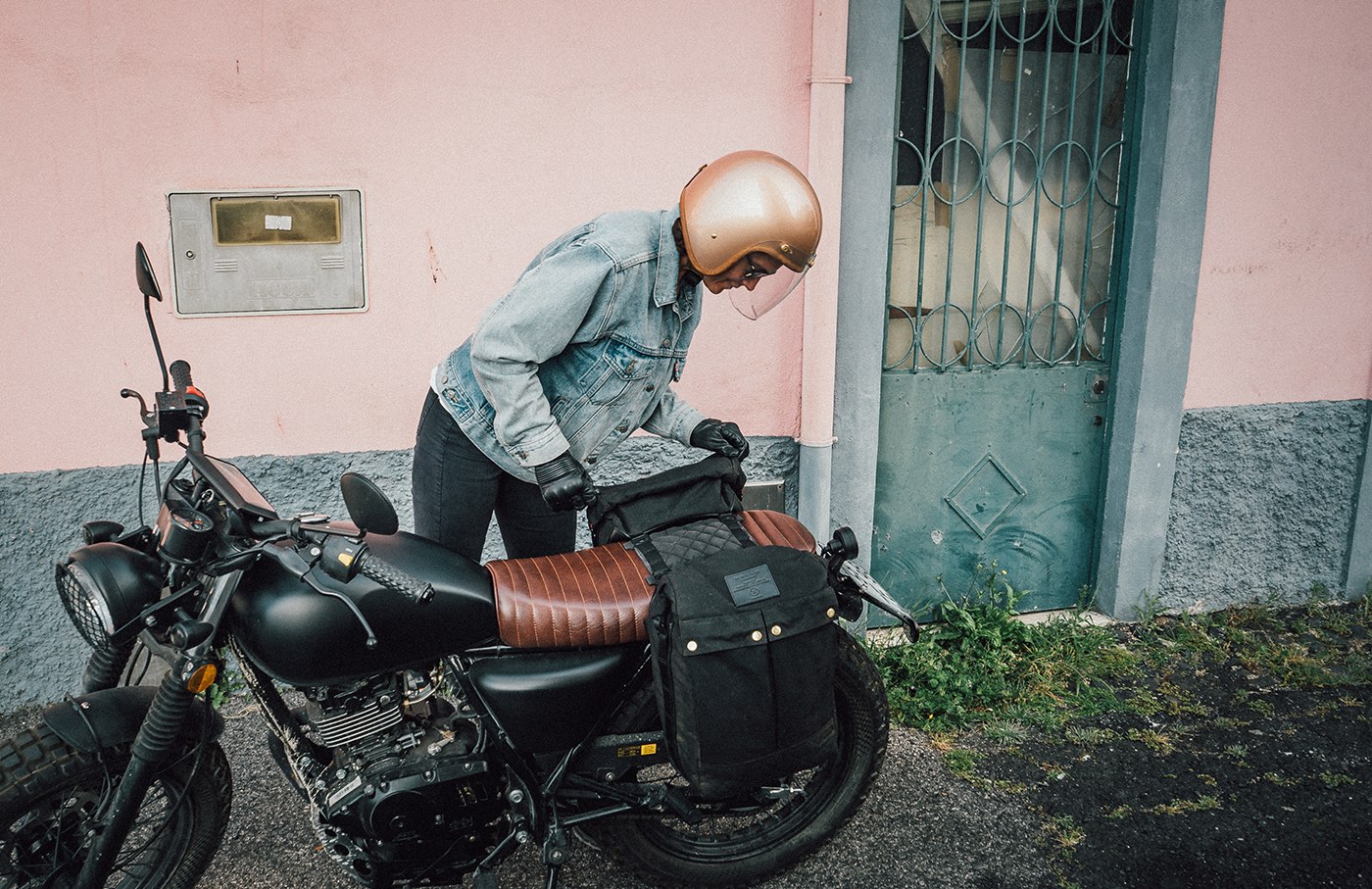 What initially prompted the career change towards psychotherapy?
The short answer is I was diagnosed with cancer when I was 29 years old. Obviously, that whipped the rug from underneath my feet and therapy helped me navigate the emotional side of that. At that time, I felt a strong pull to do something different with my life and it was in therapy where a conversation opened up and the penny dropped that 'this' is what I wanted to do.. and I love it. I feel privileged to get to do this sort of work with people.
What prompted the move away from the U.K?
Initially it was a very rational decision. I had been wanting to leave London for a long time but wasn't ready to up sticks and move to the countryside in the UK. Looking back, I was pretty burnt out. I was working freelance in ecommerce so I decided I would take a 3-month working holiday to catch my breath and work out my next steps and then quickly realised that Lisbon was exactly what I needed.
It's such a beautiful city. I love the pace of life and the food but most importantly, the balance between living in a city and being in nature. Within 40 minutes there are the most beautiful national parks and beaches. It's hard to think of not living close to the ocean now. I am starting to think of edging further out still and slowing it down another notch.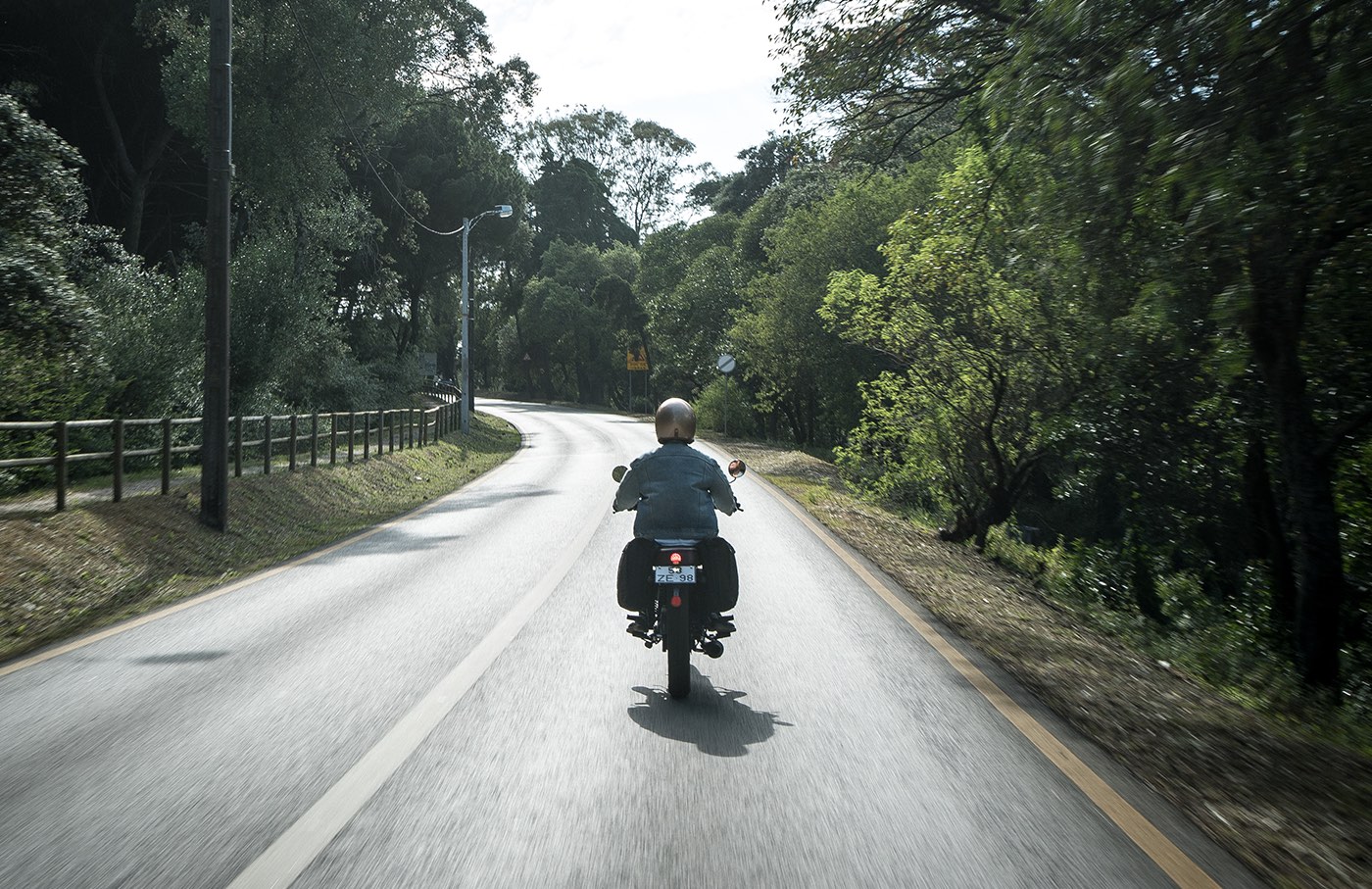 How long have you been riding?
I'm still pretty new to it. I got my bike in October, so 8 months but I didn't time getting the bike with the best weather. It's taken me a while to build up my confidence and be relaxed on the bike. I had a few hairy moments and a lot of hill starts to contend with.
Why a motorcycle?
I always had an interest and my first experience was on the back of an old Royal Enfield in India. I ride horses and feeling the speed was similar to the feeling of going full pelt on a horseback. I'd sort of forgotten about it until I got to Lisbon and spend a bit of time on the back of a friend's bike. I remember going round a corner so fast I had to shut my eyes and completely let go. That did something to me.
Then I spent a weekend on an epic motorcycle adventure wild camping in northern Portugal but I was following in a truck. I got home from that weekend and decided to learn.
Tell us a little about your choice of machine and kit?
I have a Mutt Motorcycles Mongrel 125 which is perfect for Lisbon as I can get around the city and also takes me on lots of weekend adventures out of town. Although I'm already itching for a faster bike.
I have the Bonnie Backpack, a set of Moto Panniers and the James Navigator. Now I'm after the new Mini Dash Pack and my life will be complete!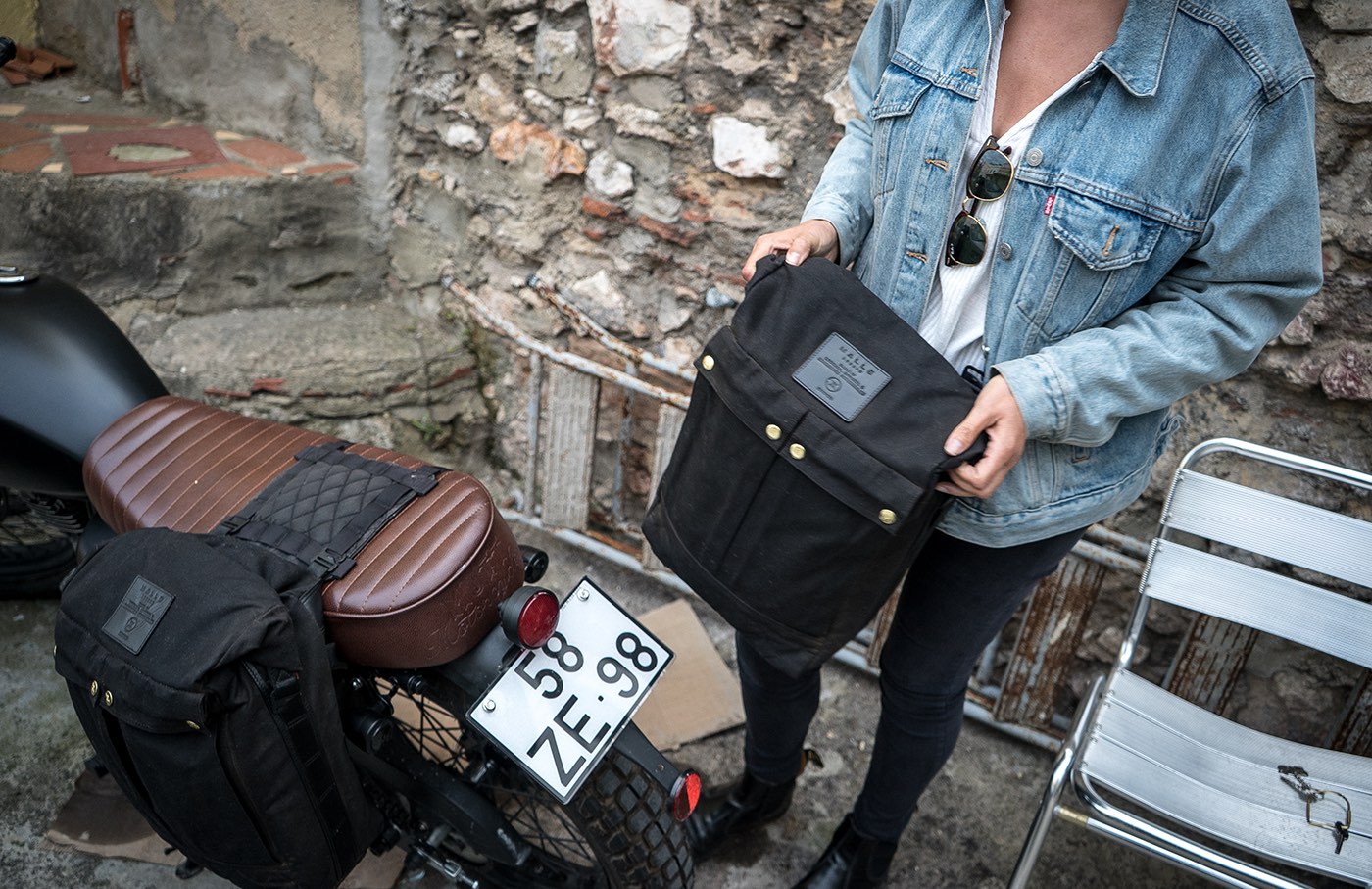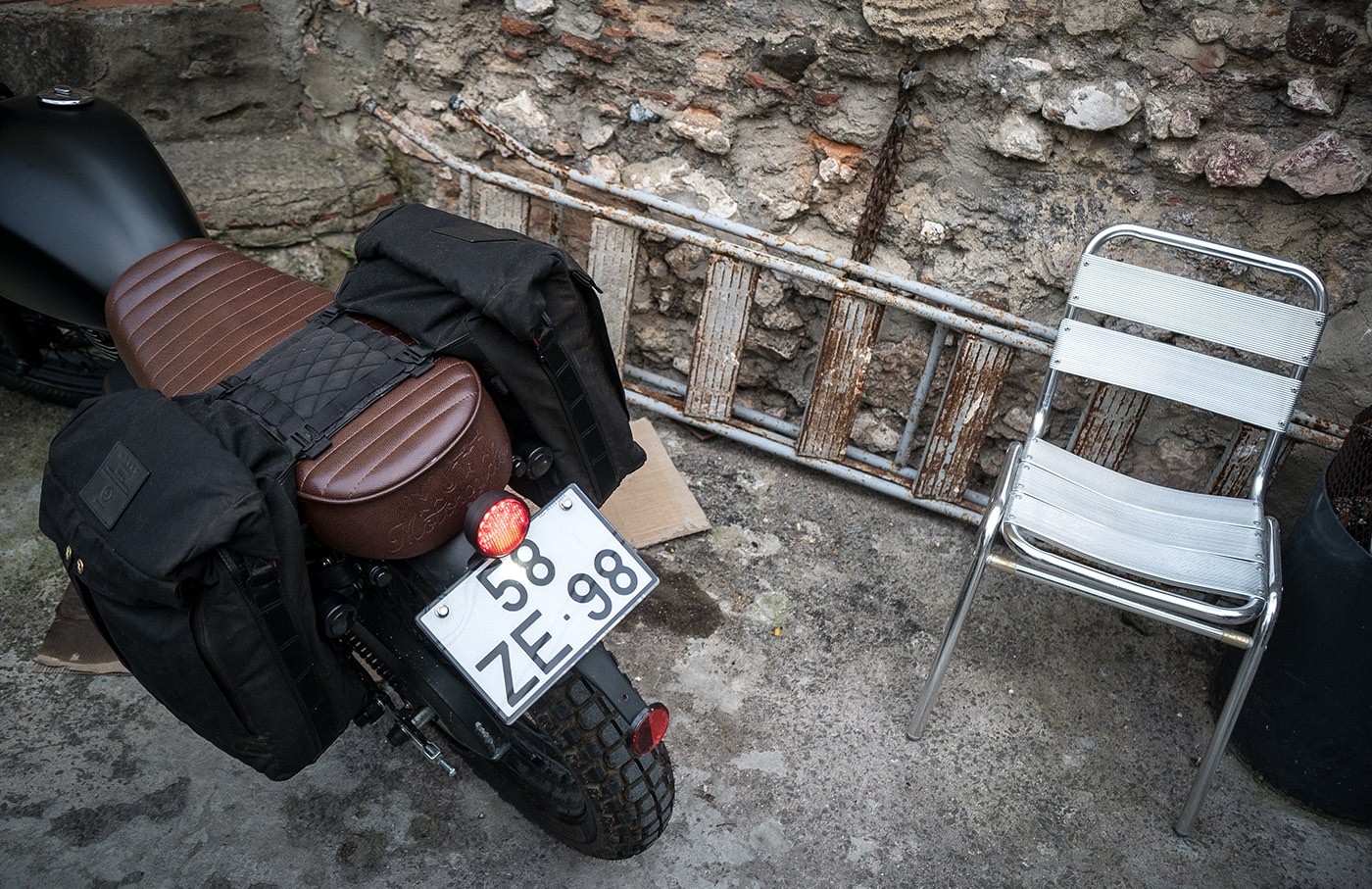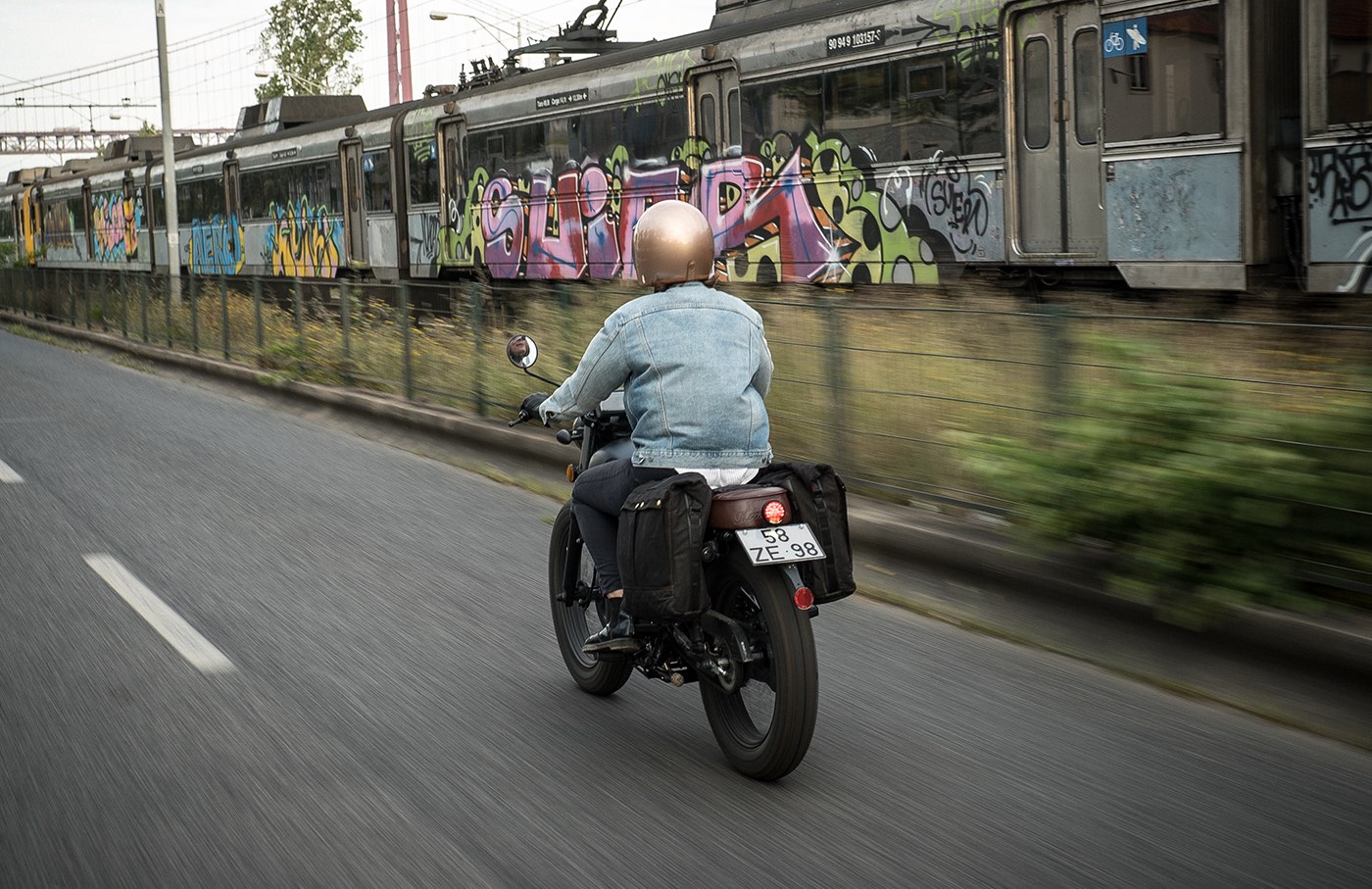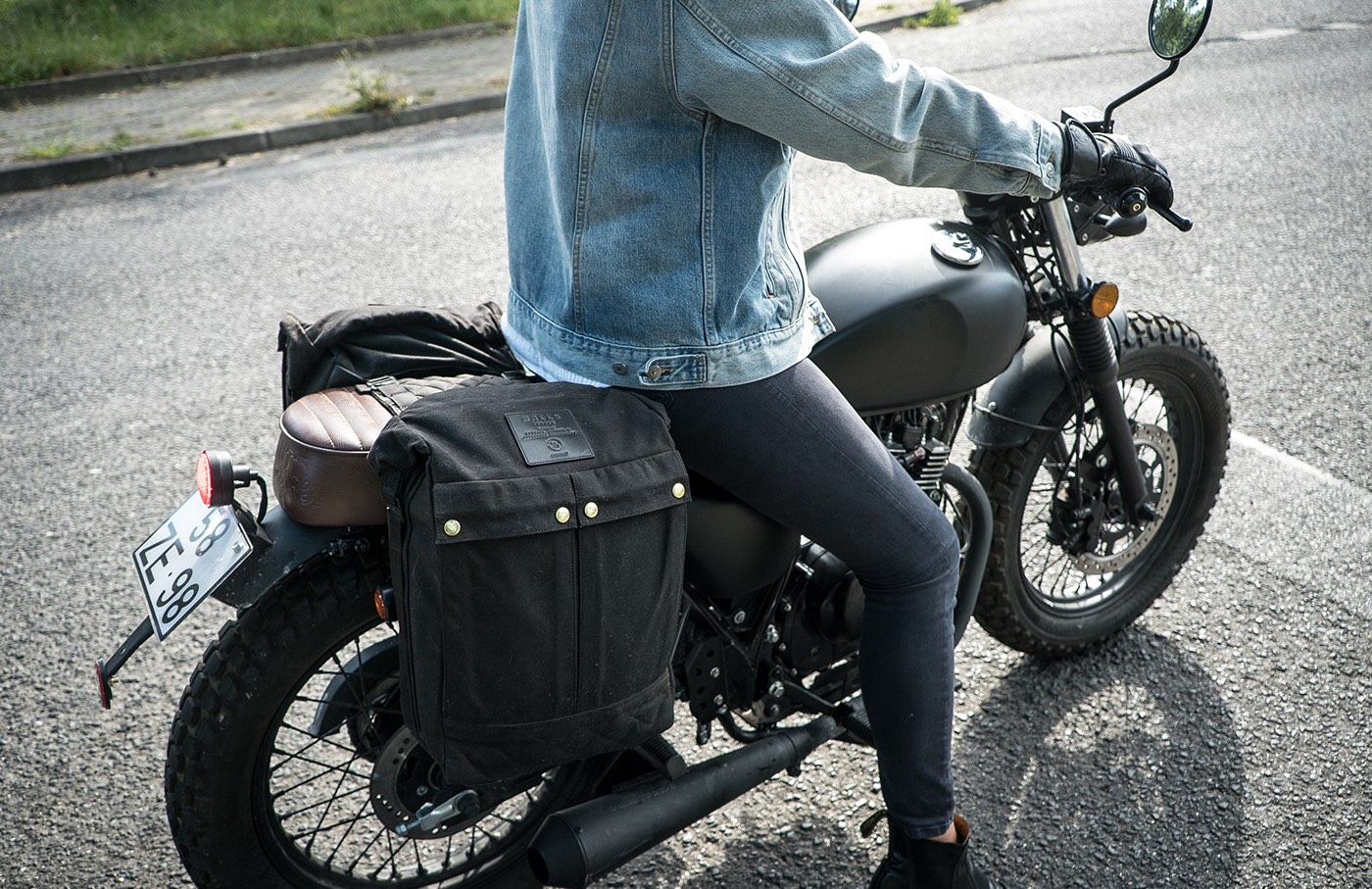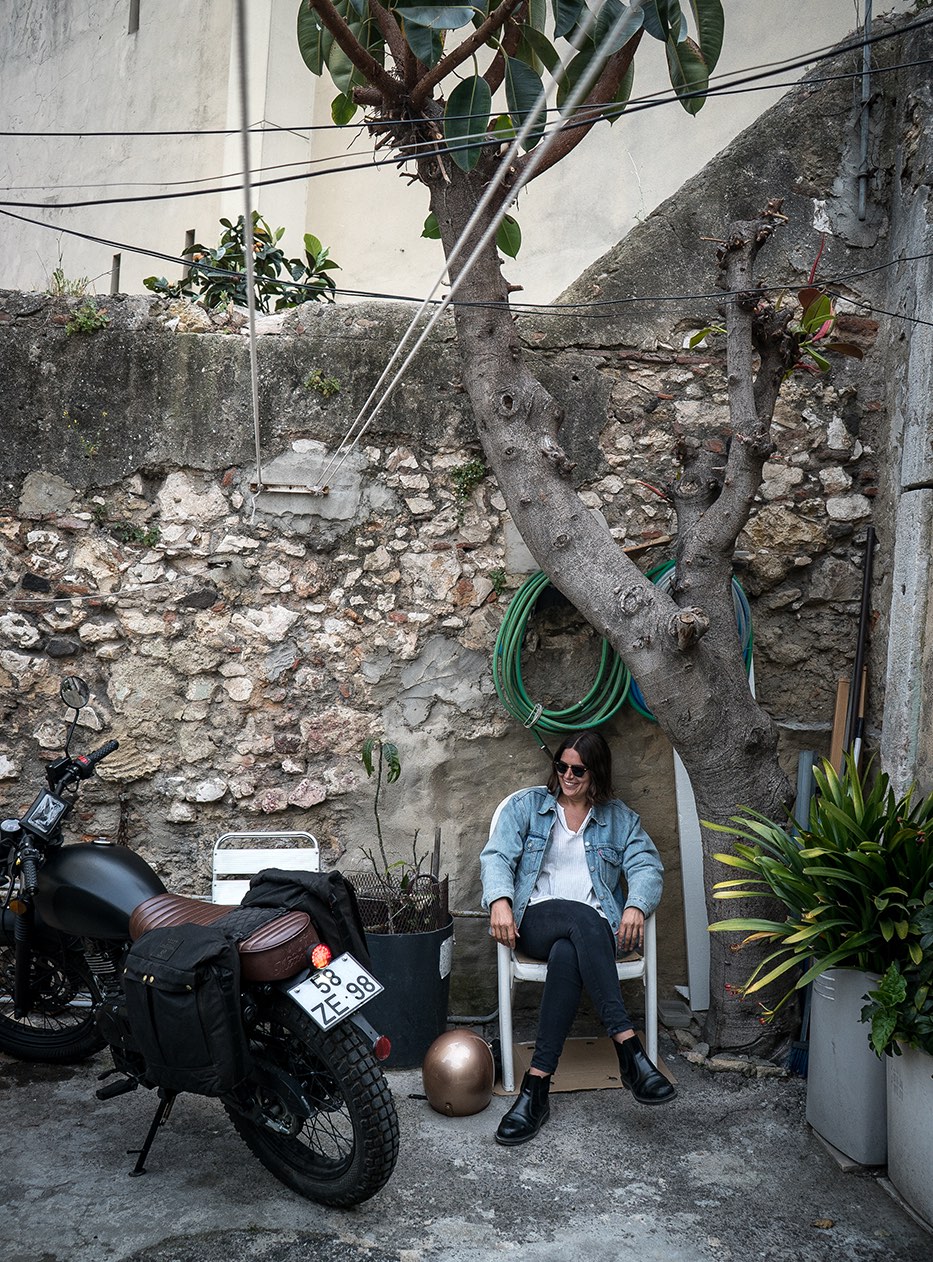 How does riding a motorcycle impact your everyday life?
Having a motorcycle here in Lisbon is the ultimate freedom and has really opened up my life. I can be on the beach in 20 minutes after work cutting through all the traffic. I love exploring – the roads here are amazing and once you get a little further out of the city, almost empty.
I find riding therapeutic. When I ride, it really clears my head and gets me out of my day. I find it very meditative and often solve a lot of problems or maybe just realise they're not that important! Either way, it works. It makes me very present. I like riding with other people too so for me there's a social element to it. I'm grateful to have good friends who want to ride just for the sake of it.
I'd love to start running retreats that combine these therapeutic elements of riding motorbikes with meditation, breath work, nature immersion and cold swimming.
Tell us about some of your favourite adventures?
I think my best adventures are yet to come but my first proper solo trip was up to Azenhas do Mar was pretty liberating as I'd only had the bike for 8 weeks. The way there was a nightmare trying to follow the map and get there in one piece! I got completely lost. On the way back I just sacked off the navigation and followed the coast back.
I had a well-timed pre-lockdown mini adventure to the Arrabida National Park which was my first proper ride out with a group. All with bigger bikes that me – it was fun trying to keep up on the Mutt! We broke our personal best that day.
I'm going to spend a lot of the summer exploring Portugal. I want to ride up the coast to the Gerês National Park. I'd also like to ride down to Seville through the Algarve. Basically, anywhere I can follow the sea or a person rather than bother with a map. I like to switch off and take in the scenery. //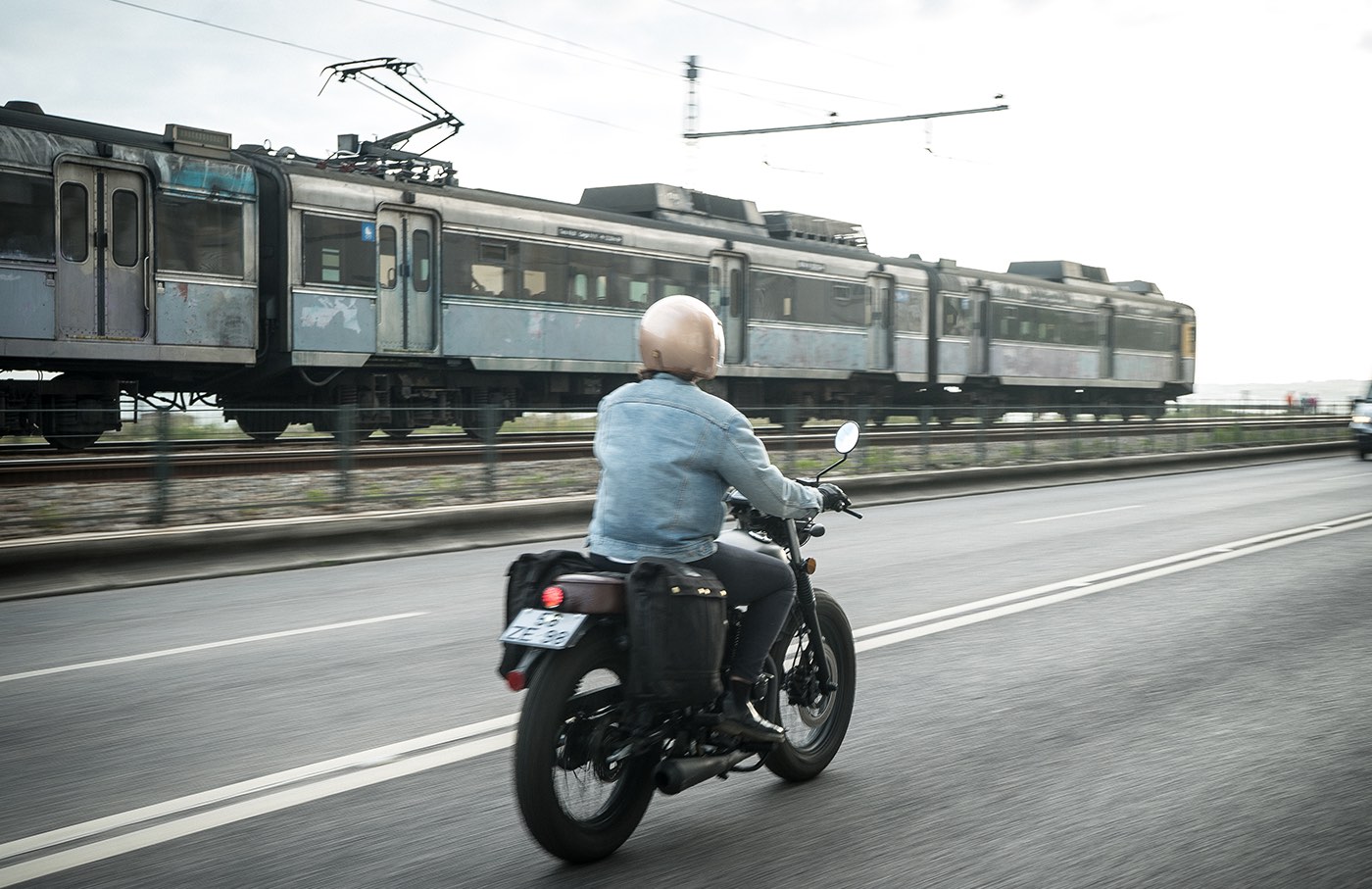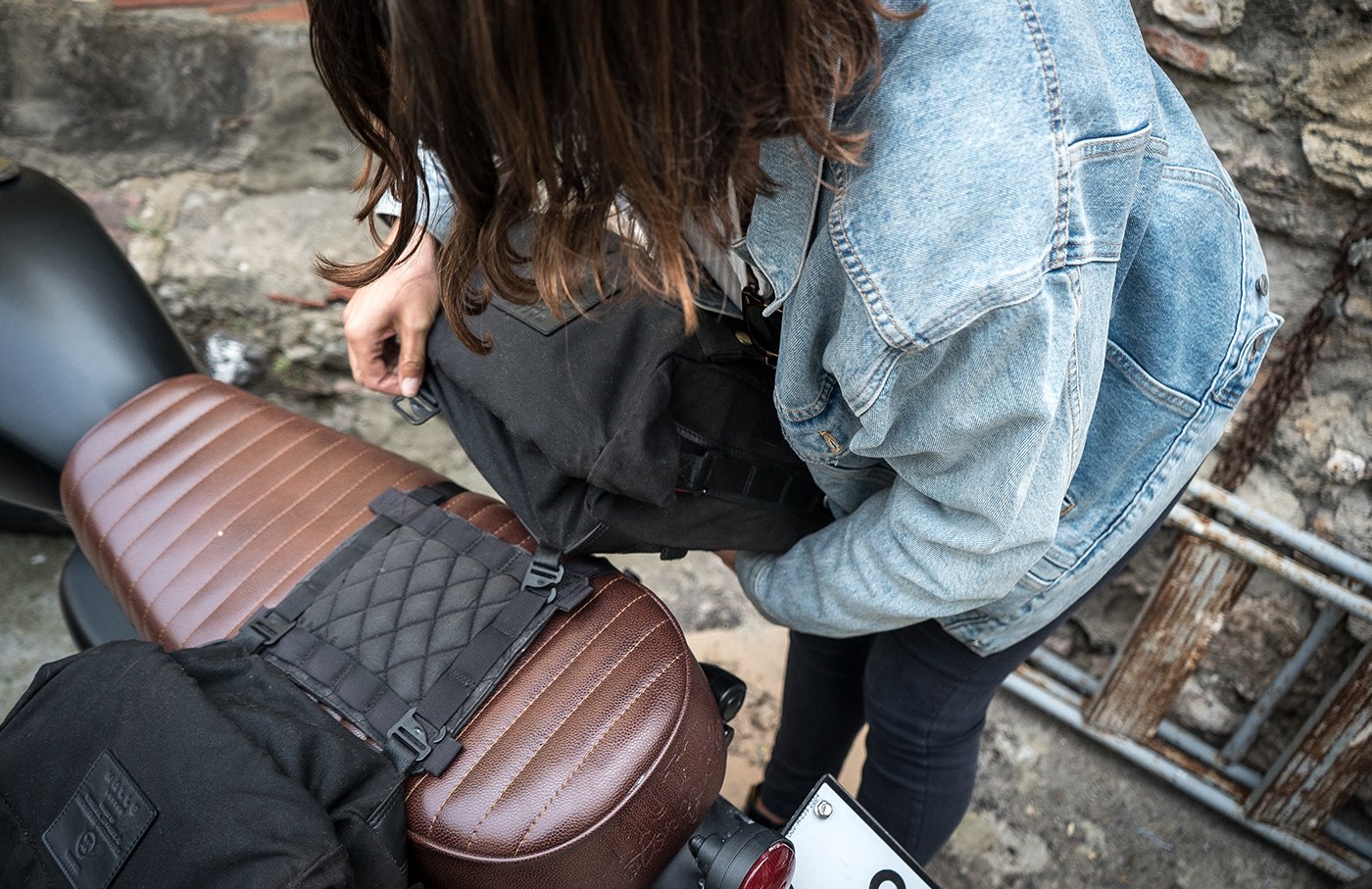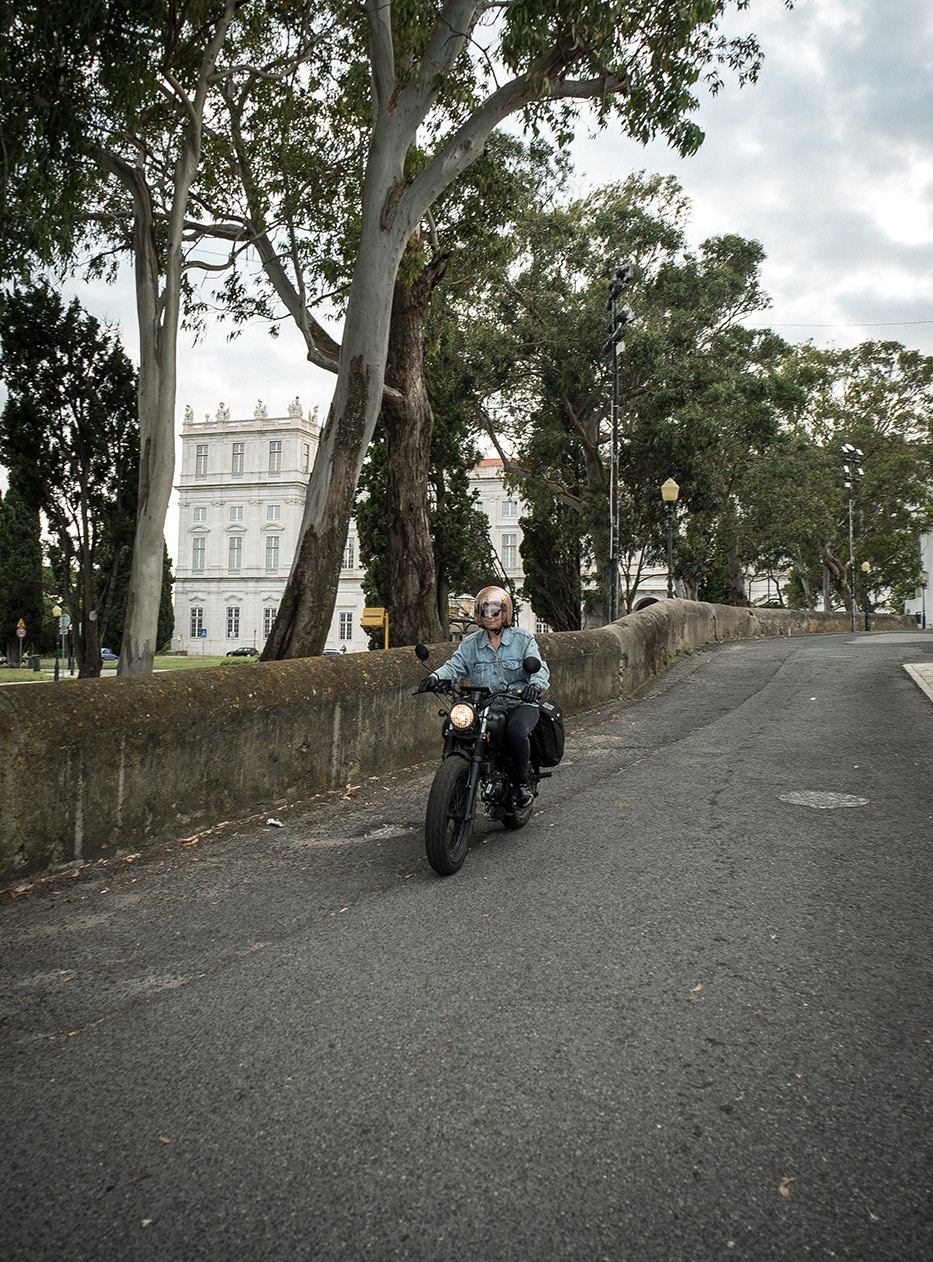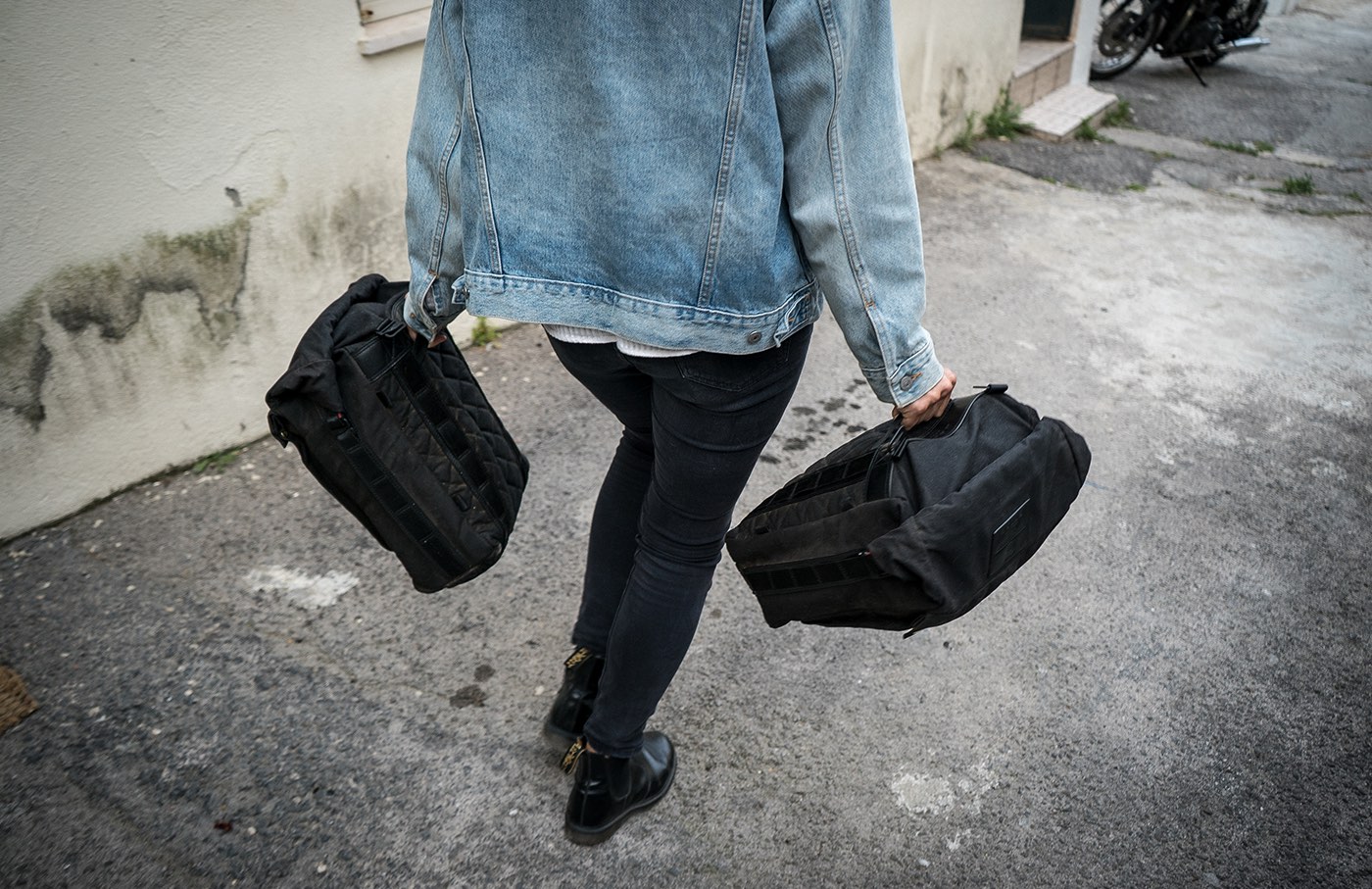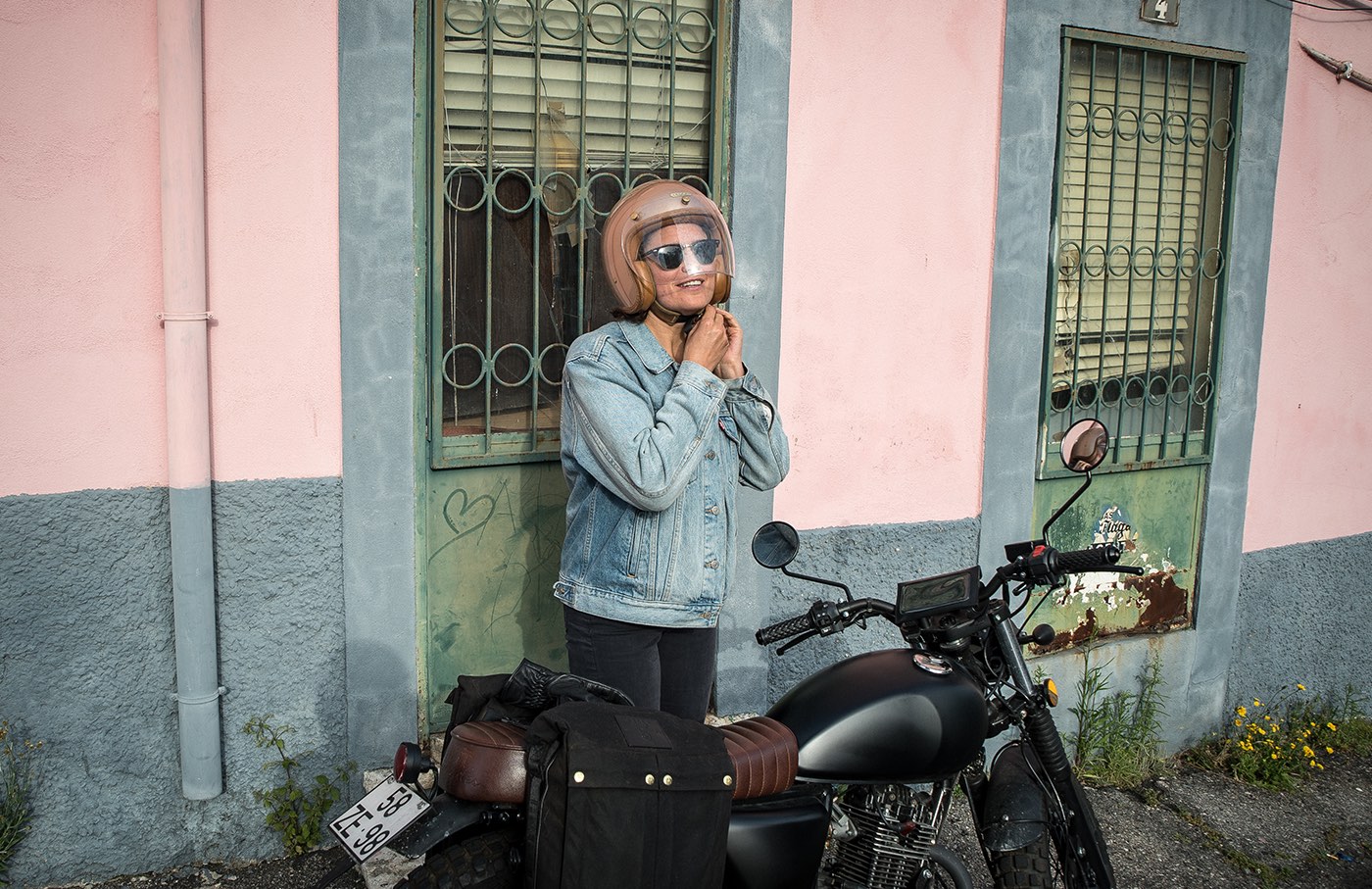 Prepare for Your Adventure
PREPARED TO GET LOST?
At Malle, our mission is to create more noble products and experiences that enable us to confidently explore and appreciate the natural world around us. If you have an adventure that you feel we should know about please get in touch and we hope to support you in one way or another.