PREPARED TO GET LOST
With
HANNA JOHANSSON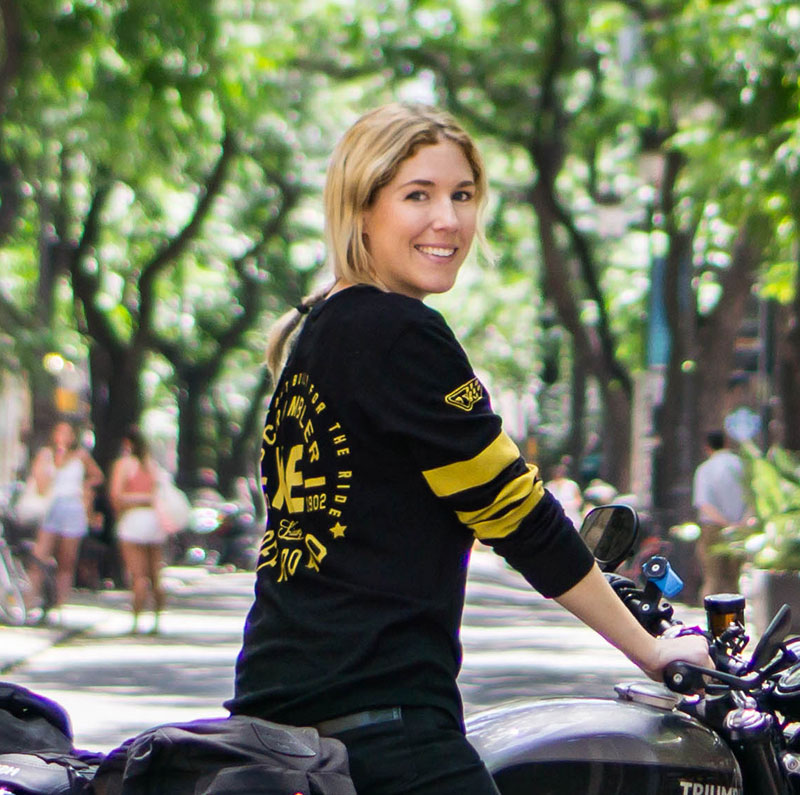 Born and raised in a little town in Sweden called Mora, Hanna's work as a content creator allows her to work remotely, which means she gets a lot of time on the road, mostly solo and always by motorcycle. We caught up with Hanna in Lisbon, before embarking on her latest ride – over 7000 kilometers north, on a Triumph Speed Twin, to Stockholm.

Interview below. 
What inspired you to start riding?
My mother is the one who got me into riding, she's been a biker herself since her 20's and bought me my first bike to practice on when I was 17. The pictures of her on a motorcycle in Bali from the late 80's got stuck in my head as a kid and I'm sure that it has something to do with what I'm doing today.
---
Do you have a favourite road / place?
It's hard to pick a favourite road, I think it's a tie between Switzerland and Andorra. Both countries offer wonderful riding with high mountains and crystal-clear lakes. I felt like I was riding in a photograph. Porto in Portugal was a really big surprise, I really loved that city a lot and especially enjoyed the sunset over the city from the Gaia side. The motorcycle community in Portugal is huge as well. Como Lake in Italy was like it was from a fairy tale, is that place even real?! I'm still in doubt.
---
Why did you choose Lisbon for the start of this trip?
Two years ago I made a 2.5 month long solo trip through 20 countries in Eastern Europe, so this time I felt like I wanted to do South and West as well, to compare. The biggest reason to why I started in Lisbon was that I hadn't been there before, and I've dreamt about riding over the bridge Ponte 25 de Abril. I've heard so much about Portugal, and believe me, everything they say is true. I'm so happy I started my trip in Lisbon.
---
How has this kind of freedom/adventure inspired other parts of your life?
It has inspired me to follow my gut feeling more often, and to understand that money isn't the most important thing in life. Everything is possible if you really want it.
How do you mentally prepare for a long adventure?
It was more about the preparations in the beginning of my travels, now I've realised that you can't really prepare yourself for a longer motorcycle adventure. Especially not mentally. I have one thought in my head when I'm leaving for a new trip: "I wonder what memories I'll bring with me back home this time". Because a trip always becomes a part of me and changes something in me, big or small. It's a powerful feeling.
---
What is it that dictates your route?
What dictates my route is almost always places where I haven't been before, new countries I've dreamt about or cities I've seen pictures of. Sometimes it's a cute cabin I've seen on AirBnb or just the longing for looking out over the vast ocean with a thermos full of tea. It depends.
---
What is it you look to get from your adventures?
My goal is to have memories and stories from a place that was just a name on the map to me before. The real satisfaction is when I have positive stories to share from a place that people have told me is dangerous or a no-go-place. I love to prove people wrong when it comes to these kind of things, the world is so much warmer and welcoming than many might think.
---
How do you decide what to take with you?
If I'm flying to my start location, I always pack everything in one big waterproofed bag that I attach behind me on the bike. On this trip I was very lucky to travel with a set of Malle London side bags though, which made it much easier to pack and divide my things between motorcycle-related and civil-related. I was also allowed to bring my lovely cousin Julia behind me for half of the trip instead of a big bulky bag. I never leave for a motorcycle trip without my Bose QuietComfort (I use them every day while riding), laundry powder for hand washing or my little tool box I've put together with the right sizes for my bike.
How do you fund your adventures?
I work remotely for XLmoto.com, which allows me to work and travel at the same time. Sometimes I freelance as a travel journalist when the travels I do are interesting for a magazine, but it's not my primary income. I'm also a brand ambassador for Triumph Motorcycles in Scandinavia, so sometimes I get to borrow a bike in the country where I'm going and they also provide me with motorcycle gear.
---
We've been following your journey, does food play an important part of the journey?
Haha, busted.. Yes, I love food/snacks/tea/candy/anything eatable. It's not important to eat fancy though, it's not often that my budget allows it, but I try to eat well even on a low budget. Sometimes it's a nice meal at a restaurant or sometimes a bag of almonds, an avocado and canned tuna. Food is a big part of everybody's life in some way, so I try to show it because it's relatable. Just as the place I sleep or fill up the tank of my bike. The ordinary is also interesting when traveling, in my opinion.
Do you prefer to travel solo or in a group?
I prefer to travel solo, because it gives me more freedom to do whatever I want. I stop wherever I want, I go wherever I want, eat whatever I want, sleep wherever.. You get it. To feel comfortable being alone is the biggest achievement in my life, I feel so free and completely independent. I don't like to keep people waiting either, so I often feel stressed when packing or putting on gear when traveling in a group. I never feel alone either, because I always meet people on the road or keep in touch with friends and family online.
---
Why do you choose to travel by motorcycle rather than anything else?
When I started dreaming about Eastern Europe I understood quite quickly that I had to make a road trip out of it if I wanted to see all the 20 countries I wanted to see. It just felt right to do the trip on a bike, I never even thought about doing it differently. At that time, I didn't follow any adventure riders on social media, but I googled and read about Kane Avellano and thought if he could ride around the globe on a Triumph Bonneville I could travel through Eastern Europe.
Would you recommend camping or hotels?
I always recommend people to do what inspires them. If you're not into camping it could become a disaster, but if you've never tried it before and have 854 pins in Pinterest of tents in glorious landscapes, it could become a life-changing experience to try it out. I'm a mix, for sure. I love camping but I also love being able to take a hot shower and crawl into a big bed with fluffy blankets. I think I appreciate the second one even more when gone camping for a while.
---
Have you faced any challenges travelling as a solo female rider?
I've been extremely blessed when it comes to stuff like that, but of course I've had bad days when I just want to quit and go home. My experience is that people are very curious in a nice way and helping towards a woman traveling solo. I've only had one bad experience with a guy who became a bit too straight forward at a hotel in New Zealand, I just packed my bags and changed hotels. One time I tipped over with the bike in a muddy forest in Japan and the bike got stuck in a weird way and the road was too slippery for me to get the bike up again by myself, but I found help in a nearby house from an old Japanese man and his little dog. The dog didn't do much, but he was cute, haha!
How do you meet people in the ride community?
Mostly through Instagram or recommendations by people I've met before. Or at gas stations, cafés, hostels, etc. If you're open to meet people you'll meet them everywhere.
---
What is it that inspires you to hit the road at this moment, rather than pursue a more traditional career or life path?
I read a quote once that said "One life. Just one. Why aren't we all running like we were on fire towards our wildest dreams?". I can't wait for it to happen if I know I can make it happen now. My wildest dream is to see the world, not to become a manager somewhere. I've always been like this though, I feel sorry for my old kindergarten teachers who had to come and look for me in the woods after escaping through the window during nap time..
---
What would be your dream expedition? 
Wow, that's a hard question. I always have a few different ideas in my head, but I think South America is my next thing. Or India. Or South East Asia. Or the North Island of New Zealand. Gaah! – you see why this is hard to answer. The most important thing is to see something new.
Do you have any advice you would give to new riders embarking on long motorcycle trips?
Listen to yourself and trust your own gut feeling, when it comes to almost everything. People have so much to say, but only you know what's best for you. Don't be too proud and ignore important facts though, try to be selective. If someone says that a country you want to visit is dangerous, search for facts and don't just listen blindly to others. Learn how to pack lightly, you don't need nearly as much as you think. Wash your clothes instead, the person you'll meet in Barcelona won't know you had the same sweater yesterday in Madrid.
What is next for Hanna???
Right now, my plan was to try and stay in Stockholm for a while and to try and work closer to Triumph Scandinavia and XLmoto, I love having the opportunity to influence the motorcycle world from home and I've been travelling for over four years now. But.. knowing myself, I have already started sketching/mapping out a potential new motorcycle trip through Central Asia, so that, in fact, may be the next thing for Hanna! Watch this space..
Instagram: @hanna.c.johansson
Website: www.hannacjohansson.com
Prepare for the Adventure
Prepared To Get Lost?

At Malle, our mission is to create more noble products and experiences that enable us to confidently explore and appreciate the natural world around us.
If you have an adventure that you feel we should know about please get in touch and we hope to support you in one way or another.

info@mallelondon.com