PREPARED TO GET LOST
A South American conservation
quest on a classic BMW R80 GS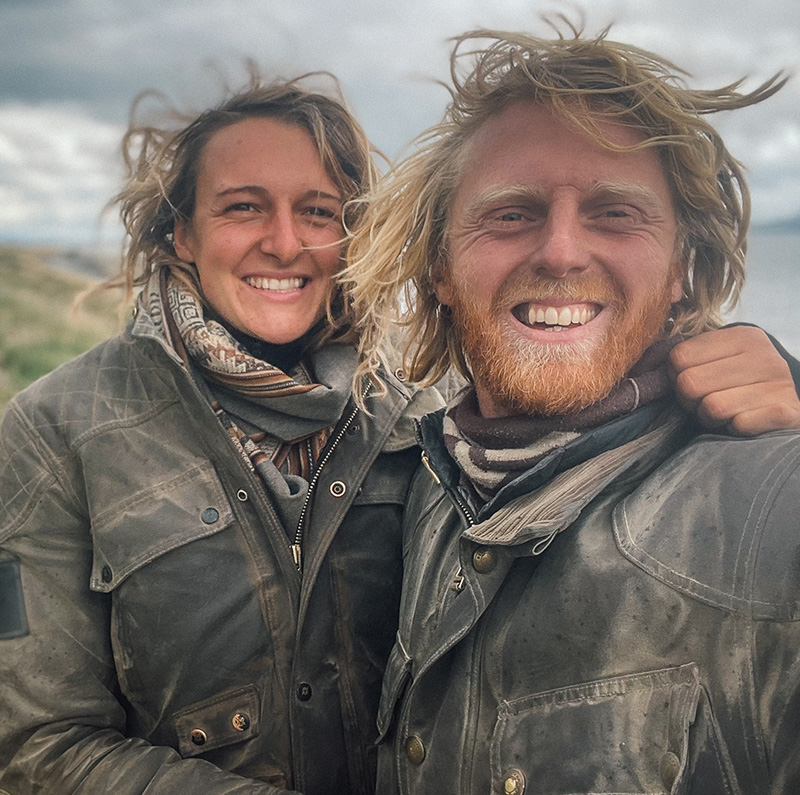 After meeting in the surf of southern England, Cornwall based couple Emma Jane and Crendon embark on a wild South American conservation quest on their classic BMW R80 GS, inspired by Crendons grandfather who rode one his whole life.

Interview Below.
Kilometers covered: 50,000 +
Start/end location: Mexico City to Ushuaia, then back up to Rio De Janeiro
Contries Covered: Mexico, Belize, Guatemala, El Salvador, Honduras, Nicaragua, Costa Rica,Panama, Colombia, Venezuela, Ecuador, Peru, Bolivia, Argentina, Chile and Brazil
Highest Point: 5500 m in Bolivia
Lowest Point: -35 Galapagos
Kit: Women's Expedition Jacket – Desert Sand / Malle Motorcycle Trousers / Hurricane Suits / Motorcycle Tool Roll / Moto Duffel / Hurricane Dry Bags / Motorcycle Tank Bag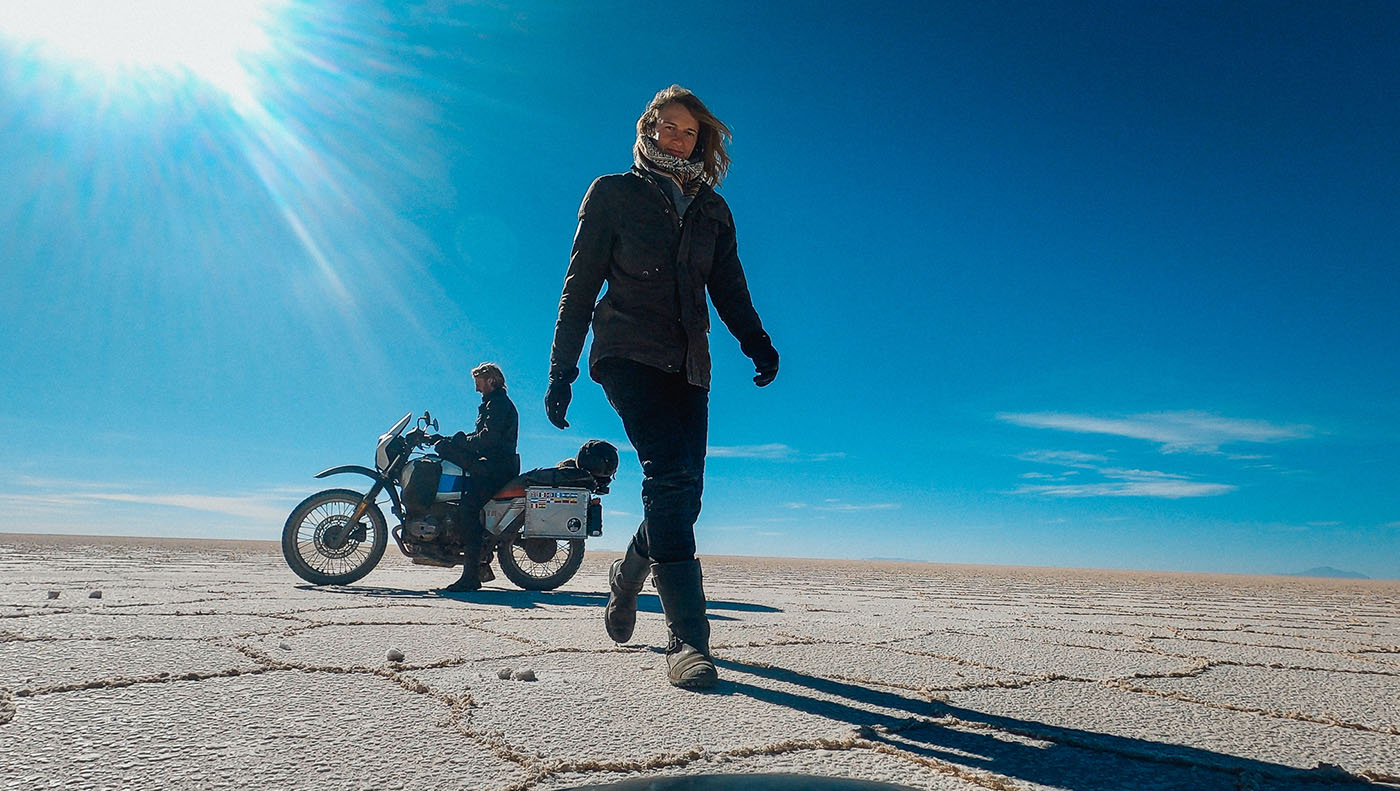 IS THIS YOUR FIRST ADVENTURE TOGETHER?
Our only trip together prior to embarking on 12 months in Latin America was a fortnight surfing in Dakar, Senegal (the break of Endless Summer fame), which felt fairly fitting before getting on our Paris-Dakar bike.
Crendon is an ex-Royal Marines officer who has been to almost half of the countries in the world, though mostly the ones you don't want to or shouldn't go to! The last few years have seen him running counter poaching operations in Africa, mainly in the jungles of the Democratic Republic of Congo. Out in the DRC one bike is king; the indestructible Yamaha AG, but you wouldn't want to go a long way on them!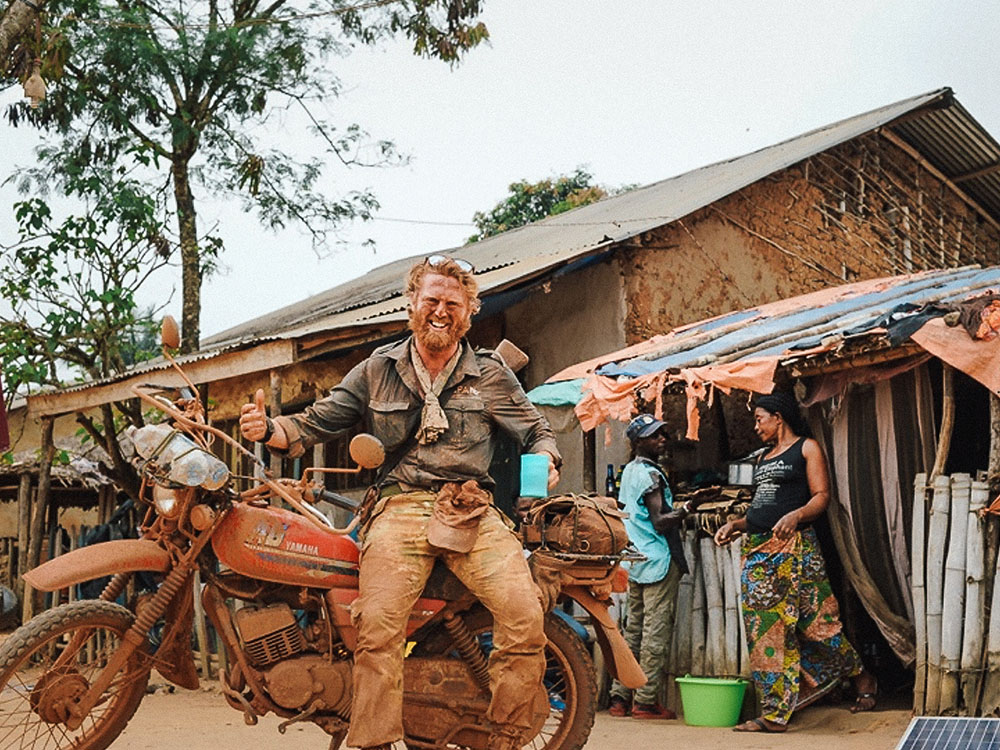 As a marine biologist, Emma has had many of her own adventures working either on the water or underwater in Madagascar with whale sharks and turtles, Indonesia with Giant Manta Rays, the less tropical Scottish Highlands and North America. She had never had the opportunity to work in South America, and so she planted the seed for the route.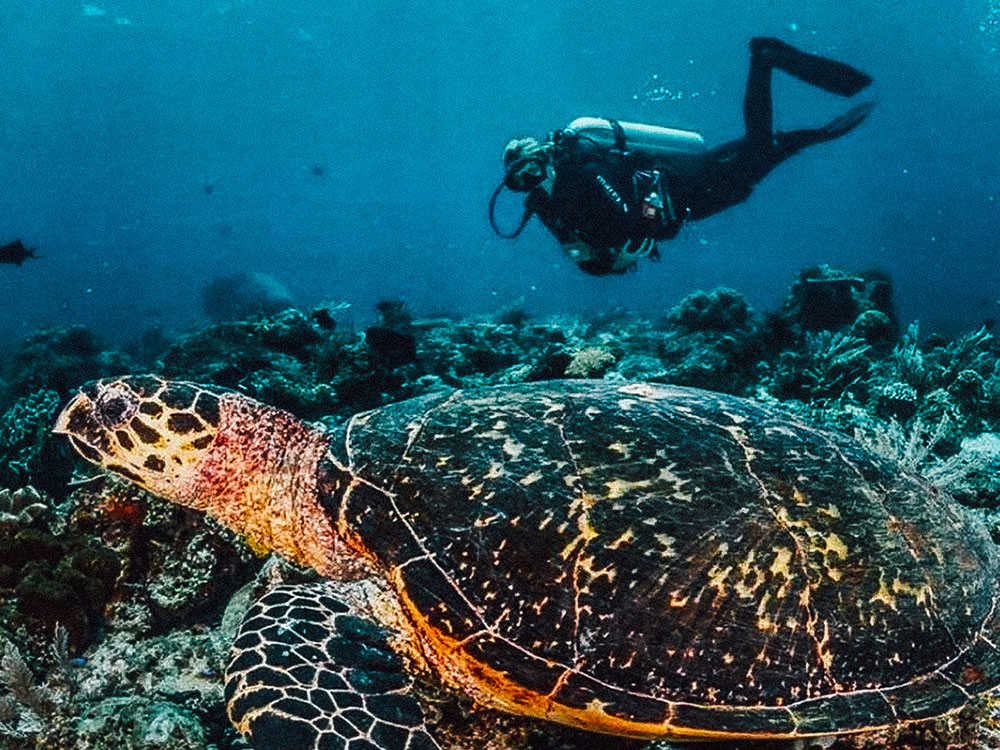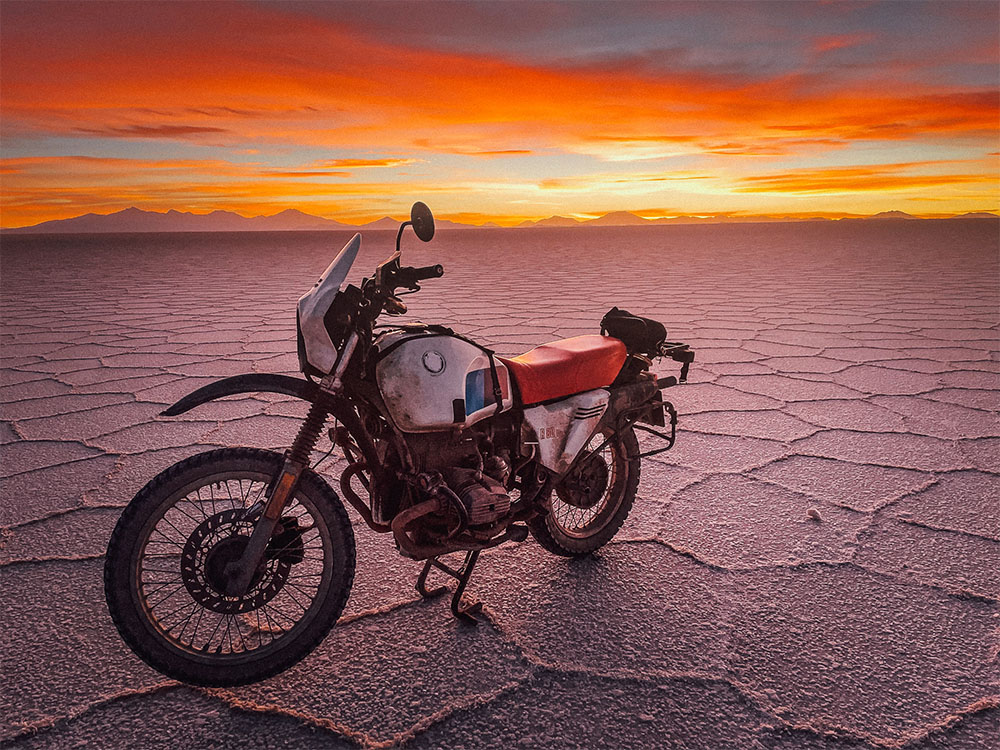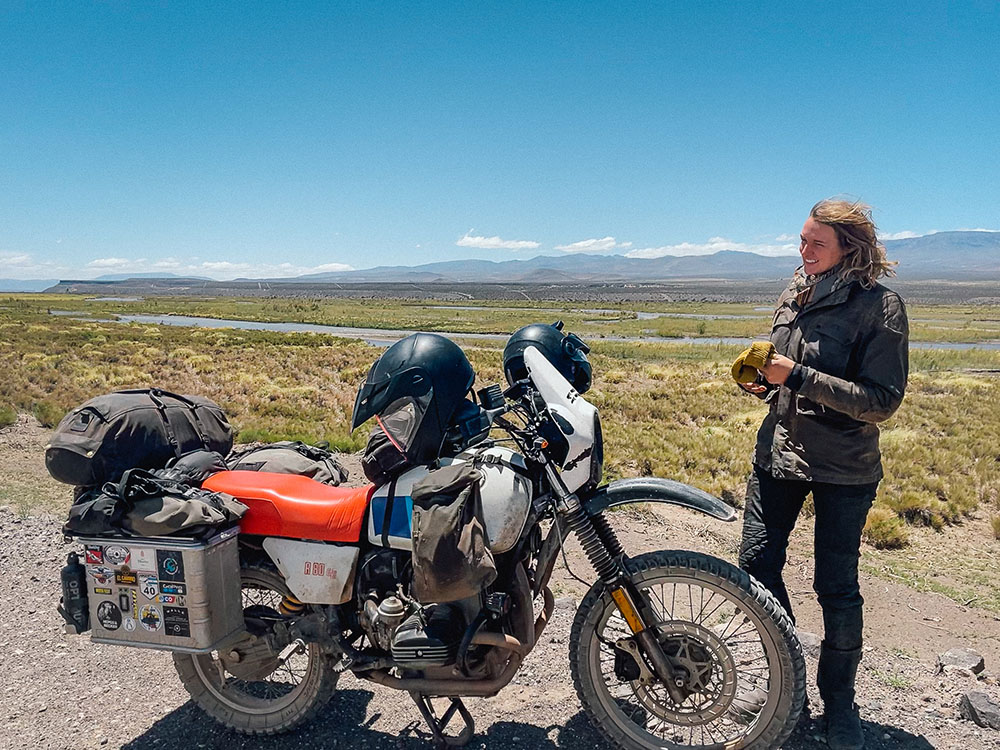 WHAT INSPIRED YOU TO START RIDING?
Crendon's Grandad, Charles Barker, is to blame for us riding and gave our bike its name – he was into motorbikes and airhead BMWs since they were first built, and did many long trips around Europe. We sadly lost him in 2020, but the motorbike and can-do attitude is his inheritance to us.
---
HOW DOES RIDING A MOTORCYCLE IMPACT YOUR EVERYDAY LIFE?
Hearing. Definitely bad for your hearing! But in all seriousness, there is a freedom to it akin to skiing or surfing (two of our other favourite activities); the feeling of speed, the connectedness of all parts of your body, the immersion in the environment and the impending doom if you f*** it up. It's fantastic riding off road with both of us stood up, communicating and working together to read the route and absorb the terrain, so it has definitely helped us develop an almost intuitive relationship as a couple.
---
HOW HAS THIS KIND OF FREEDOM/ADVENTURE INSPIRED OTHER PARTS OF YOUR LIFE?
To be honest, this is simply how we have always been! The journey instilled an even deeper love and appreciation for adventure and the outdoors. 3 weeks after returning from Latin America, Crendon was on the front lines in Eastern Ukraine doing his bit over there and EJ was straight into a dry suit instructing diving in the bitter cold of North Scotland's lochs. We are already planning our next adventures, with potential projects developing in Brazil and central Africa.
---
Continued Below..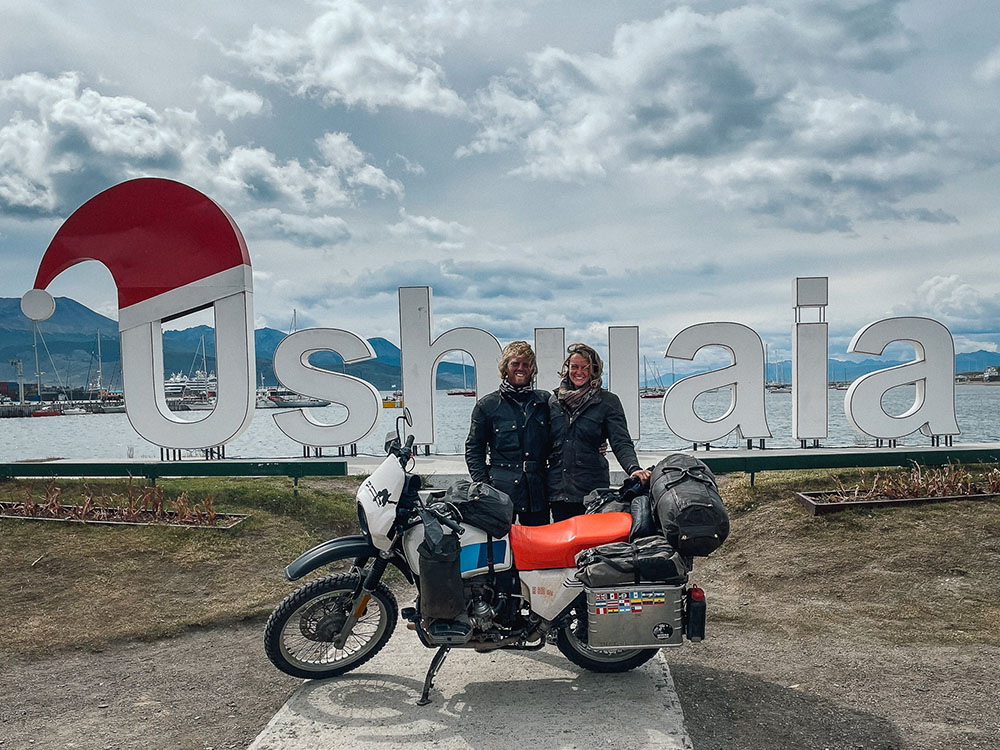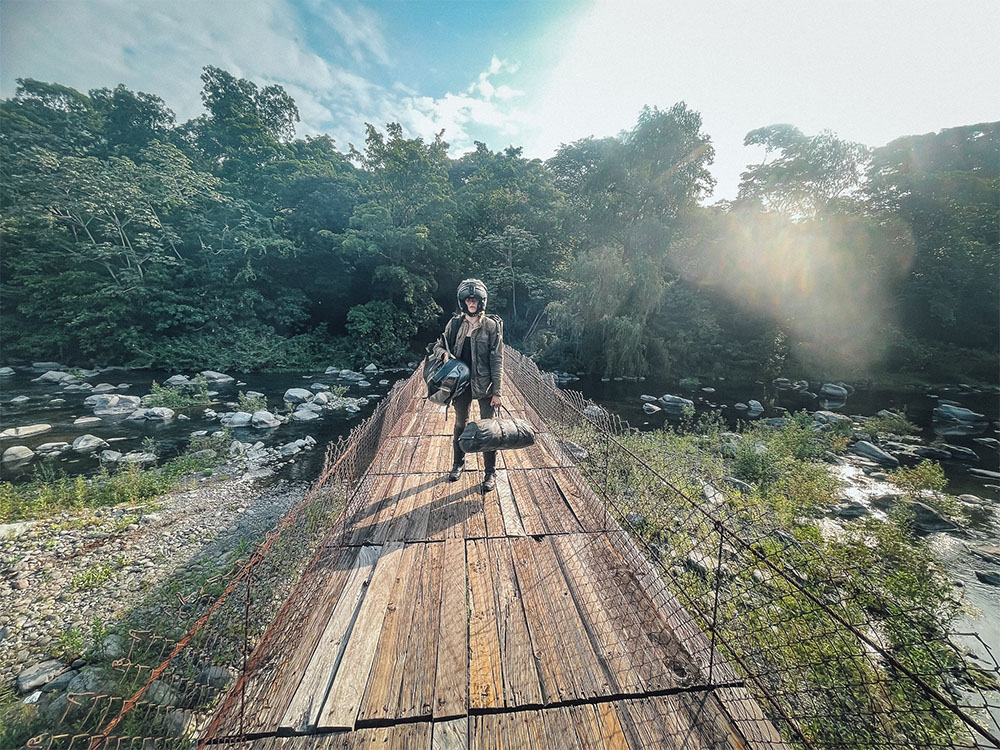 TELL US ABOUT YOUR RECENT EXPEDITION, DISTANCES, HIGH POINTS, LOW POINTS?
Total Distance: Approximately 50,000 kms, but the tachometer doesn't work and that sort of detail doesn't really bother us!
Start location / End Location: Mexico City to Ushuaia, then back up to Rio De Janeiro.
I don't think we had low points, it's all just part of the adventure. If it was plain sailing everyone would do it, and we don't want the roads to be busy. Good seas don't make good sailors as they say. Every fall, every breakdown, every person who tried to scam us just adds richness to the story and teaches a lesson. But not being able to buy fresh coffee in central Peru for almost a week was pretty emotional!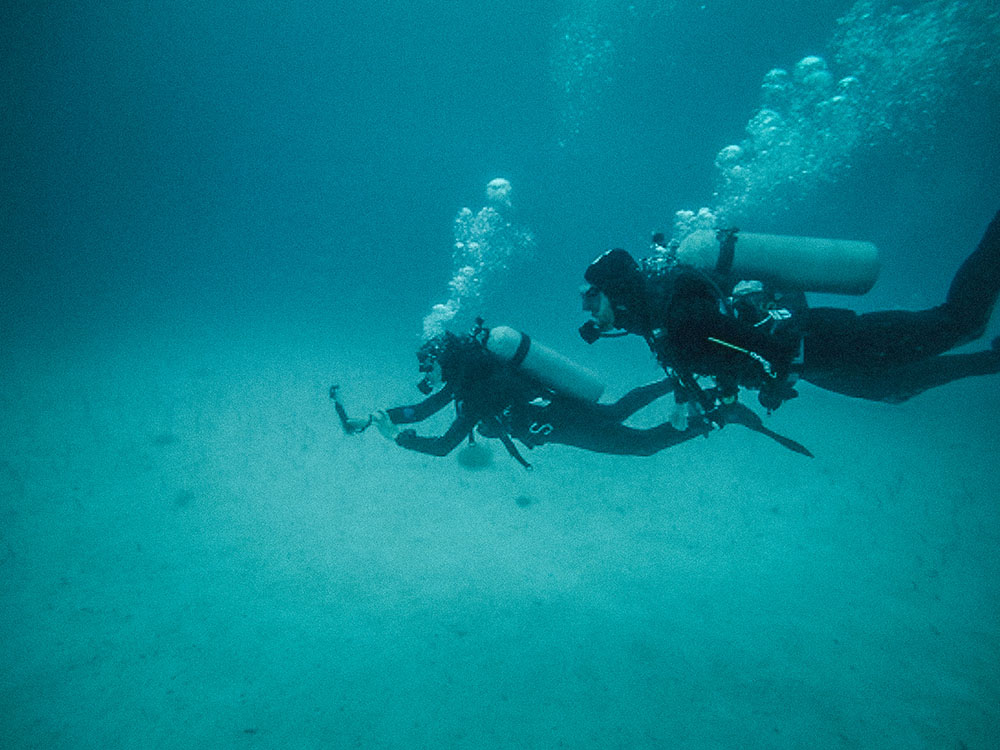 Highest point: 5070m in Peru according to the signs, 5500m in Bolivia according to Satnav! As a carboretted bike we had to change the jets and clips to maximise power at altitude, but she proved perfectly capable even at our highest point of 5070 metres in Peru! Trial and error gets you there, definitely shouldn't put people off using old bikes for trips like this.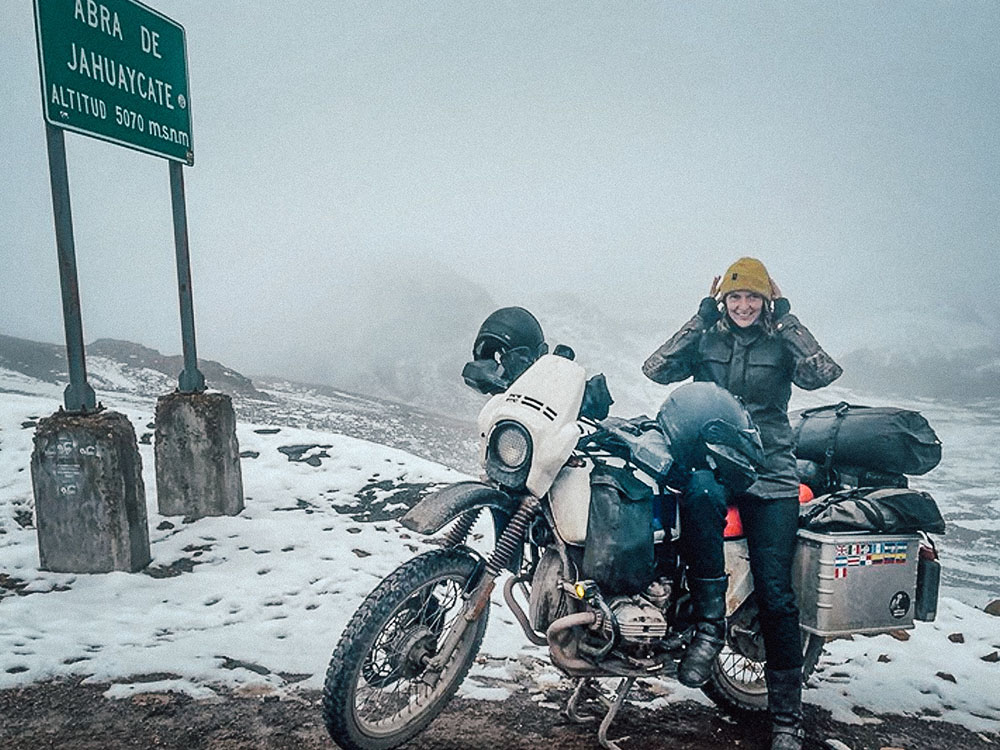 Hottest: It's always fine riding your bike as the wind works like air conditioning, and we would often leave the jacket zips and our trouser flies open to ventilate, but when you are riding in traffic on an air cooled bike it's seriously emotional. Sometimes we would get so sweaty we may as well have been swimming, especially in the jungles of Central America. It's a good idea to have a system to track how much water you drink, it's really easy to get de-hydrated on long days. We would never get beneath 2 litres of water with us, just in case we had an issue on route.
Coldest: We reckon it got to -10 degrees Celsius with the wind chill high up in the Andes, camping over 5000 m, waking to snow all over the bike and tent. We were snowed on in every country down the Andes from Colombia to Ushuaia, you really have got to pick your kit wisely! Similar to the drinking water in hot places, we would always have a flask of hot coffee with us on cold days in case we ended up stuck on the roadside.
---
Continued Below..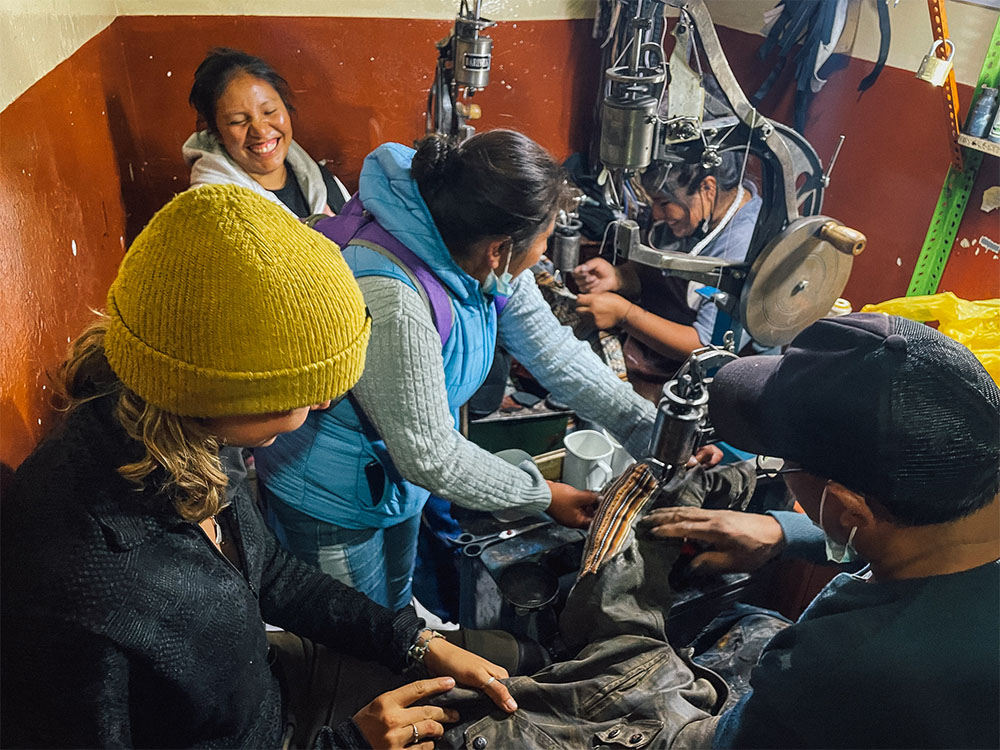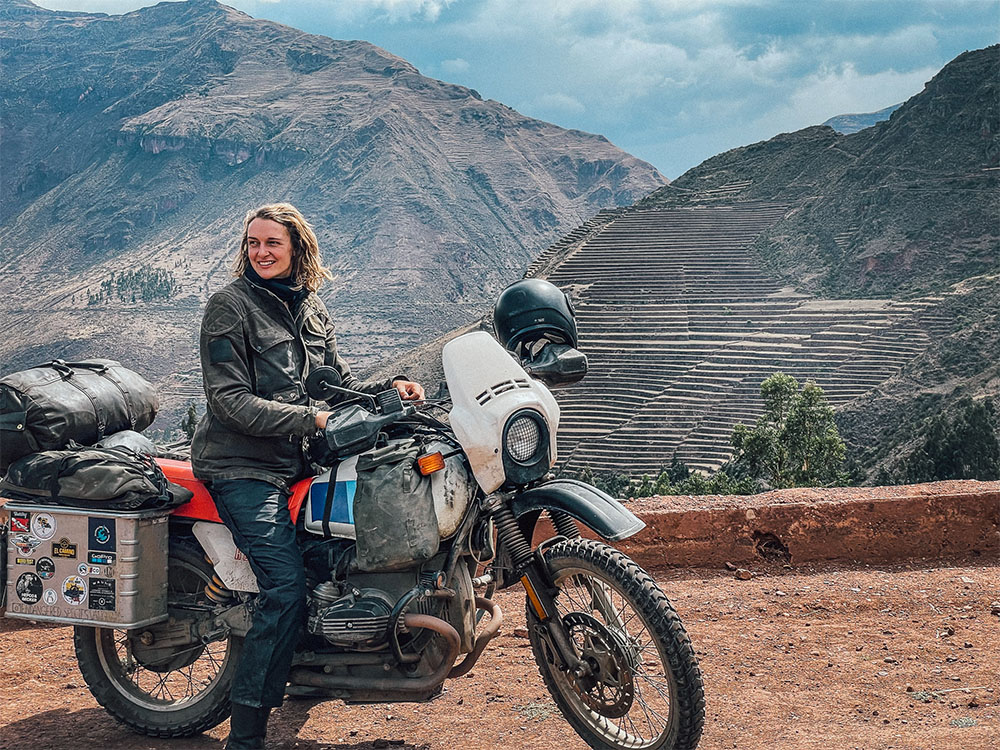 HOW DO YOU DECIDE ON A ROUTE?
We started in Mexico City, and started heading in essentially the wrong direction, North West to Baja California. It was a good warm up, the riding is fun and it's easy to look after yourself. From there we headed diagonally across Mexico, over mountains and through forests, to the Yucatan peninsula for some Mayan culture. After an epic 4 day border crossing we made it into Belize, where the humidity and bugs started to make the camping much more challenging. Guatemala followed, a truly beautiful country with great history. In El Salvador we happened to be in town for the World Surf Championships, with EJ suddenly happy to surf for extra hours when we were sharing the break with the god-like men of the Swiss surf team. Honduras followed, though we didn't feel the people as warm so we kept moving to Nicaragua, which is really raw and remote in parts. Costa Rica has patches of stunning natural beauty, but huge areas of plantations that might look green but just don't support life like a proper forest. Many of the countries we travelled through had two very distinct parts; the capital city was almost a different country to the rural areas around it. Perhaps Panama City and Panama was the most extreme example of this.
The next step was probably the most unnerving. After jumping through all the hoops to properly leave Panama, we got the bike onto the deck of a yacht, only to have it break down as it motored out of Portobello and promptly return us to the land. Undeterred, we rode down the east coast of Panama asking in each fishing village if anyone would give us a lift. 3 boats later, one of which had the dubious fitment of 3x 250hp engines and crew who put balaclavas on when we took photos, we hit our first major snag. Despite promising to take us around the Darien gap, they unsurprisingly got drunk and changed their mind. They put us ashore on the very frontier of the two countries, between the border posts; on a beach backed by the Darien jungle. Luckily, we had a few days food and water, but a motorbike is no help in a region with no roads, and a tent is no help in a region controlled by FARC rebels. We may have flapped a little when three armed men stepped out of the jungle at sunset, but thankfully they turned out to be the local defence force, and assured us they would protect us while helping to flag down another boat. By the end of the second day we had sea-hitchhiked into Colombia!
We spent 4 months in Colombia, seeing as much of the country as possible from the three main cities of Cali, Bogota and Medellin to the glaciers, jungles, deserts and beaches. This included a brief foray in Venezuela. Eventually we headed south, climbing high into the snowy mountains in Peru, then across the Martian plains of Bolivia. We hadn't appreciated the scale of Argentina till we hit the top of route 40, but the plains of Patagonia stretch for days. We followed the border between Argentina and Chile, weaving between the two all the way south to Ushuaia, the most southernly city in the world for New Year 21/22! From there, we returned up the east coast of Argentina via Buenos Aires to Rio de Janeiro for our flights home!
---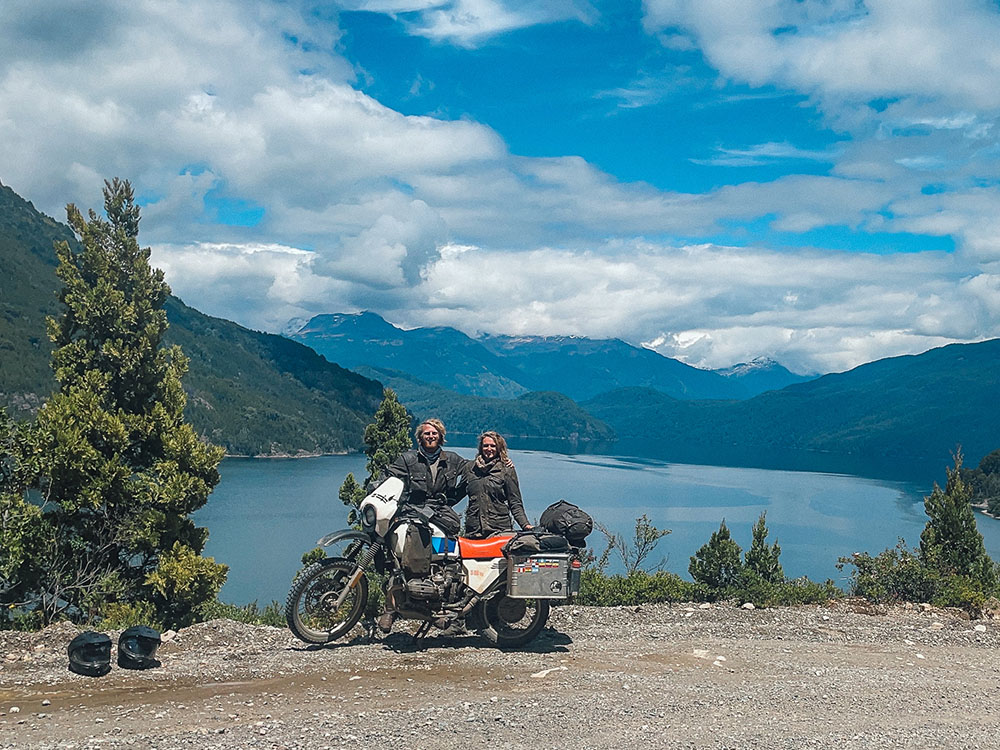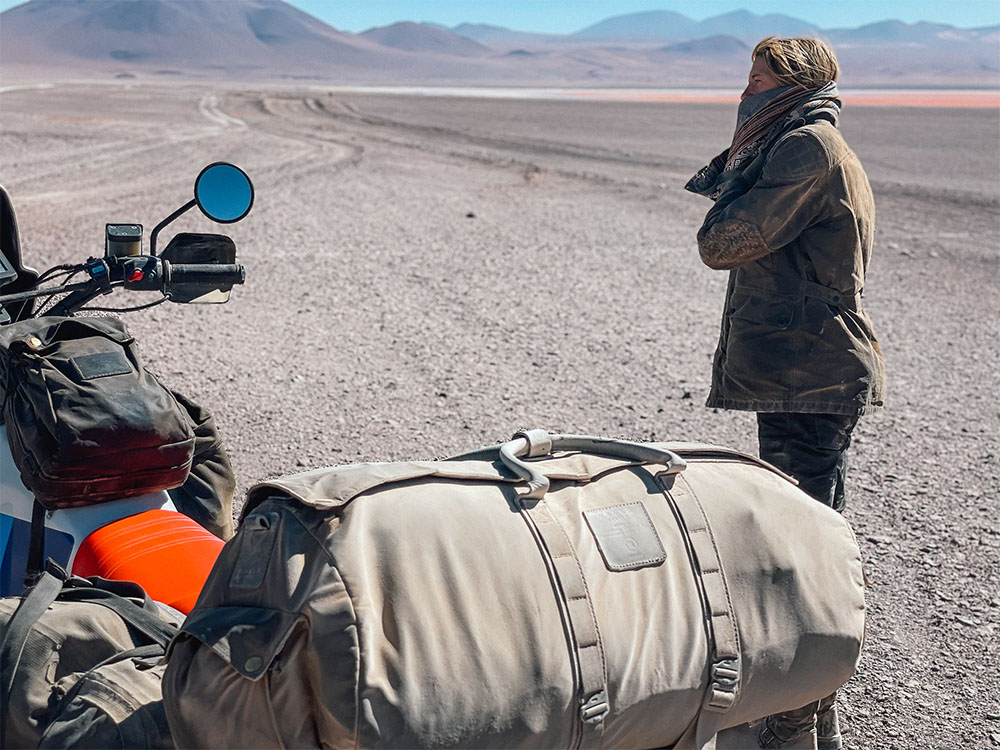 What were your favourite sections/roads/places?
Colombia has to come out on top for a place to spend time; the warmth of the people, beauty and variety of environment, tasty food and endless tinto (coffee) on tap!
For pure adventure, it has to be Bolivia. Up at over 4000m on the Altiplano (high plains) it's like the surface of Mars; empty of life besides the odd vicuna or flamingo. It's roasting during the day, freezing at night, and you can go days without seeing another person. You have to be on top of your game though, help is a long way away!
---
HOW DO YOU PREPARE FOR THESE LONG ADVENTURES?
Spending our life bouncing from one project to the next, the physical fitness and mental robustness/flexibility needed is just the way we are. Physically we try hard to ensure we do a little of something every day, like a circuit or yoga session together. Easier said than done though; in sub-zero temperatures getting a sweaty base layer at the start of the day could be an easy recipe for cold injuries, and when water sources are in short supply its best to be conservative. We have worked in all environments worldwide, so fortunately have developed our own routines to get by.
Mentally, our constant life state of not quite knowing where we will be that night, let alone next month, has helped us to live much more in the moment. Crendon is a real planner, so it's hard for him to detach from considering every eventuality.
Preparing the non-human physical side takes more thought; it takes time to experiment and research to build trust of the kit that really endures the trials of life. We certainly learn more lessons on this front every day, but there are many things that we go nowhere without.
---
Continued Below..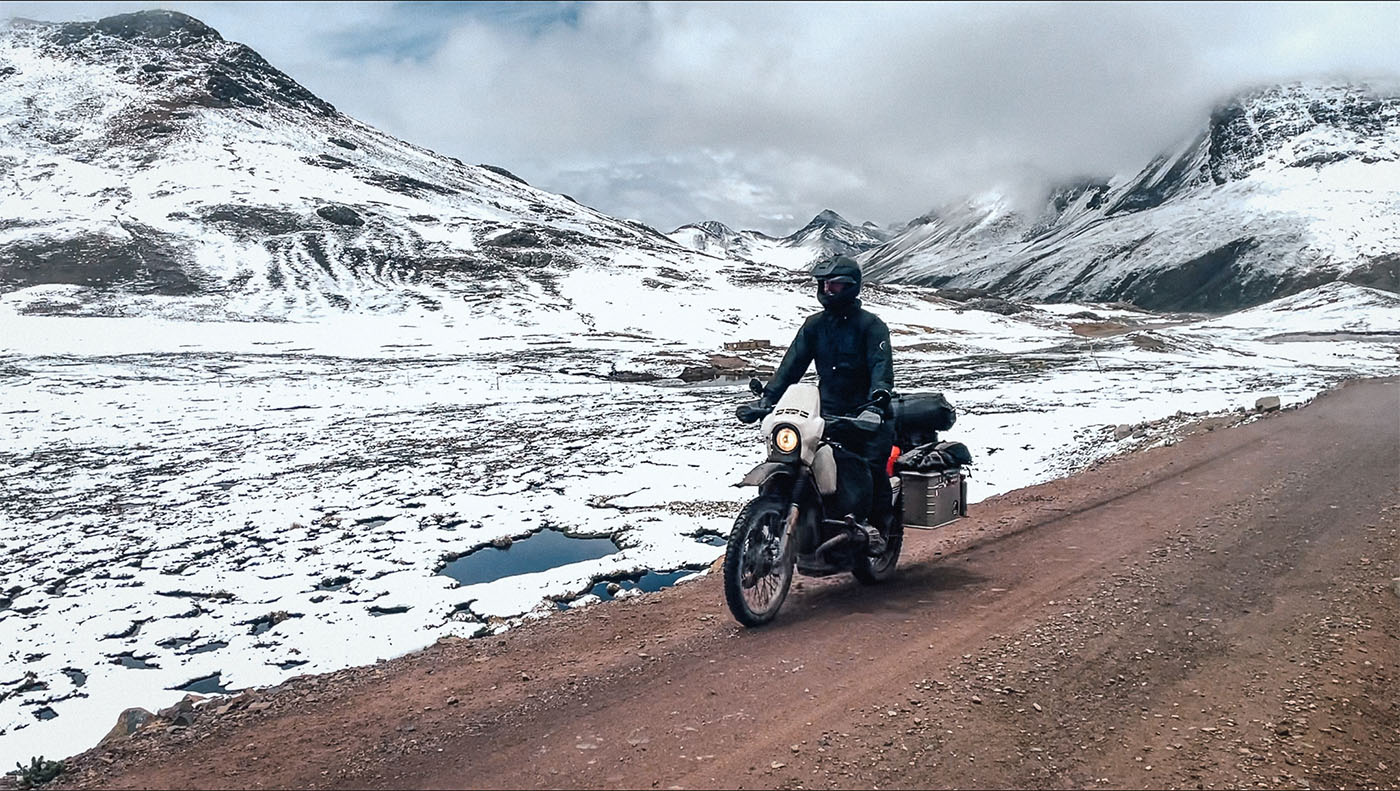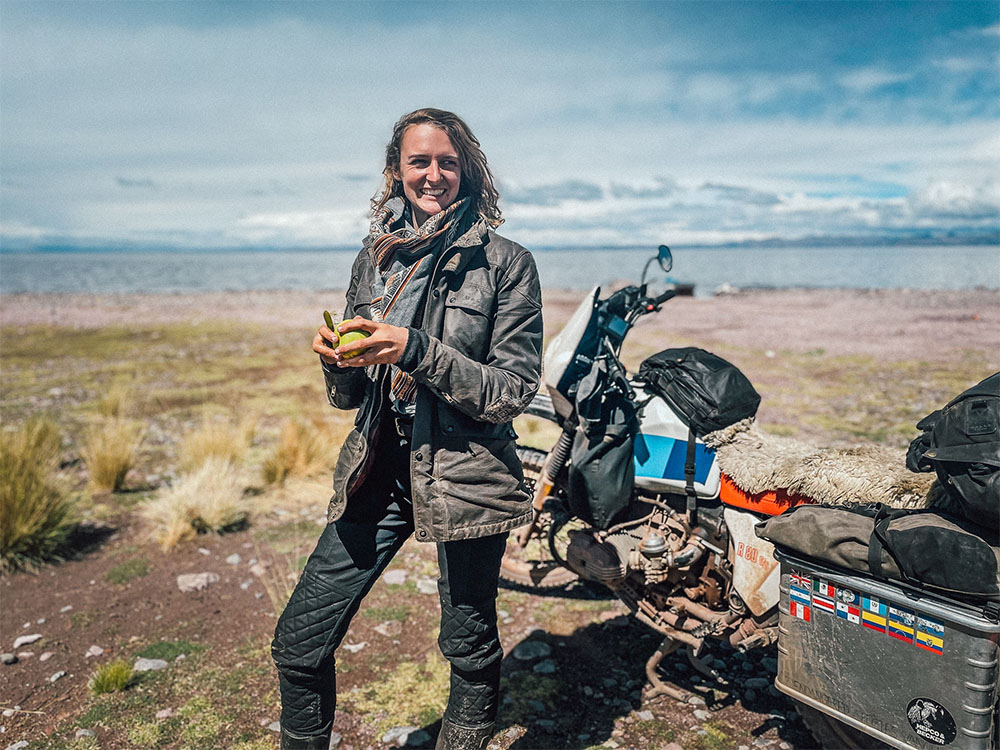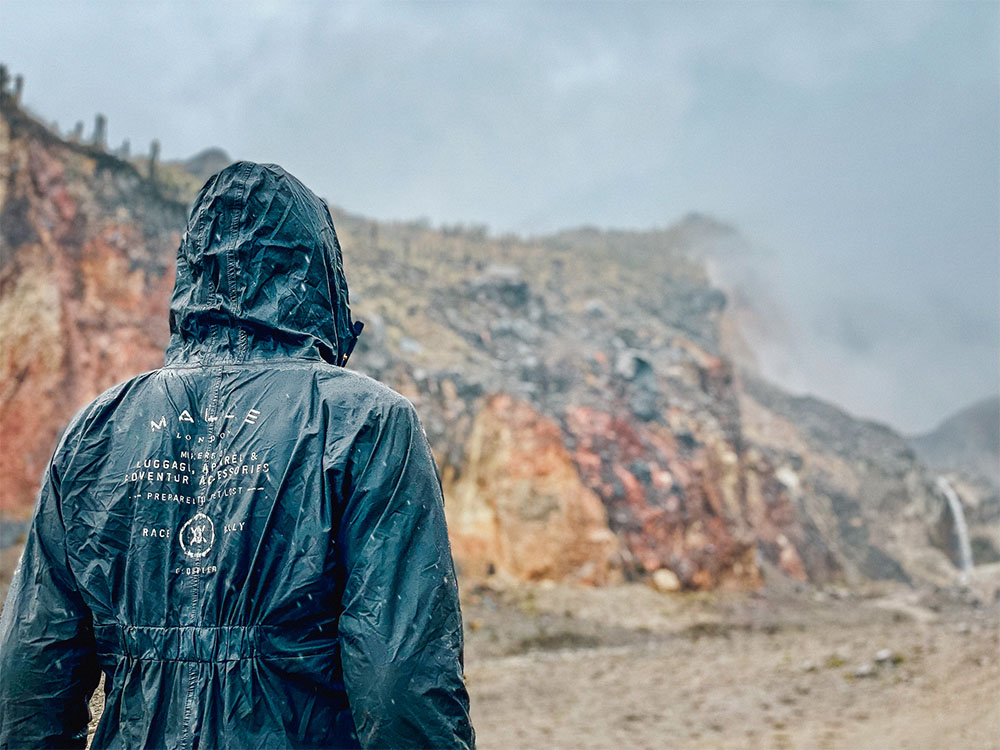 WHAT DICTATED YOUR ROUTE?
We work for a British not-for-profit conservation charity called the 'Endangered Species Protection Agency' (ESPA), who aim to significantly reduce the trade in endangered species by disrupting criminal enterprises through the provision of bespoke specialist services and personnel to anti-poaching operations. This takes the form of training locals in protected areas and conducting investigations into the illegal wildlife trade, both on land and at sea. We have existing projects across Europe, Africa and Asia, so we're in Latin America looking for opportunities to bring our skills and experience from across to this side. Developing a network and assessing protected areas gave us a framework for our route, and helped us make friends along the way who could show us the best parts of their country. It was the perfect way to get to some of the more remote reserves.
---
CAN YOU TELL US A LITTLE BIT ABOUT THE PROJECT(S) YOU WERE WORKING ON AND WHY THEY WERE SO IMPORTANT TO YOU?
When you mention 'counter-poaching', people often think of rangers in Africa protecting rhinos from ivory poachers, but it runs so much broader than that. Poaching wildlife to meet the demand of the illegal wildlife and traditional medicine trade is happening everywhere and unfortunately is going widely unchecked in Latin America.
We are both like-minded in our passions to tackle the 'big issues' facing our environment, but in order to do something about it, first we had to understand it for ourselves. On our journey we witnessed some of the greatest biodiversity hotspots on the planet including the Amazon and the Galapagos Islands. Yet, hidden behind the national 'paper-parks' (nature reserves on paper but with little protection on the ground), there is a network of illegal wildlife trafficking for jaguars, bears, tropical birds, sharks, turtles, the list goes on. Not to mention the unregulated clearing of wilderness for resources, urbanisation and agriculture. OK you would think we are not the most uplifting people to have to a dinner party. However, we actually could not be more excited because we now understand so much more about the nature, the people, the politics and have begun working with some incredible individuals who are passionate like us to protect their wildlife. It's great to be continuing to develop these projects with a personal connection to the places; we can't wait to get back when the real work starts.
---
TELL US A LITTLE ABOUT YOUR CHOICE OF MOTORCYCLE
Our bike was inspired by Crendon's Grandad, who rode airhead BMWs throughout his life. The epic stories of others, like 10 Years on 2 Wheels by Helge Pederson and 2 Wheels South by Matias Corea. The guys from that latter book were super helpful, always just a message away for advice!
The bike is a bit like an old Land Rover; you can get anywhere, but not quickly! Its main attraction was its simplicity, meaning we were able to do all repairs and maintenance ourself.
We strongly suspect that had we done nothing on the bike at all it would still have made the whole journey. We started off rigidly checking valve clearances every 2000km and changing fluids every 5000km as per the book, but began to get a feel of when it was needed rather than on the clock, this was incredibly infrequent.
---
Continued Below..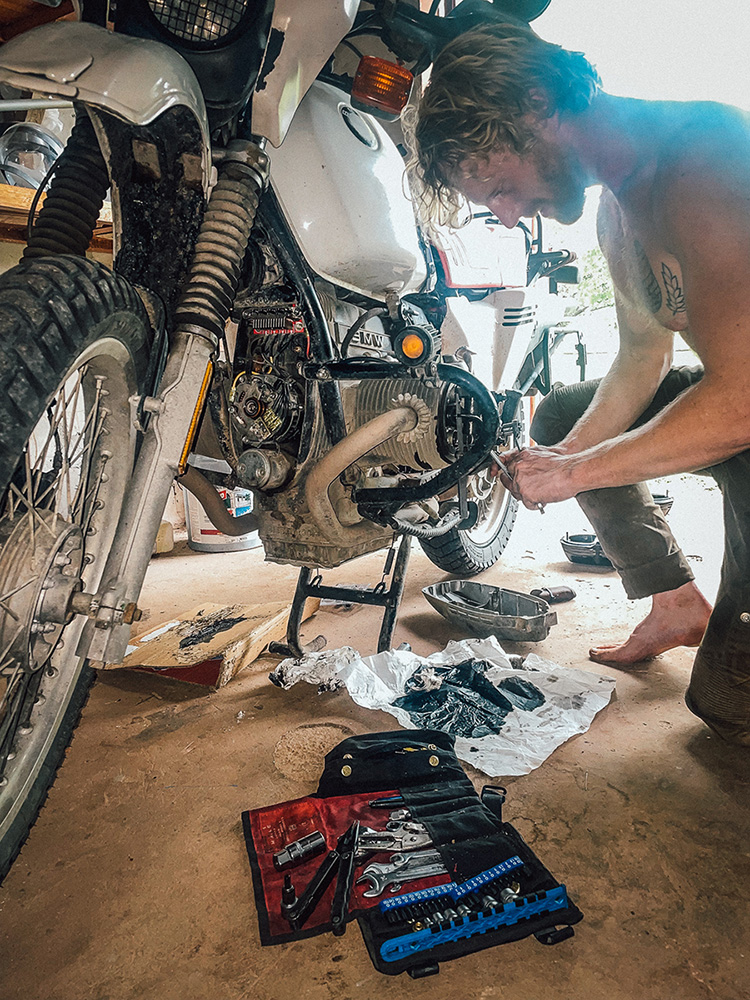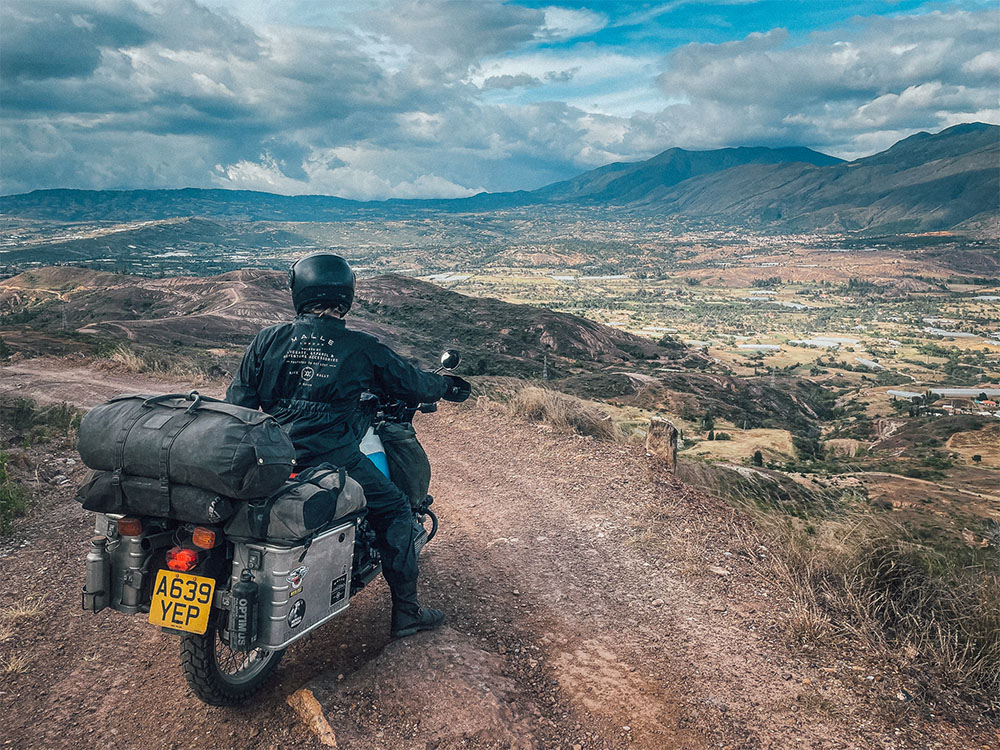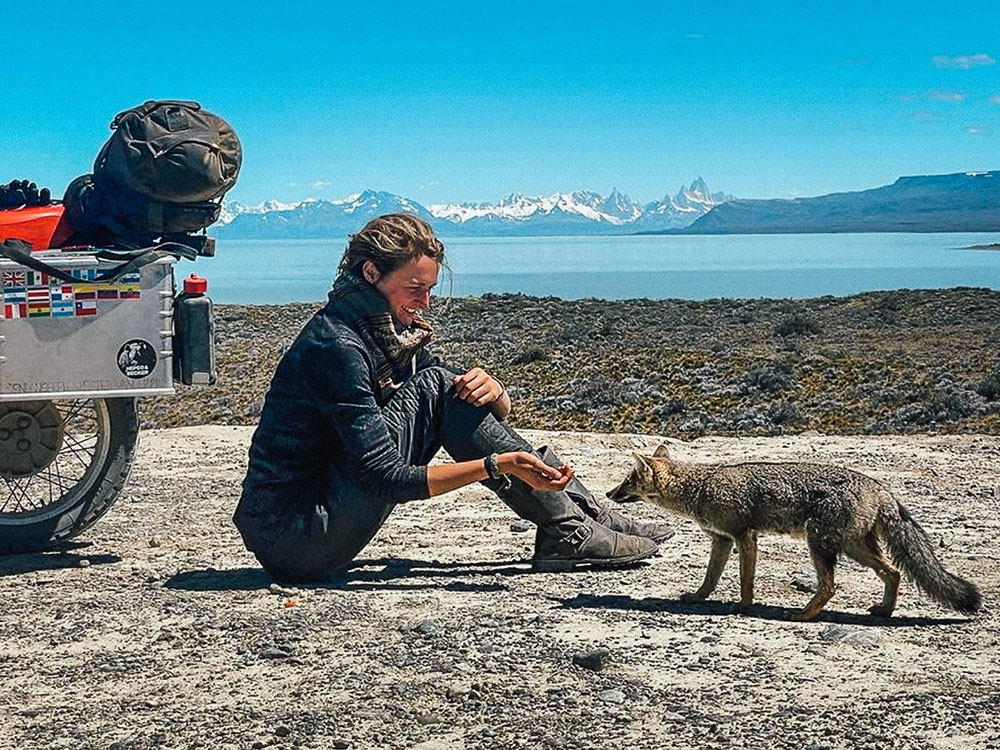 What kit did you carry?
In terms of clothing, we packed so minimal that the two outfits we each had needed to be multi-functional. They needed to be smart enough to wear for meetings with governments, tough enough for a year on the road, and discreet enough so we didn't look wealthy to potential thieves. Not an easy balance. We definitely didn't like the power ranger look of modern gear that is often hard to repair, and certainly felt no need for our clothing to tell everyone what kind of bike we ride. As a couple we are lucky that we are the same size in all clothes, so we could mix and match to change things up. It's not easy finding woman-shaped motorbike kit, so EJ wore Malle men's gear and ended up being thankful for not being in figure hugging clothes; sometimes the extra attention it would bring isn't helpful. With the helmet off and a flick of the long blonde hair, there is no question!
Malle's expedition jacket and trousers were spot on for what we needed. Doesn't really matter what colour you get – it all ends up the same dirty brown! The wax cotton was perfect, we could waterproof it in cold places or let it be more breathable in the heat. EJ's jacket got ripped on barbed wire so we sewed on patches, waxed it up and it's as good as new.
The wax cotton luggage was great; robust and discreet. The tank bag has a strap to use as a satchel which was great for more formal meetings. Having our Malle Hurricane rain suits in either end of the duffel bag on the pack worked really well when rain came in quickly! The Malle tool roll fits neatly into the bottom of the tank bag, which was handy for quick access. We re-waxed the kit twice to keep it waterproof and protected. While it looks big on the back, the duffel held sleeping bags and the tent so was very light.
Crendon's experience of working in arctic and mountainous places, plus our joint experience of living in the tropics certainly helped us prep our camping kit – again a tricky choice through the varying climates as well as balancing weight with robustness. There is no 'right' set up, but our compact and minimalist solution worked for us. We stuck by our rule to keep our tent 'bedroom' as the 'sanctuary' – clean and dry at all times. Otherwise we really immersed in nature, feeling the cold and the sun, the rain and the wind, helped us get a feel for the places we travelled through. It makes you respect the people and wildlife that calls each environment home even more.
---
WHAT IS IT ABOUT TRAVELLING BY MOTORCYCLE THAT YOU FEEL IS UNIQUE TO ANY OTHER FORM OF TRAVEL?
The freedom. That first time you open up the throttle in the morning on a dirt track with your whole life packed on the back, little more of a plan than a vague compass direction in mind but knowing we have everything you need and the capability to go anywhere.
The freedom (agreed, there is nothing like it). We drive a Land Rover Defender at home, and while it can do most things off road, it can't weave through traffic, dodge road blocks or carve down narrow horse trails to that perfect camp spot!
---
Continued Below..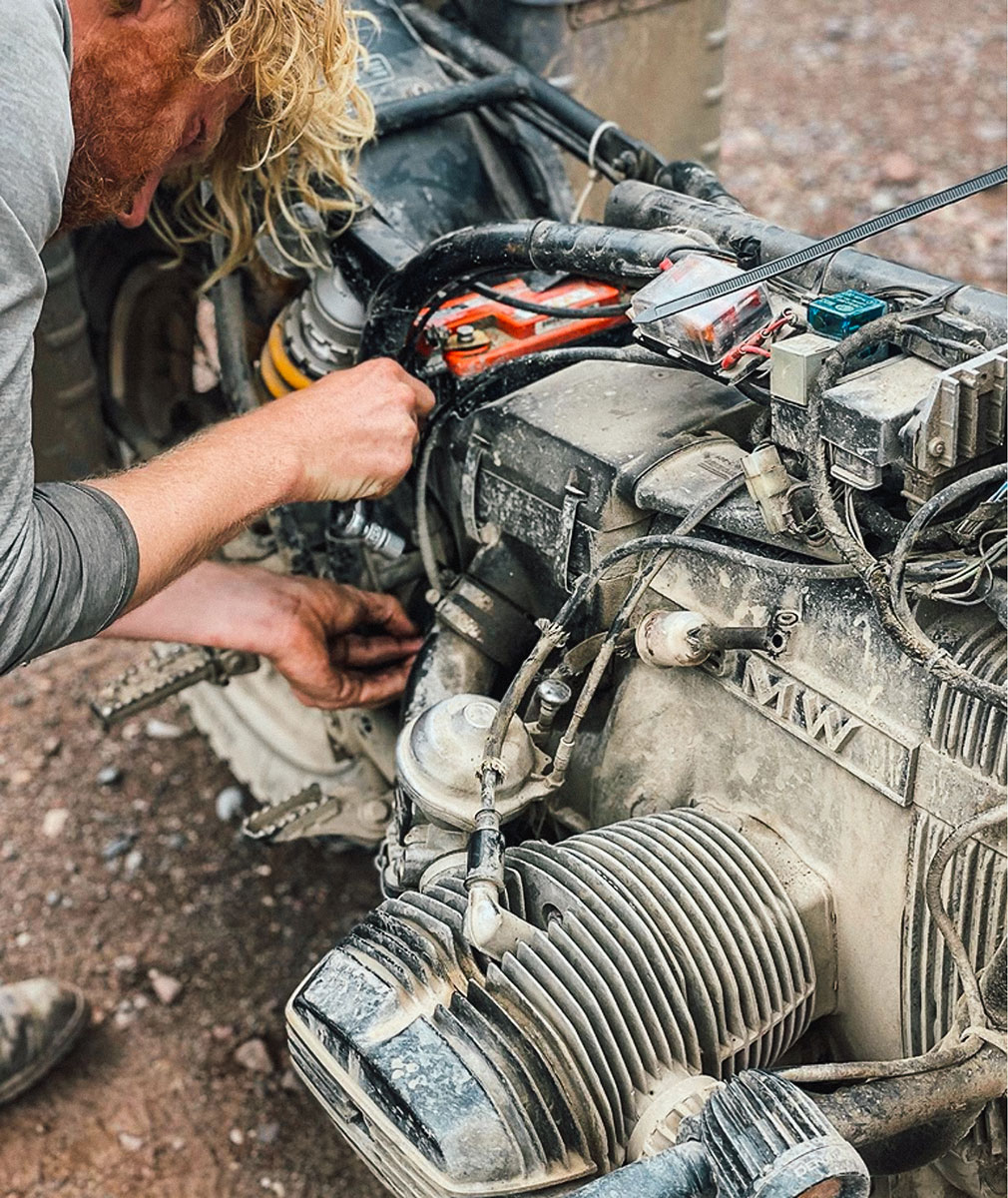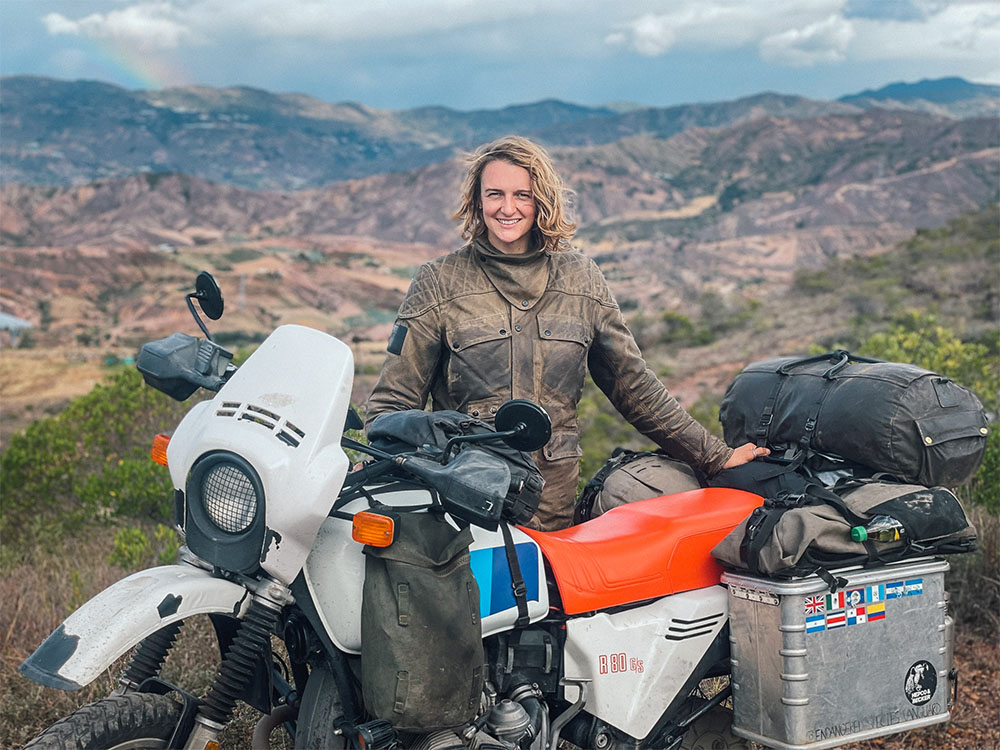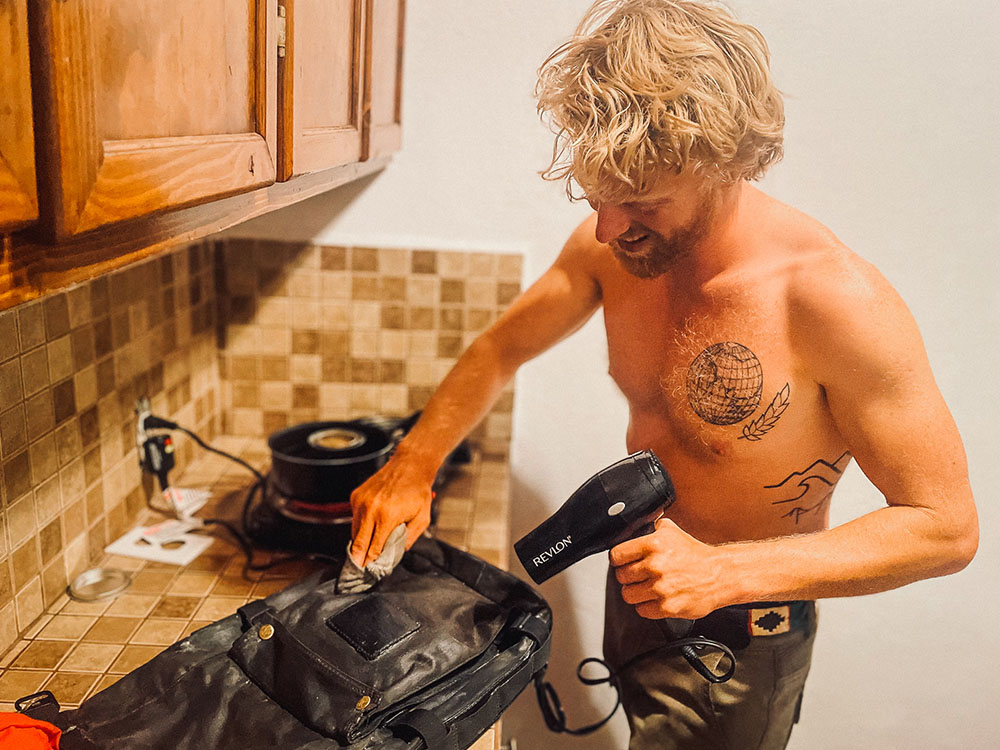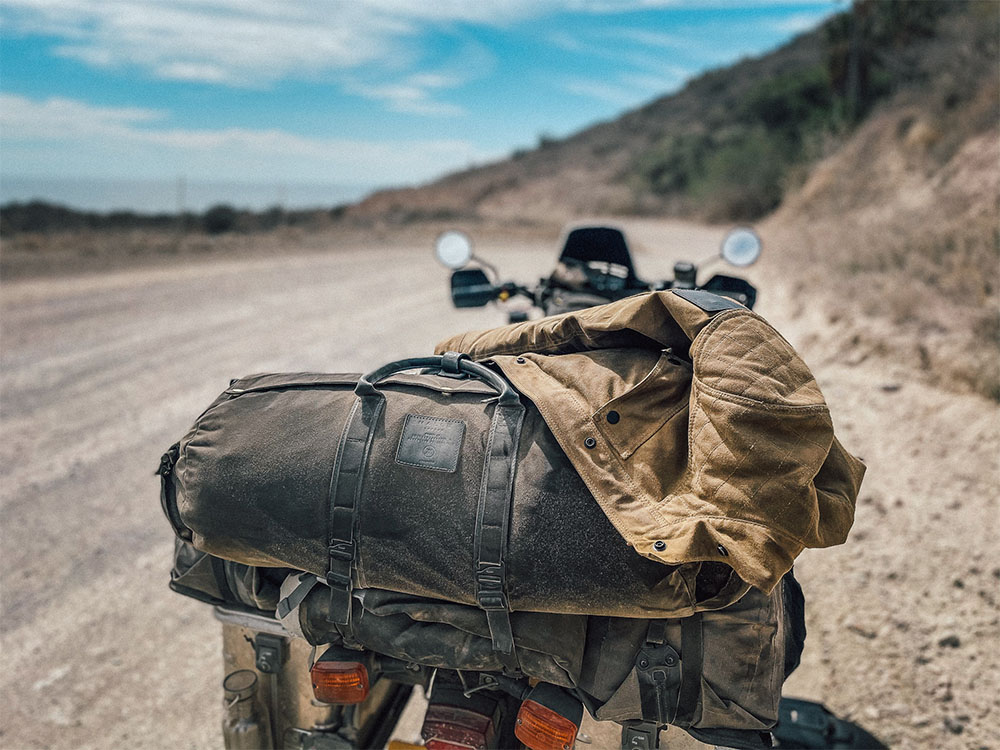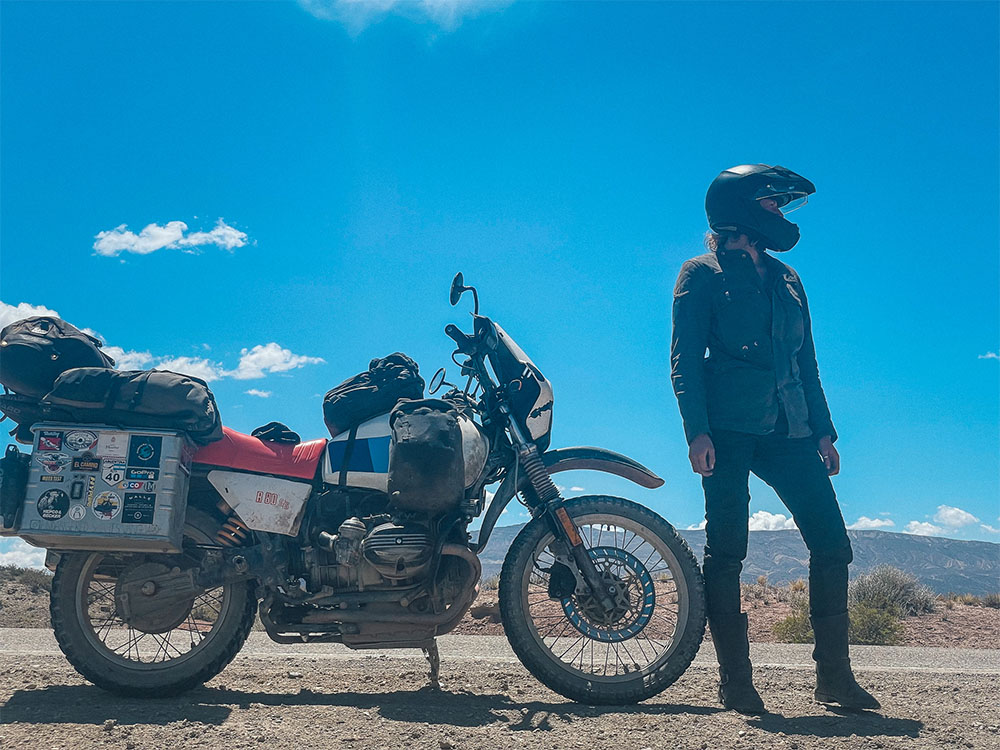 HOW DO YOU DECIDE THE ROLES WHEN TRAVELLING TOGETHER ON SUCH A POTENTIALLY DANGEROUS MISSION?
We decided to have pretty set roles through the whole journey, to help with decision making and knowing who was doing what, particularly key when we were tired or stressed. Crendon's life in boarding school and the officers' mess means he is rubbish at cooking!
Whereas what EJ can whip up on a single petrol burner days after the last shop would blow your mind. But possibly more importantly, EJ was in charge of rationing our water.
Crendon had to gauge our fuel consumption, which with no fuel gauge was some task. Some areas we had to work together, we both planned the route each night and we both tried our best to bring home a few lovely stray dogs, but the bike put her foot down on that.
---
YOU TRAVELLED THROUGH SOME PRETTY INCREDIBLE LANDSCAPES/ENVIRONMENTS, WHAT WAS YOUR FAVOURITE PART OF THE JOURNEY?
Now that is a hard question. For me, it was the sense of adventure in Bolivia; just us and Barker pitched against the elements and environment for days on end.
Diving in the Galapagos Islands with schools of scalloped hammerhead sharks and shoals of eagle rays has to be up there, but as we couldn't take the bike underwater, I feel like she was left out! So, food and friendly people of Colombia, combined with having environment you could imagine within a few days ride, made it a stand out country.
---
DID YOU EVER GET LOST OR FEEL IN DANGER ? IF SO, HOW DID YOU GET OUT OF THAT?
We had a few points where our senses were tingling, but as long as you consider how you come across and are sensible with where you go it is certainly manageable. Don't let the following story put anyone off!
When we crossed from Colombia into northern Venezuela we were shocked by the scale of the refugee crisis, though we had done our research and understood the potential risks. There are shanty camps stretching for miles, litter everywhere and hundreds of stressed families moving with their life pack on their back. In these places of desperation and depression, there is always an increase in crime. We headed towards the coast to find a place to camp, through an area more reminiscent of rural Africa given the sparse scrub and mud hut villages. We passed through one where a group of kids played football in a space on the edge of the village, and noticed that they firmly failed the 'wave-test' and just stared at us as we rode by. The fishermen on the coast were similarly unwelcoming, and we were conscious that a number of people were aware of our presence; something we tried to avoid for camping. The routes were also pretty tricky, with soft sand and mud meaning we didn't have much choice on where we headed. Together we chose to turn back to the main track and push on for a few more hours for a rare hotel night given the situation. We were forced to take the same route back after almost getting stuck a few times, and as we approached the football pitch through a narrow gap in the scrub growth we noticed the kids running into the bushes. Our senses heightened, we spotted last minute that they had pulled a wire cable across the road at neck height, and just managed to skid to a halt. This was different to other road blocks, normally its big logs or strings of carrier bags tied together, designed to get you to stop so they can ask for money or water. This was different, there was no intention of asking, it was at neck height to knock us off the bike so they could take what they wanted. The lack of any other tyre tracks in the mud showed it was clearly meant for the two of us. EJ leapt off and was able to lift the wire enough for me to ride under, and we left at speed as a volley of rocks followed us.
We saw more similar behaviour in that area, though luckily no rocks ever made contact. It was nothing to do with us being foreign, as with sun visors down you can't tell we are western, but more poverty driven desperation. The parents at the roadside selling fuel did nothing to stop their kids behaviour, and the vibe was seriously unwelcoming, so we soon headed back into the warmth of Colombia. It's a shame, Venezuela is a beautiful country, but it's in a very difficult time at the moment.
Just because you are in danger doesn't mean you have to get out though, sometimes we decided to take the risk, crossing the bridge straight from an Indiana Jones movie or giving a place more time to see how it changes. It's amazing how even the roughest looking people can warm to a smile when food or coffee is shared. Who dares wins is often a good way to live!
Getting lost is different; that is part of the adventure! Many times a route on the map would degrade into a cattle track, and a few times we were forced to turn back. These things all happen for a reason, and some of our best memories come from improvised diversions! We would advise having multiple means of mapping though, always good to be able to cross reference between the Garmin GPS, Maps.Me on the phone and an old fashioned paper map.
---
Continued Below..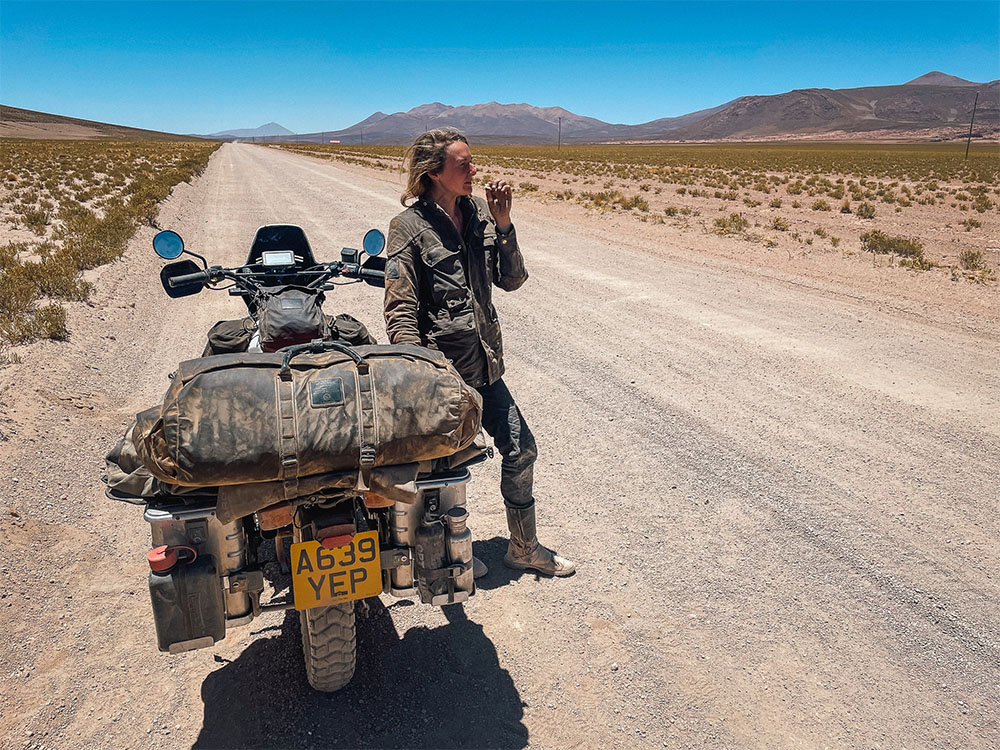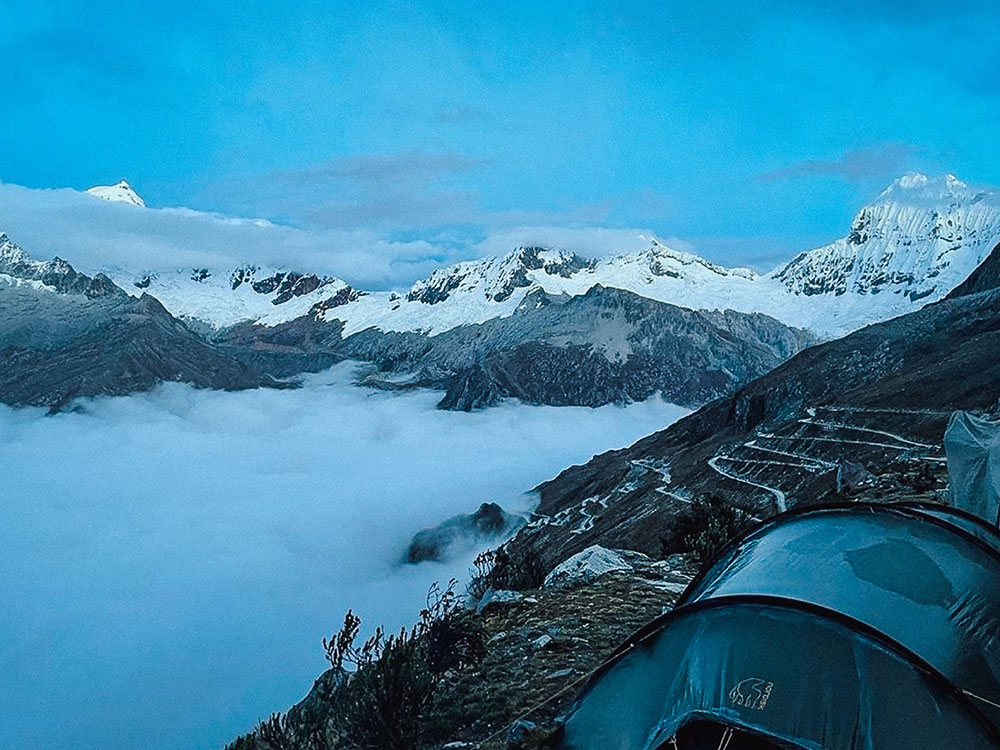 HOW WAS THE RECEPTION FROM LOCALS, ESPECIALLY IN SOME OF THE MORE REMOTE PARTS OF YOUR ROUTE?
With the caveat of the above, we loved all those we met on our route. There is a vulnerability that comes from being on a bike that helps you connect with people. When you pull up in a small town in a huge rainstorm there is always someone willing to let you under their veranda and put the kettle on, no matter how few words you can understand from each other. In general, the more rural the people the more welcoming they were, I suppose when only a few people pass by each day, they are more inclined to help each other. When we stopped for lunch on the side of a desolate mountain track, you could be certain that 100% of vehicles would stop to check we were ok, and we were sure to return the courtesy – and still do even now. Embarrassingly we ran out of fuel once in rural Chile, I hadn't understood just how much the howling headwind would decrease our fuel consumption to less than half what was normal. There may be no fuel gauge, but when the wind steals a sizeable splash of the reserve as you pour it in you know you are in a bad place. We walked to the nearest estancia (near being relative!) and asked hopefully for some fuel. fortunately for us, the most warm and wonderful guacho and his wife insisted on completely filling our tank, and would accept nothing but sharing some biscuits in thanks!
Perhaps it's different as a girl, you have a link to the other women you meet. I have spent much of my life travelling and trying to do my bit to improve the world in far flung places, so I was perhaps flummoxed the first time a Peruvian shepherdess questioned what I was doing. When they asked where my children and home was, the joking reply of the bike is our child and the tent our home fell flat. The idea we were trying to contribute to environmental issues in foreign lands didn't help. She was concerned, and seemed to pity our situation; 'but why?' she asked again. It was a humbling moment realising that whilst we were both doing what we loved, we had such different ideas of what happiness was.
---
DID YOU HAVE ANY ISSUES WITH THE BIKE? IF SO, HOW DID YOU GET OUT OF THIS AND MAINTAIN A HEALTHY MACHINE?
Hard to believe, but we had not a single issue with reliability. Sure Barker the bike was reliably hard to start in the cold, needing a lot of 'encouragement' when iced over – largely from Crendon's morning wee. but hey, whatever works!
We had one 'breakdown' when a particularly rough route dislodged a connection from the key barrel, which obviously happened far from any help and on an awkward up hill, but we traced the wiring to find the issue and had it taped on tighter in no time. We found this sort of problem solving really satisfying, and tried hard not to be stressed by it.
There were innumerable falls during our journey, most of which caused no issue at all (and thankfully no injuries!), other than one failed hill climb on a very steep track that caused the bike to go right over on itself. She wouldn't start, and as we worked through diagnosing the issues we found the left cylinder (the side she had gone over) had filled with oil. With the spark plug out we tipped the bike over to empty it, then cycled the engine with the kick start to spurt out as much as possible. After a completely calm hour with no swearing, we pushed it up a hill and did a rolling bump start that brought her back to life – albeit very smokey for a few hours! The inevitable appearance of a wild dog at these moments always helps with morale.
We strongly suspect that had we done nothing on the bike at all it would still have made the whole journey. We started off rigidly checking valve clearances every 2000km and changing fluids every 5000 kms as per the book, but began to get a feel of when it was needed rather than on the clock; this was incredibly infrequent. We had previously checked the tools needed by completely disassembling and reassembling the bike to service it before departure; once we used a tool it was moved from our big tool box to our small Malle tool roll which fitted everything that touched the bike for the whole way (other than a welder!). The roll is great for keeping everything clean and protected, plus fits neatly at the bottom of the Malle Tank bag for easy access.
---
HOW DO YOU FEEL YOUR PROFESSIONAL SKILLS HELPED THIS EXPEDITION?
Both of us have honed a skillset of being comfortable in chaos through working in challenging places, and in the conservation charity context it's usually pretty challenging for resources too! I suppose the most useful skills was a can-do attitude, though EJ would probably call mine just 'stubbornness'.
---
Continued Below..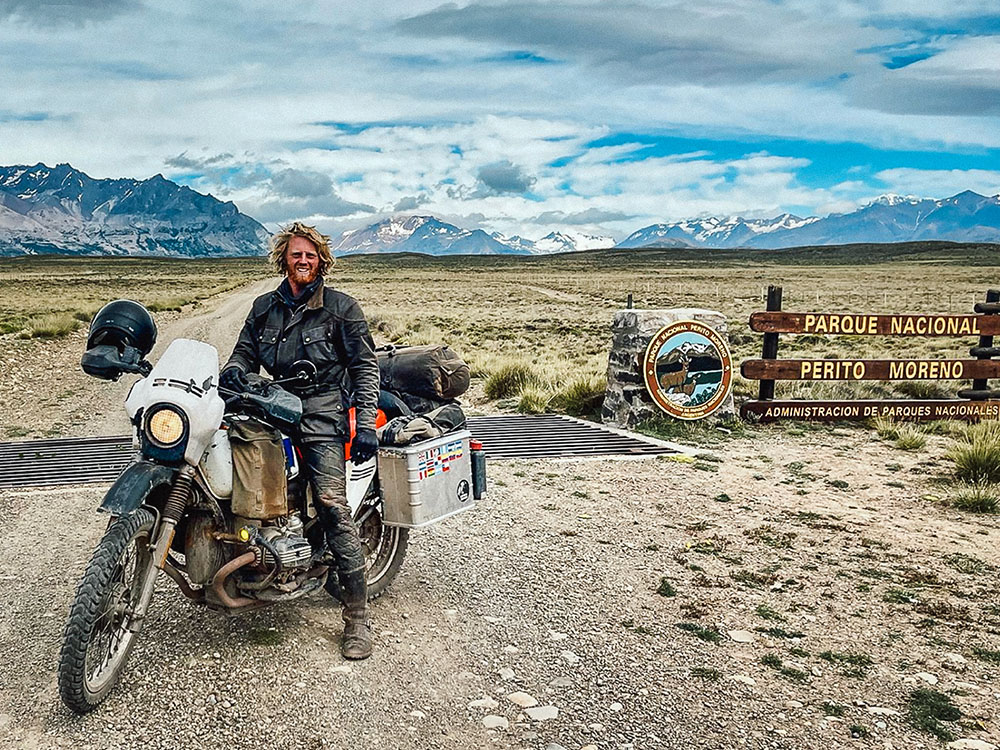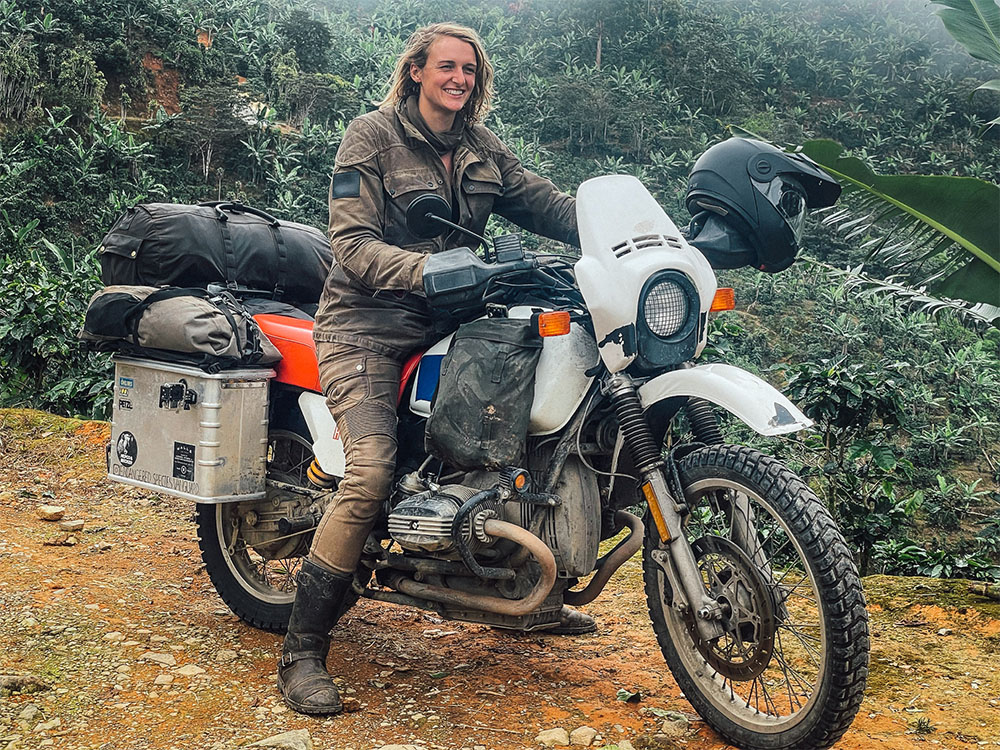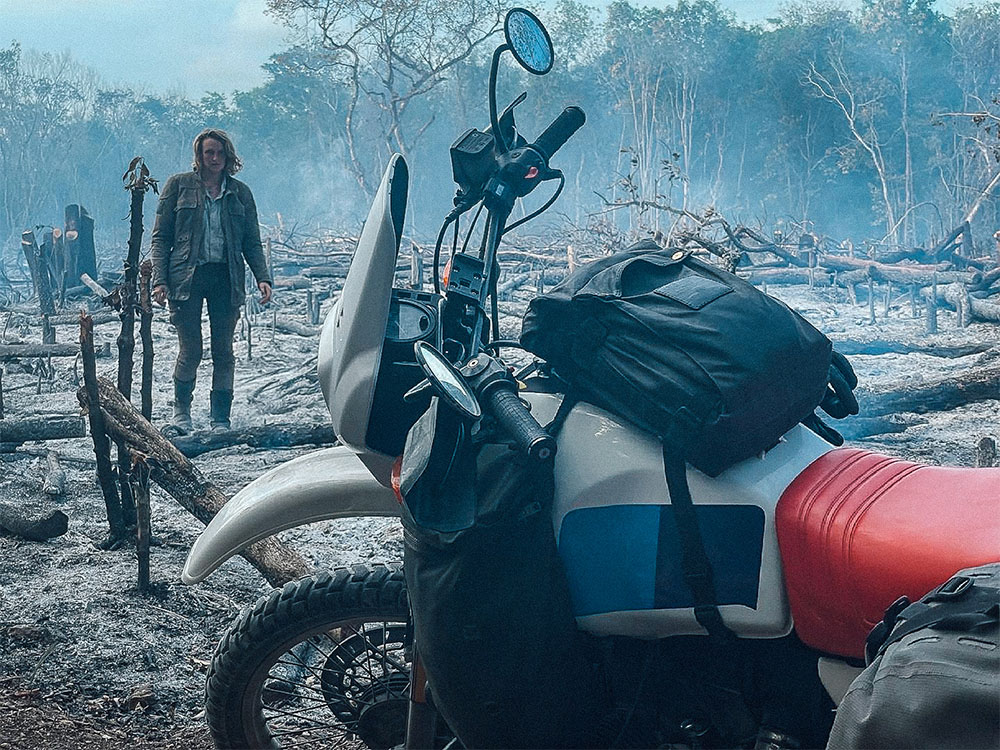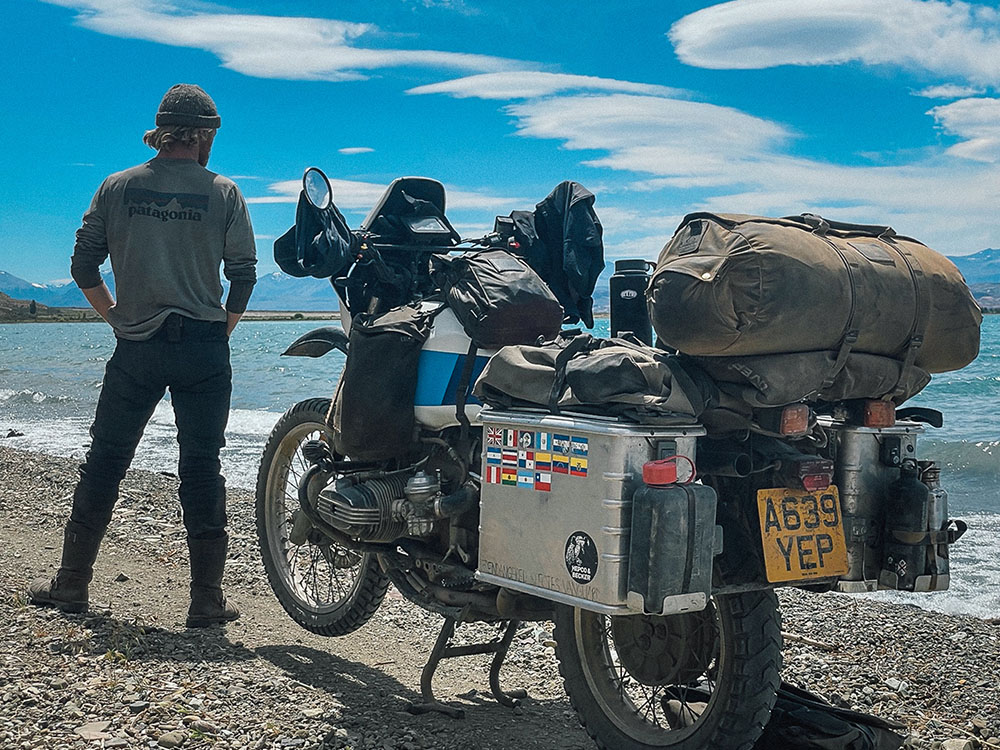 WHAT IS IT ABOUT THE NATURAL WORLD THAT INSPIRES YOU TO EXPLORE/PROTECT IT?
Nature has all the answers, and she is telling us what we need to do to be a part of the solution. All we have to do is be brave enough to look around us, listen and take action.
We've only got one, and its going faster than people realise, because of us. From what I have seen working in conflicts zones from Ukraine to Syria to the DRC, people are the problem, but also key to the solution. All it takes for evil to succeed is for good men to do nothing.
---
COULD YOU TELL US A BIT ABOUT YOUR CHOICE OF ACCOMMODATION?
We chose to camp to give us freedom and keep costs down. It lets you properly immerse in the environment, seeing things at dawn and dusk that the lights of hotels just hide from you. Some of the views, like the photo below in the Cordillera Blanca, you just couldn't pay for. It's amazing what you can get away with too; we weren't disturbed or moved on a single time in a year of camping. In many countries, the iOverlander app is great for finding spots others have tried out, just make sure you leave the place as you find it for the next guys!
---
ALTHOUGH OFTEN LONG, LONELY, EXHAUSTING AND POTENTIALLY DANGEROUS, WHAT ARE THE BIGGEST CHALLENGES/REWARDS TRAVELLING BY MOTORCYCLE?
There is no-where to hide. Being in the elements, the 3 of us for so long exposes you both physically and mentally. This is both a challenge and reward, you really get to know the rough and the smooth of each others personalities (including the bike!) which has certainly made an incredibly strong bond between us.
WHAT ARE YOUR BIGGEST LEARNINGS ABOUT TRAVELLING BY MOTORCYCLE?
Our number 1 rule in life, don't rush. The bike will get there when it gets there, whilst you can plan all you want, you never know what landslide (literally) is going to be waiting around the corner. Whilst we know to trust our gut and be persistent to a fault, we have learnt to enjoy the journey and all those the little moments along the way.
DO YOU HAVE ANY ADVICE YOU WOULD GIVE TO NEW RIDERS EMBARKING ON A LONG MOTORCYCLE TRIP?
Jump. You could plan and prepare forever, but routes get washed away, kit breaks and you fall in love with places. The most important things to have is hunger; you have to want the experience, rather than wanting to have had the experience. Embrace every tumble, awful roadside meal, wrong turn and breakdown as that IS the adventure, rather than issues on it.
Journal. The above is all very well, but you seem to live 30-hour days in 9 day weeks on the road, and many of the funny little experiences can be forgotten. We took it in turns to write a little diary every night to capture our feeling and the events each day, and the amount of pleasure we get from flicking back through it is hard to describe.
For couples thinking of doing a journey, have no doubt that your characters will be laid bare and quickly, so by the end you will truly know if you are right for each other. There is nothing quite like D&V when you are living together in a tent. It seems so simple, but communication really is key. We make ourselves talk about everything we need to each night, nothing left unsaid and it seems to have worked! Maybe the joke to the Peruvian woman was right, in many ways it is like we have a child (the bike) and a house (the tent), like a normal couple, but spare parts for the child and a single uncomfortable rock under the house are bigger issues!
---
Continued Below..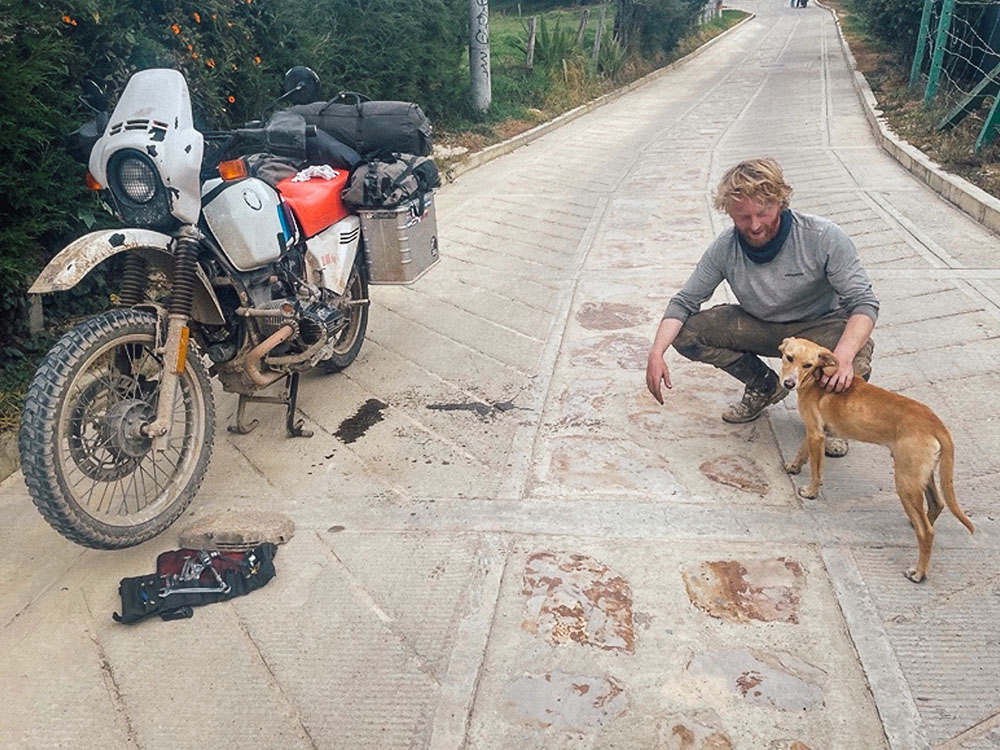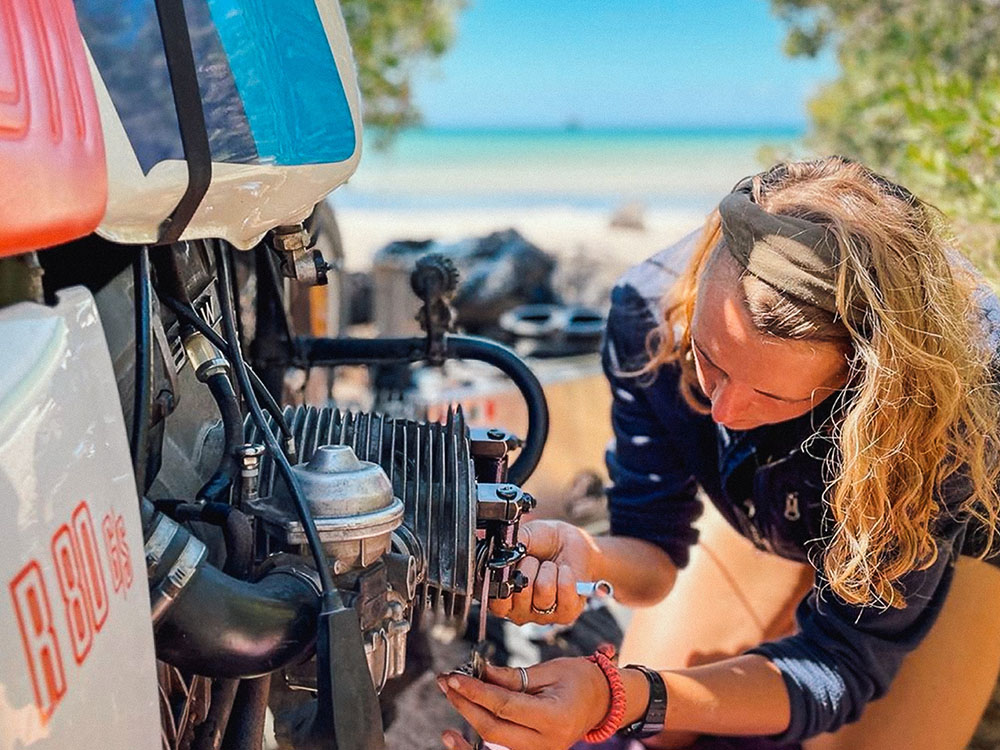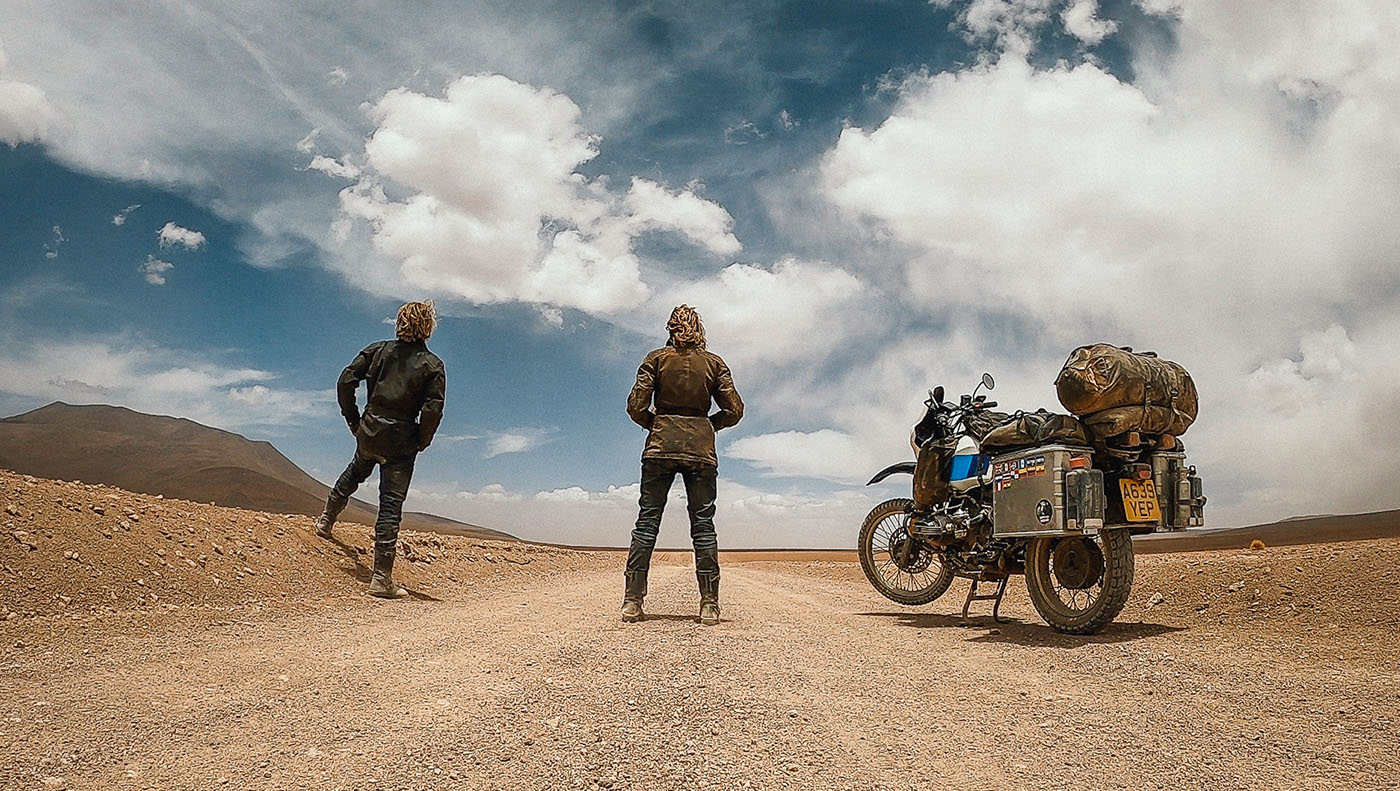 WHAT IS THE NEXT ADVENTURE?
We will temporarily be switching the motorbike for boats and diving gear and heading to the arctic on our next work project this summer, then we will be getting married!
Prepare for the Adventure
Prepared To Get Lost?

At Malle, our mission is to create more noble products and experiences that enable us to confidently explore and appreciate the natural world around us.
If you have an adventure that you feel we should know about please get in touch and we hope to support you in one way or another.

info@mallelondon.com